You know what's good? …warm, chewy, pull-apart soft pretzels. The texture is so wonderful and the occasional slight crunch of the coarse salt makes it even better. You may be surprised to learn how incredibly easy they are to make. It takes some time, but it's well worth it.
Pretzels are delicious with mustard. However, we paired ours up today with some homemade roasted garlic dip. The dip is great for this pretzel, but would be equally good for chips or even dolloped on a baked potato.
savour… mall food
SOFT PRETZELS AND ROASTED GARLIC DIP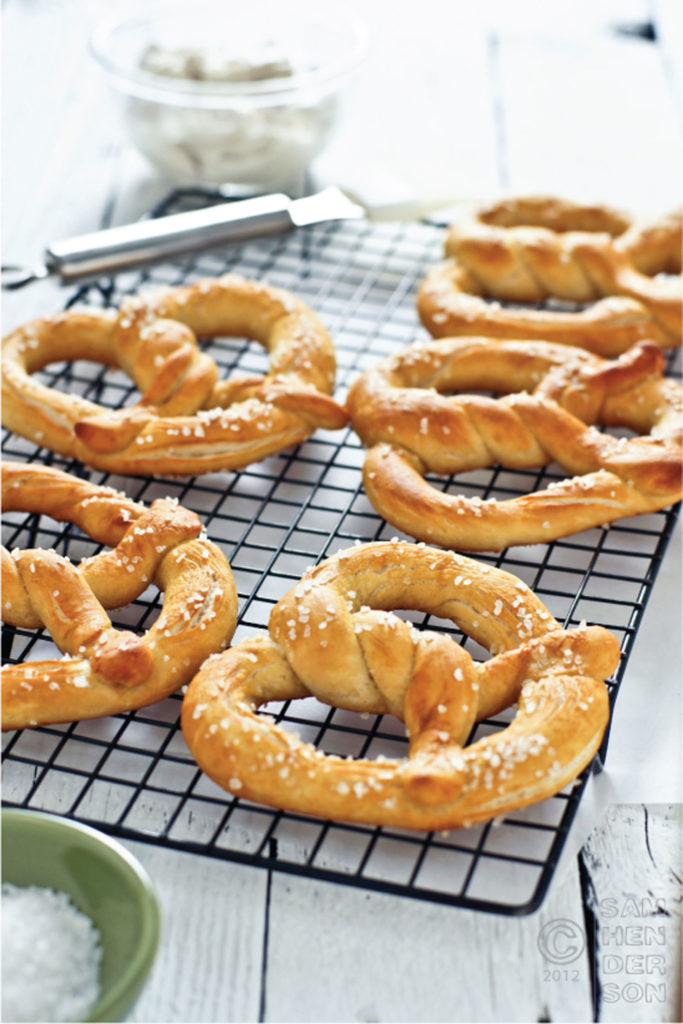 Before you start:
You can find instructions for roasting garlic in our Roasted Garlic Vinaigrette post. It couldn't be simpler.
The temperature of the water matters. If it's too hot you'll kill your chances. If it's too cold the yeast won't do its thing.
Coarse salt is best for sprinkling on top. Table salt can be in the dough but is not suitable for the topping.
You may opt for a combination of machine kneading and hand kneading.
This recipe makes six pretzels. They fit on a half baking sheet very nicely and don't need much space between to bake.
The ingredients:
For the pretzels:
2 cups all-purpose flour
1 packet of dry active yeast
2 cups of water
1 tablespoon brown sugar
½ teaspoon of salt
½ teaspoon olive oil to coat bowl
2 tablespoon baking soda
3 tablespoons unsalted butter, melted
2 tablespoon coarse salt
For the garlic dip:
1 8oz package of cream cheese, softened
1 head roasted garlic
2 tablespoons olive oil
1 tablespoon balsamic vinegar
generous pinch of salt
2/3 cup non-fat greek style yogurt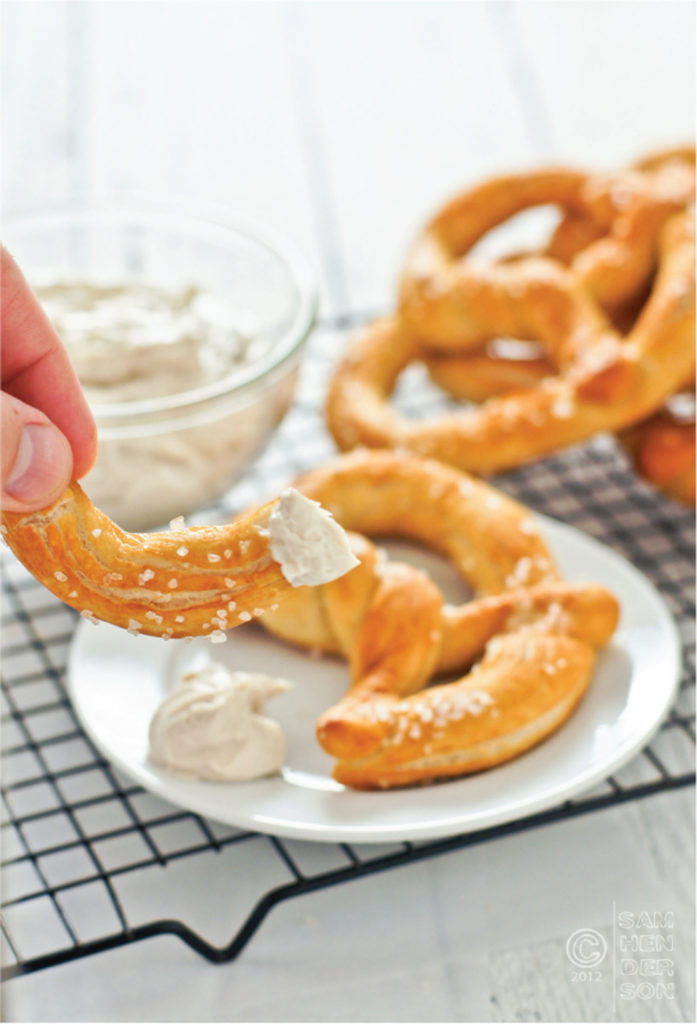 The method:
For the pretzels:
Pour 1 cup of the water (at 110°-115°) into a mixing bowl. Add the yeast and sugar. Let rest for 5 minutes.
Add flour and salt. Mix until dough forms.
Knead by hand on a lightly floured surface for 8-10 minutes or in a mixer with a dough hook attached for 5 min.
Add a bit of olive oil to the bowl and lightly coat the dough ball.
Cover with a towel and place in a warm spot to rise for 1 hour.
Line a baking sheet with parchment paper.
Preheat oven to 450°.
Remove towel and cut into 6 equal pieces.
Roll each piece into a rope ½" in diameter.
Make a U with the rope. Twist the ends twice and then fold over the curve of the U.
Press the ends down slightly to 'seal'.
Place on a parchment-lined sheet to rise for 15 minutes.
Fill a shallow bowl with the remaining cup of water (at 110°-115°).
Stir in baking soda to dissolve.
Dip each of the pretzels into the baking soda bath for 30 seconds. Flip at 15 seconds if necessary.
Place dipped pretzels on the baking sheet and brush on melted butter. Sprinkle on coarse salt.
Bake for 10-15 minutes or until golden brown.
Cool on a wire rack.
For the garlic dip:
Mash roasted garlic with the back of a chef's knife.
Add garlic and remaining ingredients to a medium mixing bowl. Mix carefully at first.
Mix well by hand for 20-30 seconds to fully incorporate.
Store in refrigerator until ready to serve.