Things have been super hectic around here this week. Life got in the way and prevented me from getting out of all of the stuff I had planned for you. Add to that the fact that the nut infographic that I posted yesterday took about 3 times longer to complete than I budgeted. I scrambled right to the end, but I think we still came up with a treat that you are going to love.
This recipe is adapted from a tried and true one from my girl Martha. I have kept this around since it was printed in '05 or '06 and it has served us well. You will find lots of texture here and loads of flavor. The best part though has to be where creamy meets crunch.
savour… culinary encounters
PRALINE NAPOLEON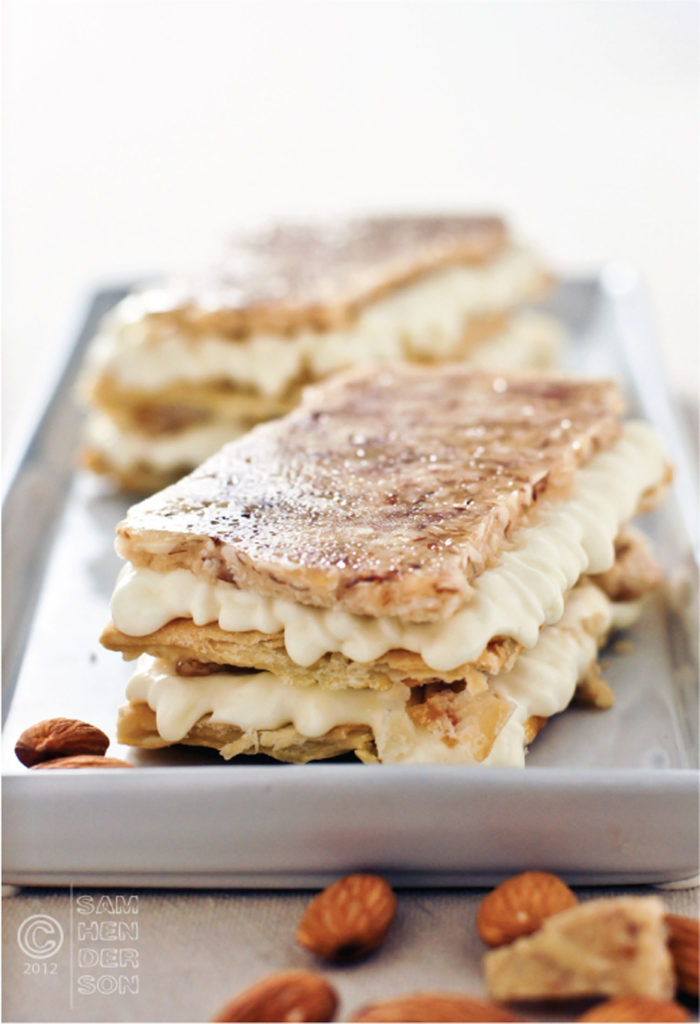 Before you start:
Wash down the sides of the pan with a pastry brush and a bit of water if sugar crystals begin to form.
The ingredients:
For the pastry:
All-purpose flour for dusting work surface
1 sheet frozen puff pastry, thawed
1 large egg, lightly beaten
2 cups sugar / 400g
Pinch of salt
½ cup water
1 ½ cups sliced almonds, toasted and finely chopped / 150g
Vegetable oil for spatula
For the filling:
2 ½ cups half-and-half
2 tablespoons almond paste
1 cup sugar / 200g
¼ teaspoon salt
¼ cup plus 2 tablespoons cornstarch
4 large egg yolks
1/8 teaspoon almond extract
2 tablespoons unsalted butter, softened, cut into small pieces
1 cup heavy cream
The method:
For the pastry:
Preheat oven to 375°F.
Roll the pastry out to 1/8 inch thickness on a lightly floured surface.
Cut out 12 equal rectangles approximately 4 ½ " by 2 ¾ ". Place the rectangles on a parchment-lined baking sheet.
Poke small holes in the tops of the rectangles with a fork, brush them with beaten egg.
Cover the rectangles with another sheet of parchment and another baking sheet and place it in the freezer to set for at least 15 minutes or until firm.
Leave the top baking sheet in place and bake for 30-35 minutes or until golden brown and crispy.
Remove the top baking sheet and cool completely on the baking sheet on a wire rack.
While cooling line a baking sheet with a silicone mat.  
In a medium saucepan, stir together sugar, salt, and water. Heat over medium heat without stirring until sugar dissolves and the syrup turns light amber (about 3 min).
Continue cooking over medium heat until syrup turns dark amber (7-10 min).
Remove from the heat and stir in almonds. 
Pour mixture on a silicone mat and spread out to 1/8 thick with an oiled offset spatula.
After cooling completely, break the praline in half. Transfer half to a plastic storage bag and crush into small pieces. Break the remaining half into large pieces to top the desserts. Set aside.
For the fillng:
Place 2 cups of half and half, almond paste, sugar, salt, and cornstarch in a medium saucepan over medium heat. Bring to simmer.
Place egg yolks, extract, and ½ cup half and half. Whisk until well blended. Add 1/3 of the hot mixture to the egg yolk mixture in a slow stream while whisking constantly.
Pour the egg yolk mixture into the saucepan with the remaining hot half and half mixture.
Continue whisking constantly over medium heat until the mixture boils and coats the back of a spoon (about 3-5 min). Pass through a fine-mesh sieve over a bowl in an ice-water bath.
Stir in butter pieces a few at a time. Cool completely. Stir occasionally.
Beat cream in a bowl until stiff peaks form. Fold cream into custard.
Assembly:
Place filling in a pastry bag. Pipe onto 6 of the rectangles.
Sprinkle a bit of crushed praline over each and add another pastry rectangle.
Pipe on another layer of filling and top with a big piece of praline.