I have been putting this post off long enough.
I don't know if the word has finally spread or if it's because it is National Photography Month, but my calendar has been full of photography jobs lately. Of course, I don't mind, but I am admittedly a little surprised at the amount of work coming my way. That's the last I'm going to say about it before I jinx myself.
I have intended to write this post and share some behind the scenes stuff for many months now. I received a couple of emails lately that sparked new interest in this post for me. Now seems like the perfect time.
savour… the inside track
STUDIO TOUR
I am fortunate enough to have lots of space dedicated to photo shoot and video production. Frankly, I have taken over quite a lot of space. My family is more than gracious about allowing me to run around in a flour dust cloud moving lights around piling up more dishes than are probably necessary.
When I began this blog I had very little room and zero set up. I was using rudimentary tools, at best. Make no mistake, I still believe I have so much to learn, but I have grown leaps and bounds from those first posts. Practicing every day has certainly paid off.
The first thing anyone would notice about our studio is that there is a ridiculous number of white dishes. There is just about every size and shape and multiples of several styles. I use lots of white dishes to show off food. Food can look wonderful on other colors, too. I just happen to think that white delivers a consistently good product.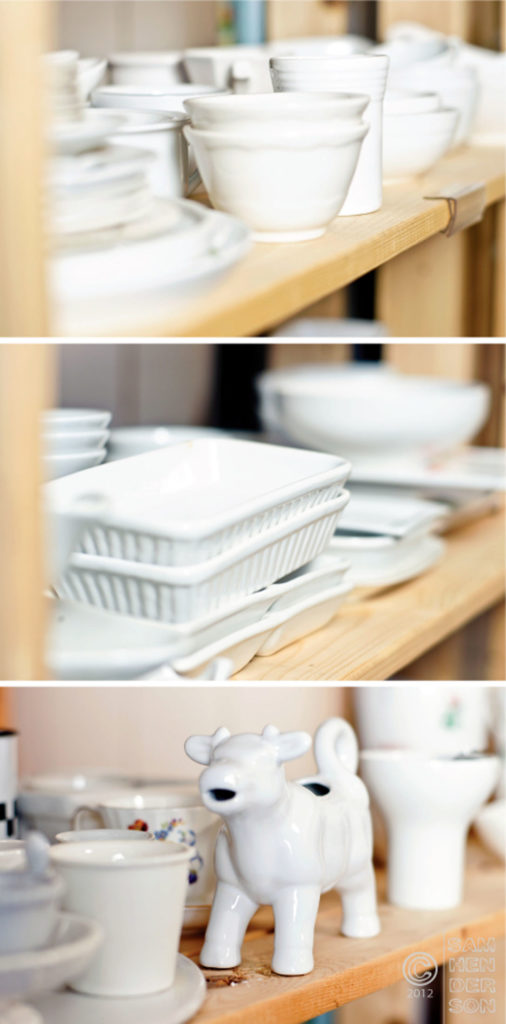 After white dishes, you will notice loads of glass. Glass is critical to lots of great shots because you get to see the WHOLE dish. I could never have pulled off the TRUFFLE video without it. This photo shows several Orangina bottles. I cannot say enough good things about these bottles. I love them for fun party drinks or bud vases. They are classically shaped and, to me, perfect.
There are several stations around my space for different props. The vintage metal baking tools, pans, trays, etc. are in a tall wire tower with pull out bins. The cutlery, straws, and craft supplies live in a couple of bins racks that we used to use for our kids' toys.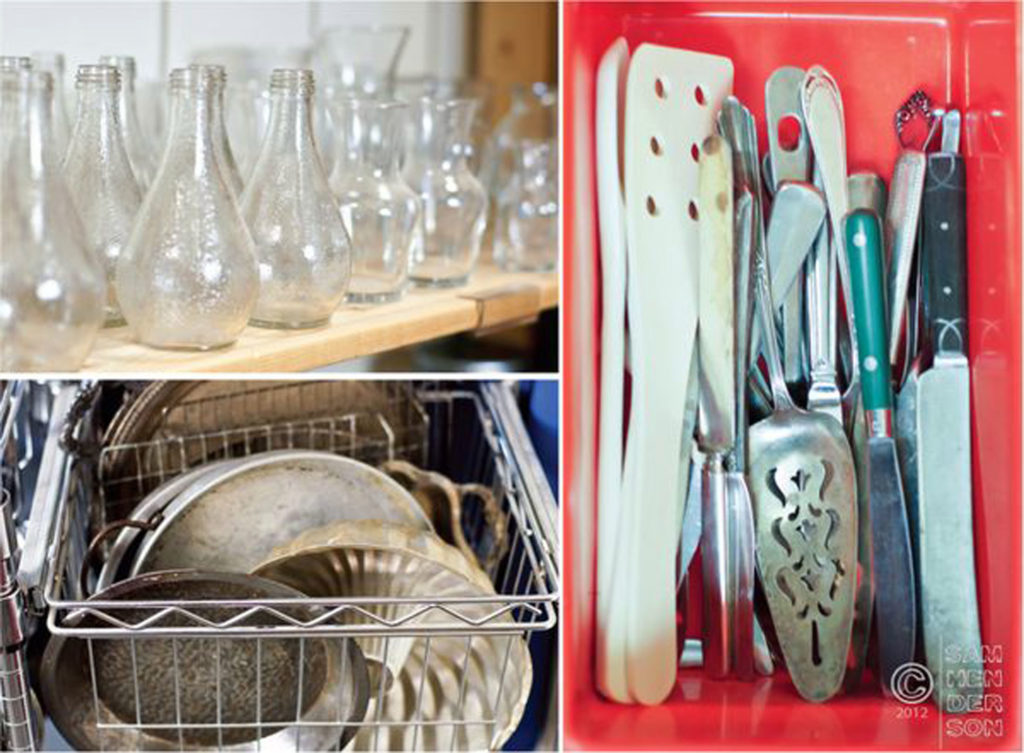 This is probably a good time to mention the enormous generosity of some of our most loyal readers. I have received an incredible amount of props from my favorite reader (and mother-in-law). She has wonderful taste and always spots objects that will photograph beautifully.
Beyond that, 90% of the stuff we use for food photos comes from a thrift store or yard sale. Some of my very favorite items cost us less than a dollar. We seldom buy brand new props although there is an occasional 'must-have' item (curse you, Anthropologie!).
I can never get enough fabric to use as napkins, backdrops, etc. Below you will see the racks I have dedicated to my (growing) collection of cloth. Here you will find everything from discontinued upholstery samples to disassembled shirts that were on their way out. The bottom row also has lots of vintage napkins and tea towels. Another peg rack nearby keeps our baker's twine ( and every other kind of string you can imagine) neat and tidy.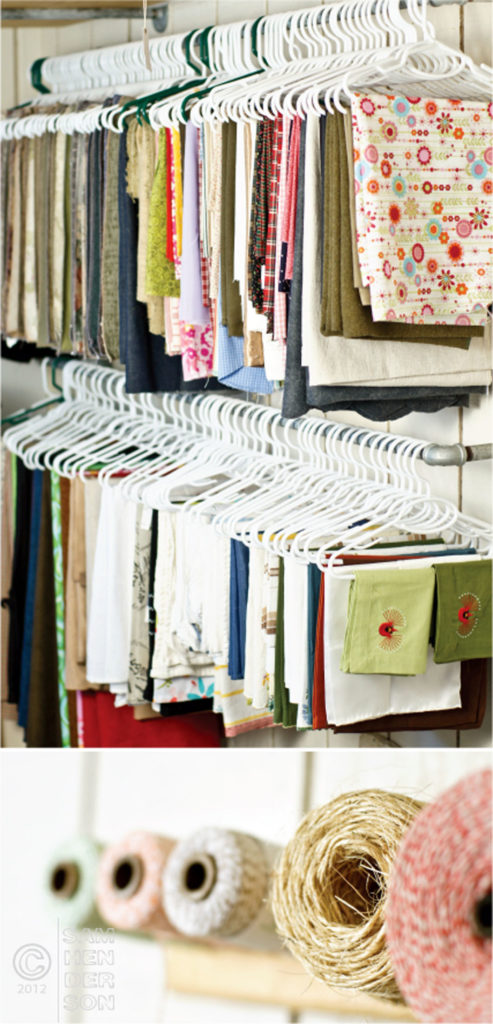 Here is a wider shot of some of our shelves. Pay no attention to the shopping cart. I would tell you where I got it, but I would have to rat out a very good friend. There is no store name on the cart so I pretend I don't have the first idea where he got it. What I can say with much certainty is having that cart makes my life so much easier.
You may also have noticed there are plastic shelf tags just begging for labels. They've been begging for 6 months now. I'm going to get to that any day now.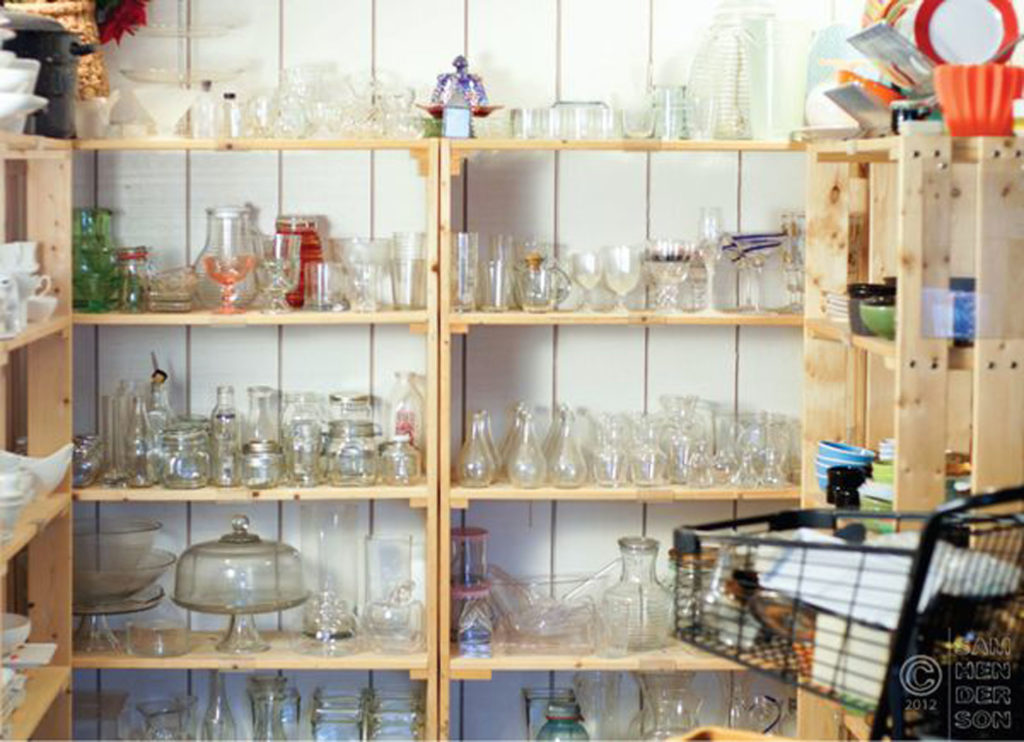 After I have considered my food, the dish, a complimentary fabric, backdrop, and so on… I am ready to shoot. Below you will see my general workspace. My studio has one, rather small, south-facing window. I use the existing natural sunlight when I can but often find myself shooting late into the night or very early in the morning. In those cases, I use the studio lighting like the one you see below. I hope that doesn't ruin the magic for you. Now you can look at future posts and try to guess whether it was shot with sunlight or a bulb.
The table is actually two metal wire utility carts from a discount store. I used one shelf from each to bridge them together and make it as big as three units. Next I found some discarded fence sections and cut them to make a tabletop. I put a tabletop on both sides and painted one with white paint to give myself some backdrop options.
The shelves are loaded with baskets, cutting boards, and serving trays. There are also a couple of bins with necessary items such as tweezers, binder clips, scissors, fishing line, etc. to make the photos come out just right.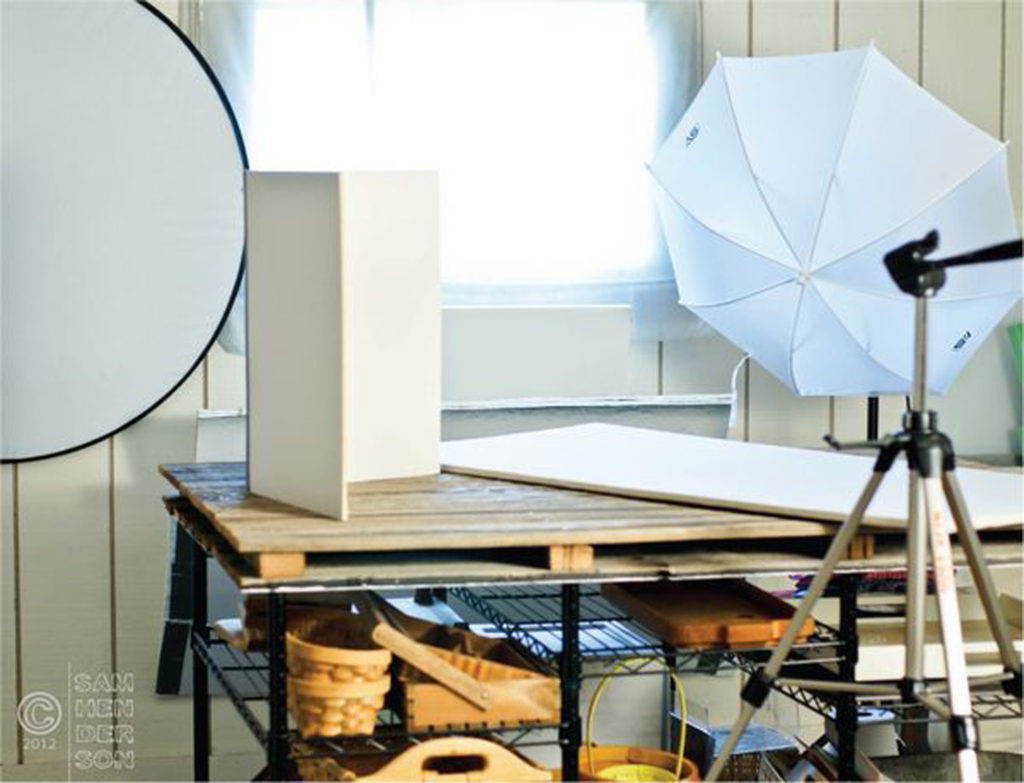 The best thing in our studio is Phoebe. She's our studio kitty. The second the door opens to the studio she shoots out there and hangs out until the project is finished. I'm not certain if she is there for moral support or in hopes that a bit of food will make its way to the floor, but either way I appreciate her company.
I hope you have enjoyed our Studio Tour. If you have any specific questions please feel free to drop us a line or leave a comment. Until next time…