Oh, Me! Oh, Mai! It's May, which means it's almost summertime. Time to kick back, relax, and enjoy the warm days and cool nights. This month we're featuring one of 'Mai' favorite summer drinks (and fall and winter and spring, really anytime I want to pretend I'm somewhere tropical). It's the drink that launched a national craze, and a decade of kitsch. Of course, we're talking about the Mai Tai.
Unfortunately, much like the Margarita, this drink has been tampered with so much over the years in chain restaurants and hotel bars that it is almost unrecognizable. We're getting back to basics, and the heart of this delicious drink the Trader himself concocted back in the '40s. Exotic dark rum from Jamaica, the citrus punch of fresh lime, and the exotic flavors of orgeat (a sweet almond syrup) make the Mai Tai exotic, dangerous, and delicious.
savour… a mental vacation
THE MAI TAI
Before you start:
This isn't a fruity drink. It's not red, it's not pink, it's not blue. Somewhere over the years, the Mai Tai lost its way. It became filled with cheap rum, every fruit juice available, and grenadine. That might be tasty, but it's not a Mai Tai. A true Mai Tai showcases the rum front and center. In fact, Trader Vic created this drink to showcase one of his favorite rums, J. Wray & Nephew 17 year. And as any amateur mixologist knows, you don't go hiding the complex flavors of a 17-year-old spirit with fruit juice and sugar. Legend has it the drink was named when the Trader mixed one up for a guest, and upon their first sip they exclaimed "Mai Tai, Roe Ae!" roughly translated to "out of this world."
Our Version of the Mai Tai is a slight variation from Trader Vic's original. After doing much field research (it's a rough job) and much at-home experimentation, this is the recipe that gave me the same intoxicating (pun!) taste and aroma of my first sip at the now-defunct Trader Vic's bar in Dallas. Here's what you will need:
Your handy hand juicer. As always I prefer the lime green hand press widely available in most kitchen stores.
Your trusty cocktail Shaker.
Fresh Limes
A mountain of Cracked (or Crushed) Ice
The ingredients:
1 oz Dark Jamaican Rum (I prefer Myers)
1 oz Aged Jamaican Rum (I prefer Appleton Estate VX)
Juice of 1 small lime (1oz)
½ oz orgeat Syrup (pronounced oar zhat, this ingredient can sometimes be hard to find, but it is key. Larger liquor stores should carry some form of it in their mixer section. )
Garnish:
A fruit Stick (a pineapple wedge and maraschino cherry on a tooth pick)
A large Sprig of Mint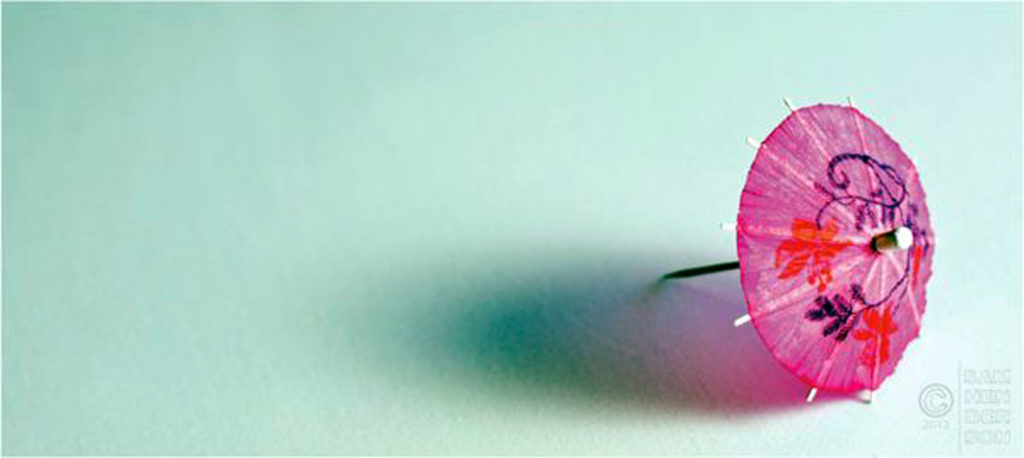 The method:
Fill shaker with cracked ice.
Cut lime into 2 equal halves.
Juice both halves over the ice. Toss one half into shaker (this lets the oils of the lime skin into the mix… key!).
Add ½ oz of orgeat to shaker.
Pour 1 oz of aged Jamaican rum in shaker.
Pour 1 oz dark jamaican rum into shaker.
Shake vigorously for 20 seconds or until shaker becomes icy on the outside.
Pour unstrained, the entire content of shaker into double old fashioned glass.
Garnish with fruit stick and large sprig of mint.
Put on a Martin Denny record.
Savour the exotic taste of tiki.
Footnote: When you drink your Mai Tai you will want to use a short straw or no straw at all. This is key to the experience. When you sip the aroma of the mint blends with the rummy, limey scent to create the ultimate tiki experience. Enjoy!