When we first met, my would-be wife and I lived on the East Coast. We traveled frequently to Myrtle Beach for fun in the sun. There is a terrific boardwalk there and plenty of stuff to do. As has always been the case, our adventures circled around food. There is certainly no shortage of food or restaurants in Myrtle Beach and, in fact, I had what I believe to be the best service in a restaurant EVER at Rossi's Italian Restaurant… but that's another story.
One of our very favorite things to take away from the beach, like so many others, is Saltwater Taffy. Not only does this scream beach trip, but also summer. As we approach the season and celebrate National Taffy Day, we thought it might be a good time to offer up our favorite saltwater taffy recipe. Our recipe is, and will remain, soft. Not all recipes will call for glycerin, but we use it because taffy making without it can result in a big, hard, albeit tasty, lump.
savour… summer sweetness
SALTWATER TAFFY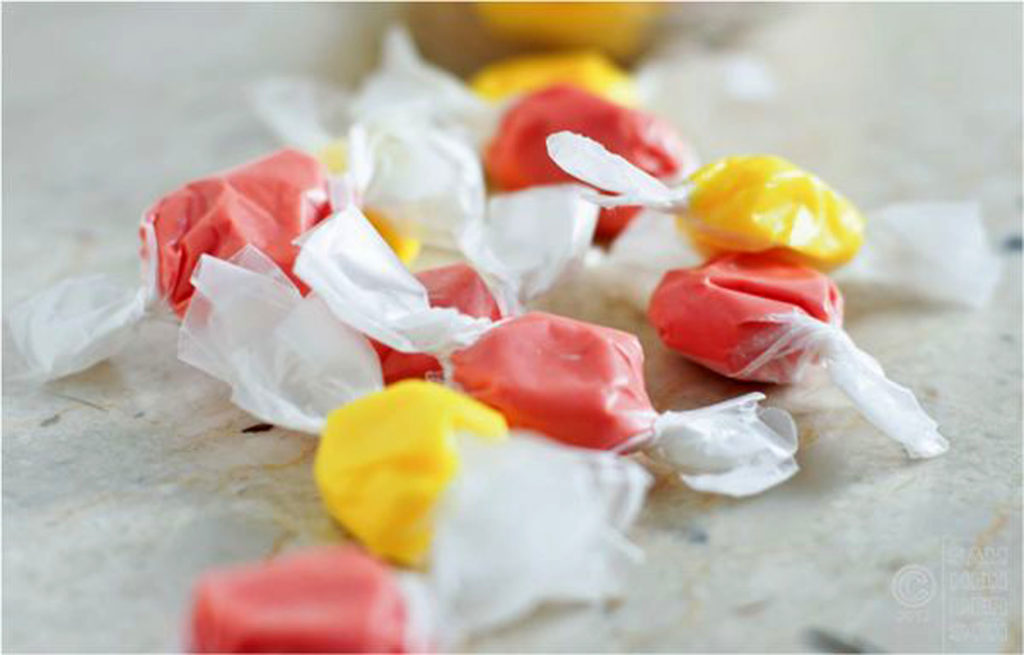 Before you start:
This taffy stays fairly soft mostly due to the glycerin. You could make it a bit tougher by reducing the amount of glycerin slightly.
I caution you about storage. Keeping this taffy in an airtight container will only cause it to become softer. It's best left out in the open air.
You may actually have to turn your stove up closer to high instead of medium-high depending on how hot it gets. If it appears to be taking too long (over 15-20 minutes) for it to reach the hard ball stage, crank it up.
As soon as this is cool enough for little hands to handle it, grab the children. Get the kids involved for a fun time for them and a load off for you.
The amount of oil flavoring will depend on how you divide the batch. As a benchmark, we divided one batch into two pools and flavored one with a teaspoon of cinnamon oil and about half a teaspoon of red food dye powder. The other got 1 teaspoon of lemon oil, half a teaspoon of yellow food dye paste, and a teaspoon of citric acid for tartness.
Lastly, I feel it's my appointed duty to tell you every time… boiling sugar can be very dangerous. Please take extra care when handling.
The ingredients:
2 cups sugar
1 ½ cups water
1 cup corn syrup
½ tablespoon salt
1 tablespoon glycerin
2 tablespoon unsalted butter
Oil flavorings such as cinnamon, lemon, banana, orange, or mint
Food dye paste or powder
Butter for greasing hands
Confectioners' sugar for dusting work surface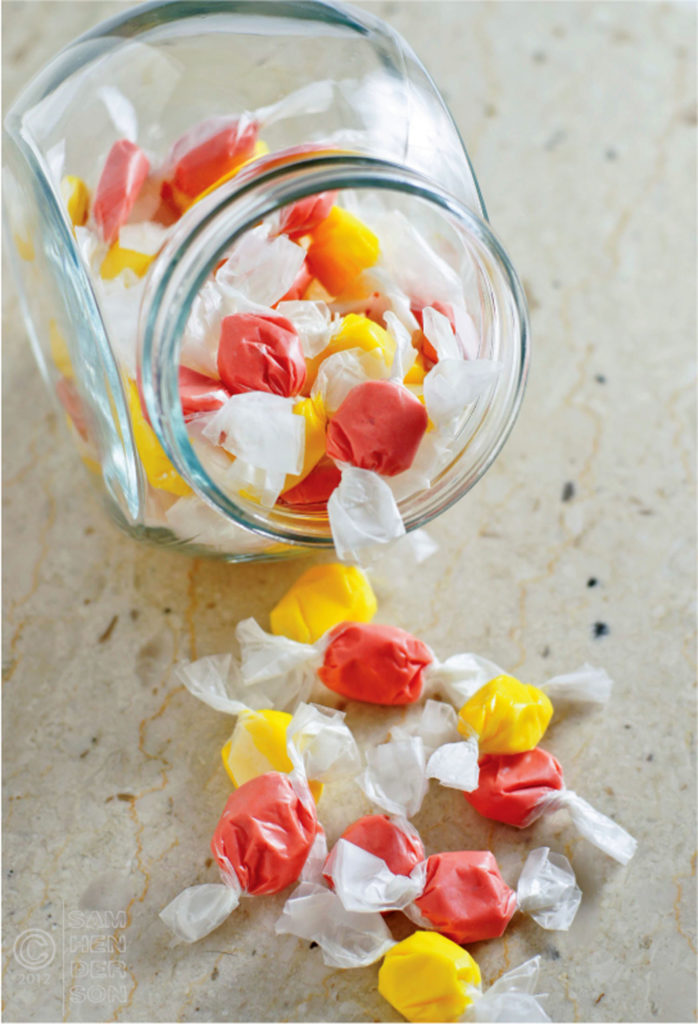 The method:
Cut waxed paper into 4"x4" squares… about 50.
Place your candy thermometer in a glass filled with hot tap water.
Oil the surface on which you will pour the hot syrup. A marble slab would be best, but a clean granite countertop works perfectly.
Place sugar, water, corn syrup, salt, and glycerin in a large saucepan. Stir occasionally to dissolve the sugar while bringing the mixture to a boil over medium heat.
Place warmed thermometer in pan and increase heat to medium-high. Cook until mixture reaches hard ball stage or a temperature of 250˚.
Remove pan from heat and stir in butter.
Pour the hot mixture directly on the prepared surface.
Use a bench scraper to keep pools of the mixture separate if making more than one flavor.
Add oil flavoring and corresponding dye paste or powder.
Fold the mixture over on the color and flavor and allow it to cool slightly until it is able to be handled by hand.
Grease up hands (or a kid's) with butter and begin pulling. Pull and twist the taffy over and over incorporating air into the mixture.
When the mixture becomes more difficult to stretch form it into a half-inch rope on a surface dusted with confectioners' sugar. Use the bench scraper to cut into equal pieces about 1 inch long.
Wrap each piece of candy in a wax paper square and twist the ends in opposite directions.