Summer is in full swing and things are hot! hot! hot! Cool refreshment is in high demand and we have just the solution. The cocktail of the month for July is a super simple Watermelon Cooler. The ingredients are fresh and refreshing. The crushed watermelon is sweet and countered nicely with just enough citrus from the lime juice.
Our rim is coated in a mixture of coarse salt and colored sugar. It is as pretty as it is tasty. Fresh mint rounds out the flavors and really adds to the freshness. This is summer in a glass. Caution: this is so delicious that it could be easy to get carried away. Drink at your own risk.
savour…summer fresh
WATERMELON COOLER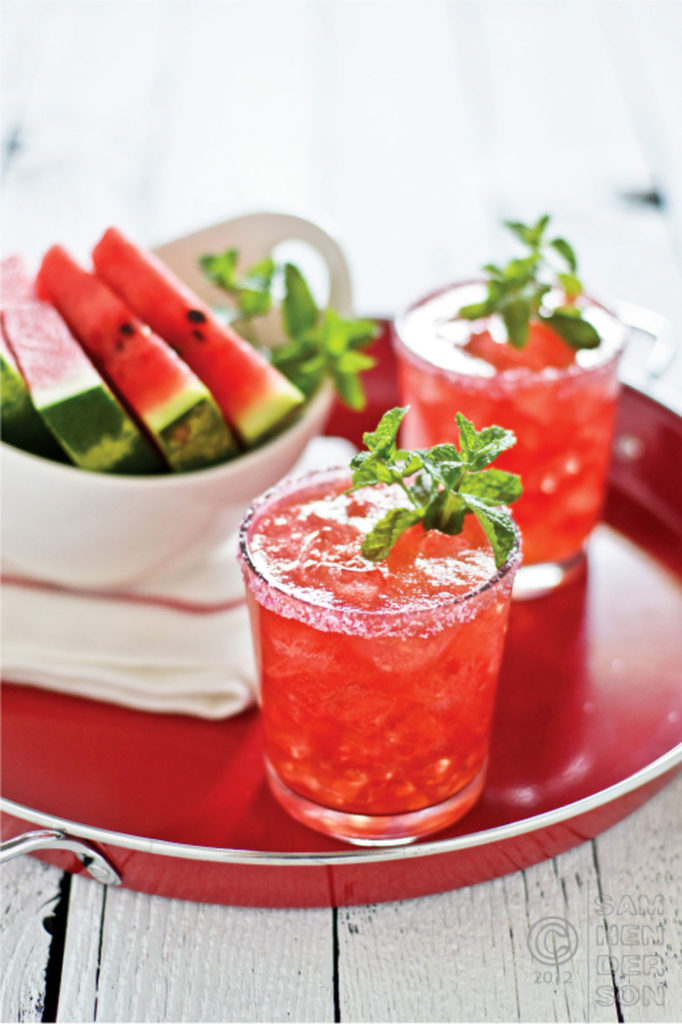 Before you start:
Our mixture for the rim is 1:2 salt to sugar. You could use different sugars if you desire.
We used an immersion blender to pulverize our watermelon, but a good amount of muddling with a mortar and pestle would give similar results.
The ingredients:
3 oz. mashed watermelon
.5 oz. fresh lime juice
.25 oz. agave syrup
1.5 oz. vodka
Splash seltzer water
2 fresh mint sprigs
ice
The method:
Remove seeds from fresh watermelon and mash or grind in a food processor.
Add 1 cup of ice, crushed watermelon, lime juice, agave syrup, and vodka to a shaker.
Shake vigorously until the shaker is jet cold (about 20 seconds).
Pinch half or wedge around either side of the rim to moisten.
Dip top of the glass in salt/sugar mixture.
Add glass with ice.
Strain cocktail over ice.
Top with a splash of soda water.
Add mint springs. Serve.