The summer growing season is upon us. Home gardeners around the country are filling their garden beds with tomato plants to complement their summer menus. Pretty little specimens pop up in salads and sandwiches, but what about those that are not quite as visually appealing? We have even bigger plans for them.
A good tomato crop can mean far more tomatoes than you can possibly eat. If you plan properly, though, you can enjoy the flavor long into the winter months. Use your bumper crop of tomatoes to make these simple recipes that can be canned or frozen for later use.
Sidenote: All of these recipes specify Roma tomatoes. While it is not necessary to use that variety, they often have a higher 'meat' to seed ratio. If you use another variety, you may wish to add a little to compensate for the difference.
TOMATO JAM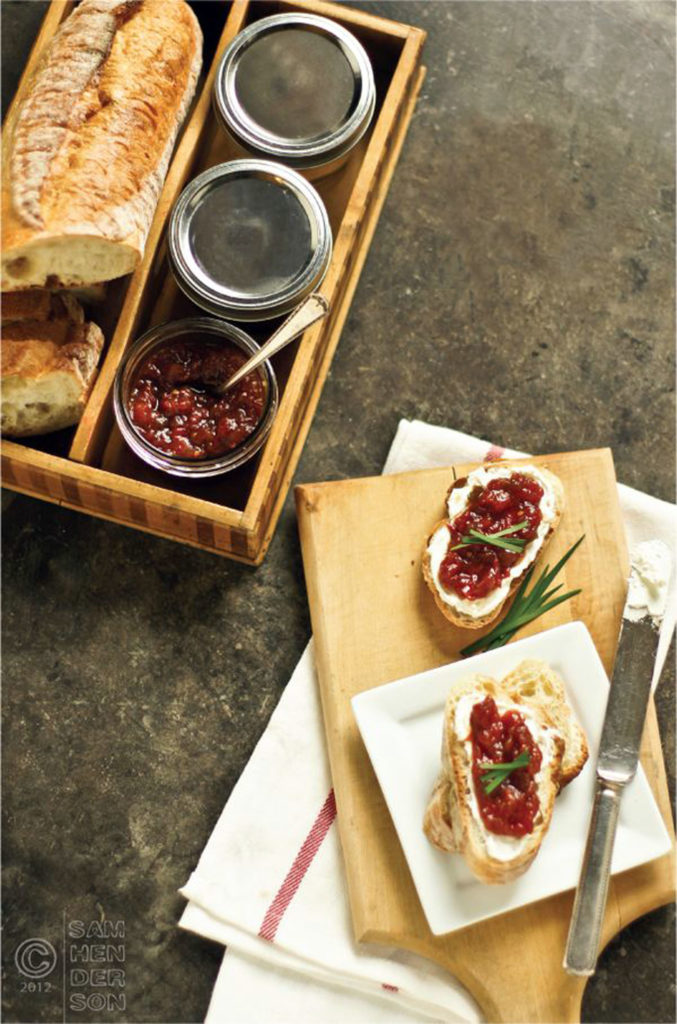 This will come as a bit of a surprise to many. While not very common, this jam is at once savory and sweet. It is loaded with spicy goodness. Try this on a cracker with a bit of goat cheese or spread it atop a meatloaf. You might even like it in lieu of ketchup on an artisan burger.
Before you start:
This jam will be most appealing if you have removed all of the seeds beforehand.
Turn up the heat a bit by adding another jalapeño.
Ingredients:
1 ½ pounds roma tomatoes, cored, seeded, and diced / 670g
1 cup sugar / 215g
2 tablespoons lemon juice
½ teaspoon lemon zest
1 tablespoon fresh ginger, grated
1 medium jalapeño, seeded and finely chopped
1/2 tablespoon cumin
1/8 teaspoon cinnamon
pinch ground cloves
1 teaspoon salt
Method:
Place all ingredients in a medium saucepan over medium heat. Bring to a boil, stirring frequently.
Reduce heat to low and cook for 60-90 minutes, stirring often.
When mixture reaches a thick jam-like consistency remove it from heat and allow it to cool completely.
FRESH TOMATO MARINARA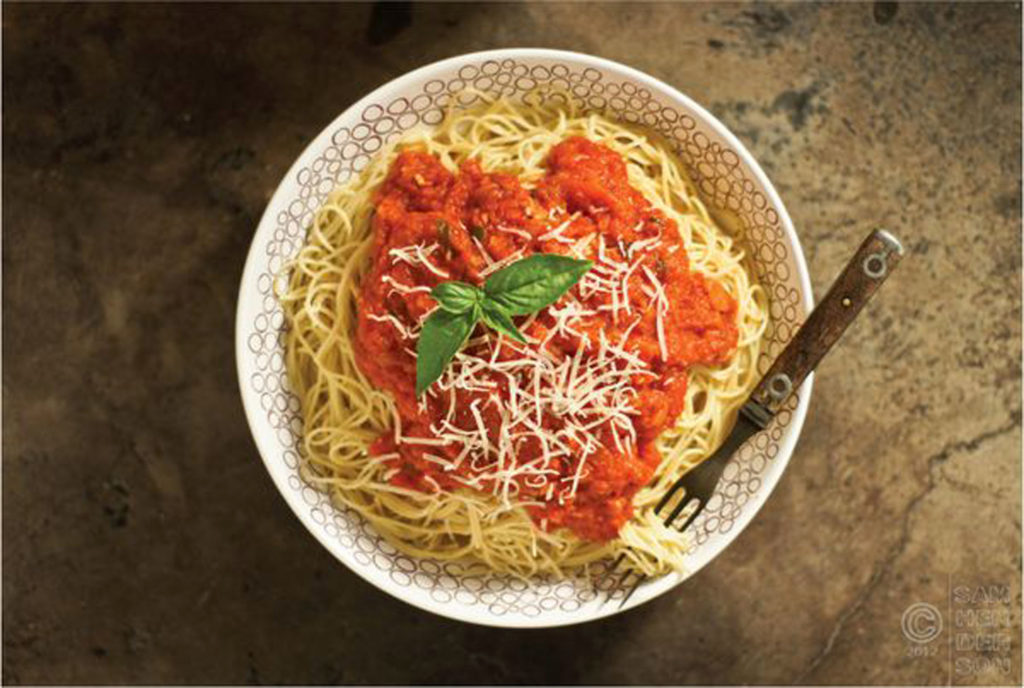 This recipe is too easy. With just a little effort you will have homemade sauce at the ready. This basic sauce can be taken in many directions. Add a bit of sausage or ground beef for a wonderful meat sauce. Adding a handful of olives, anchovies, and capers give you a nice puttanesca or spice it up with some red pepper flakes for a zesty arrabbiata sauce.
Before you start:
Tomato peels would not be appetizing in this sauce so they must be removed. Using the simple method outlined in the recipe will yield good results. Just remember to peel gently. Like people, some tomatoes have thicker skins than others.
Do not be afraid to use an immersion blender if you are not getting the consistency you desire.
The ingredients:
24 fresh roma tomatoes
½ large carrot, grated
½ celery rib, finely chopped
½ onion, chopped
3 tablespoons olive oil
2 bay leaves
3 cloves garlic, minced
1 tablespoon fresh basil, finely chopped,
1 teaspoon oregano
1 teaspoon thyme
1 teaspoon salt
½ teaspoon pepper
2 teaspoons sugar, or to taste
2 teaspoons balsamic vinegar
The method:
Bring a large pot of water to a boil. Prepare a large bowl with ice water. Carefully place half of the tomatoes in the boiling water for 45-60 seconds. Transfer immediately to the ice water bath. After a few seconds, begin peeling away the skins.
Remove core and seeds and cut tomatoes into large chunks.
Repeat process with remaining tomatoes.
Empty pot of water and dry it. Place oil in the bottom of pot over medium heat.
When the oil has heated up, add chopped onions. Cook onions for at least 5 minutes or until softened.
Add tomatoes, carrot, celery, garlic, and bay leaves and bring to a boil. Simmer for ½ hour.
Add basil, oregano, thyme, salt, pepper, and sugar and simmer for another ½ hour.
Stir in balsamic vinegar. Test for seasoning and make necessary adjustments.
FRESH TOMATO SALSA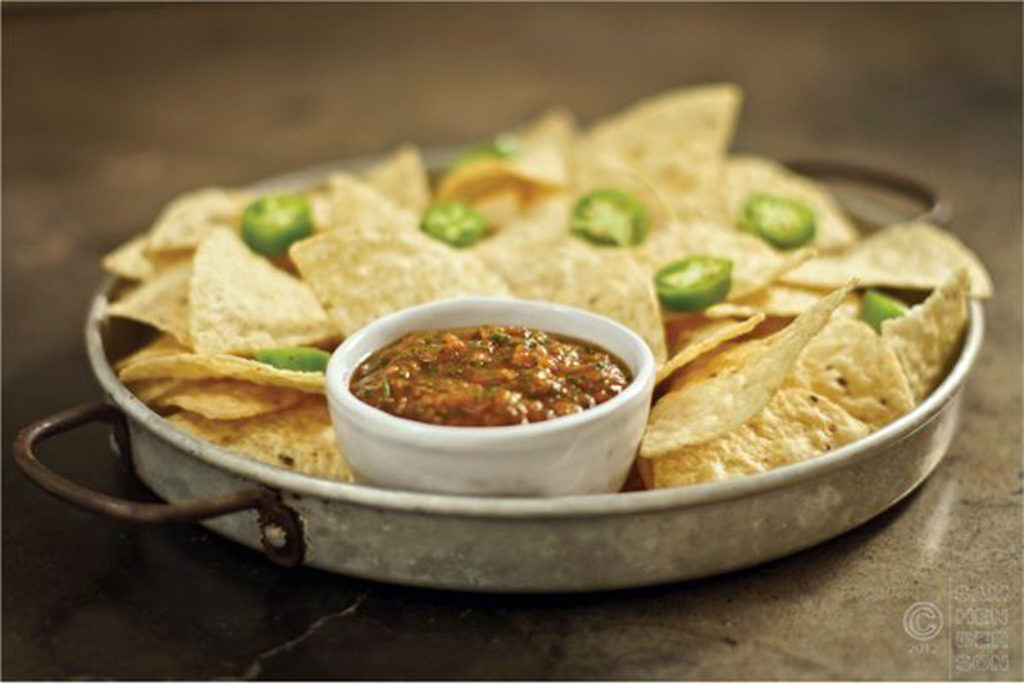 Add a little heat to the cold winter months with this simple salsa. The key to the taste here is using fresh quality ingredients. You can determine the amount of heat you like by adjusting the number of peppers you use.
Before you start:
Either use gloves when working with peppers or be sure to wash your hands immediately afterward.
Don't worry about getting some cilantro stems in the mix. They are soft-stemmed and will add much flavor to the finished, blended product.
The ingredients:
8 pounds roma tomatoes
2 medium yellow onions, peeled
10-15 serrano peppers
6 cloves garlic, peeled
1-2 tablespoons salt
2 cups fresh cilantro, roughly chopped
The method:
Preheat oven to 375˚F.
Line two baking sheets with aluminum foil.
Cut tomatoes and onion in half. Place tomatoes, onion, peppers and garlic on baking sheets.
Roast vegetables in oven until tomatoes are soft, onions become somewhat translucent, and peppers begin to brown (about 40-50 minutes).
Cut tops from peppers and slice open to remove seeds.
Remove from oven and allow to cool.
Place half of the ingredients in a food processor with half of the salt and cilantro. Blend until somewhat smooth. Repeat for remaining ingredients.