I blotted my eyes on my sleeve close to the shoulder to avoid any further onion tears. I looked up, startled to see my son standing there.
"You OK?" he asked.
"Fine. I just got a little onion in my eyes… blasted onions."
"You're chopping a lot of stuff. What are you making?"
"Soup."
"Oh. It smells good in here. I like it when you're in the kitchen, Dad. It makes me happy."
"Thanks, Buddy."
… and then he was gone as quickly as he appeared, and I was changed… if only for a moment.
We're a week into the New Year and resolved to meet one goal or another, start exercising or stop smoking, etc. I say resolutions be damned. The goal should be to live it right (whatever right is to you). You know what's important. Do it. You have goals? Make a plan, a real plan, and make it happen. Remember every day to ask yourself if you got it right for the day or not.
But here's the most important thing… don't forget to cherish the moments as they occur. They might not come along again and this is the stuff that makes life worth living. Know that your actions, while insignificant or mundane to you, affect others. And when you get it right, it's so much more than soup.
savour…moments
SMOKY TURKEY LENTIL SOUP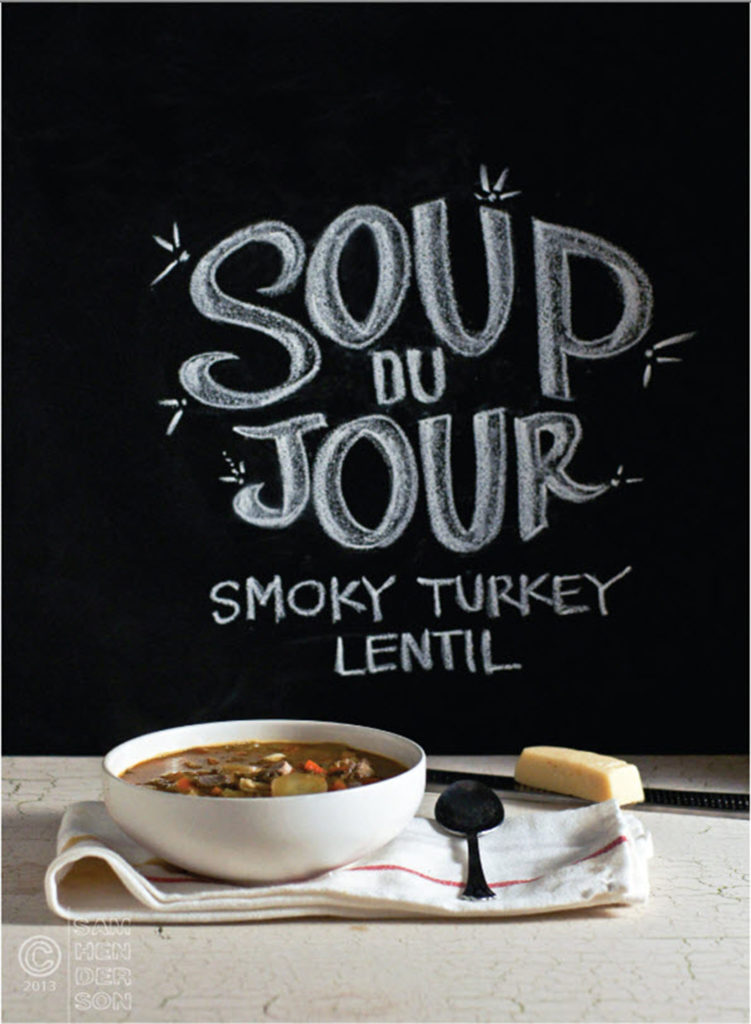 Before you start:
This soup is divine! It is hearty, earthy, smoky… just perfect for a chilly winter evening. This is one of those soups that is truly satisfying and nothing more will be needed for your meal, save a nice piece of bread and a glass of wine.
Regarding the turkey… if you have access to some good smoked turkey in your area, you can skip roasting it and just buy it. Also, if you are so inclined, you could actually smoke the turkey. It's cold here and I opted to stay indoors away from the smoker. The liquid smoke is a good alternative and available to everyone regardless of your region. Check the supermarket near the Worcestershire sauce.
I used a bit of the broth to de-glaze the roasting pan and added it and the roasted shallot and garlic to the soup. It adds a bit of fat due to the turkey legs. Leave this step out if you are combatting a weight control goal this month.
The ingredients:
3 turkey legs
5 cloves garlic
4-5 shallots, cut in half
2 tablespoons liquid smoke
Salt and pepper
Olive oil
2 ribs celery, finely chopped
2 carrots, finely chopped
1/2 cup chopped onion
1 cup stewed tomatoes, roughly cut
1 bay leaf
1 cup lentils
1 quart chicken stock
1 quart water
4-5 small red potatoes
Freshly grated parmesan for
garnish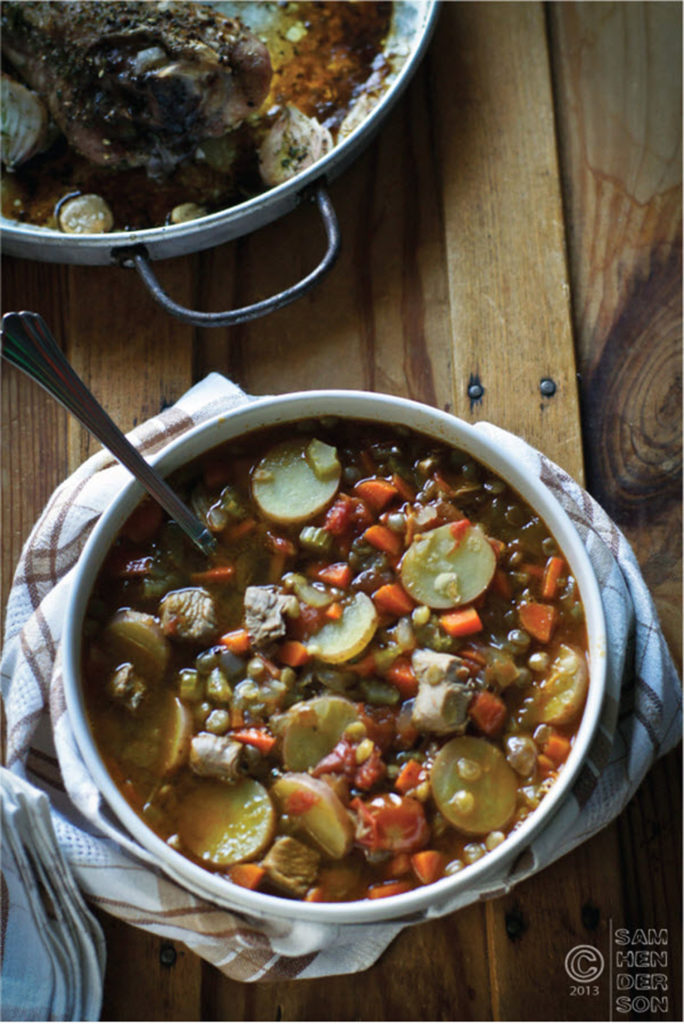 The method:
Preheat oven to 350°.
Rub turkey legs with olive oil.
Rub coarse salt and freshly ground black pepper all over legs.
Place drumsticks in baking pan and add 3 whole garlic cloves and shallots to pan. Drizzle with olive oil.
Drizzle liquid smoke over legs and bake for 40-45 minutes until internal temperature reaches 180°.
While roasting, cut carrots, celery, onion, and last two garlic cloves. Set aside.
Slice potatoes and set aside.
Remove from oven and allow to cool for at least 10 minutes.
Heat 3 tablespoons olive oil in a large pot over medium heat. Add
celery, onion, carrots, and garlic. Cook until softened (about 8 min).
Add the turkey, tomatoes, lentils, bay leaf, stock, and water. Bring to a boil before reducing heat to simmer for 1 hour or until lentils are tender.
Remove the turkey legs and add the potatoes. Cook potatoes for 10 minutes or until tender.
While potatoes cook, remove skin and bones from turkey and return the meat to the soup.
Serve hot with grated parmesan cheese.