37, 38, 39… 40. Forty, not thirty-nine, people. That's what makes the difference. Well, it is possible that if you only had 39 cloves of garlic the absence would hardly be noticed. I wouldn't know because in the many times I've made this dish, I've never used one more or less than 40. I'm not taking any chances and if you know me well enough to know about my nutty obsession with pennies, you'll know what I mean.
We continue our Crock-tober celebration this week with one of my favorites. The 40 Clove Garlic Chicken is certainly not a new dish. My interpretation of it, though, is slightly lighter than many recipes you will see and is made in a slow cooker so you can prep it in the morning and be ready for a delicious meal when you get home.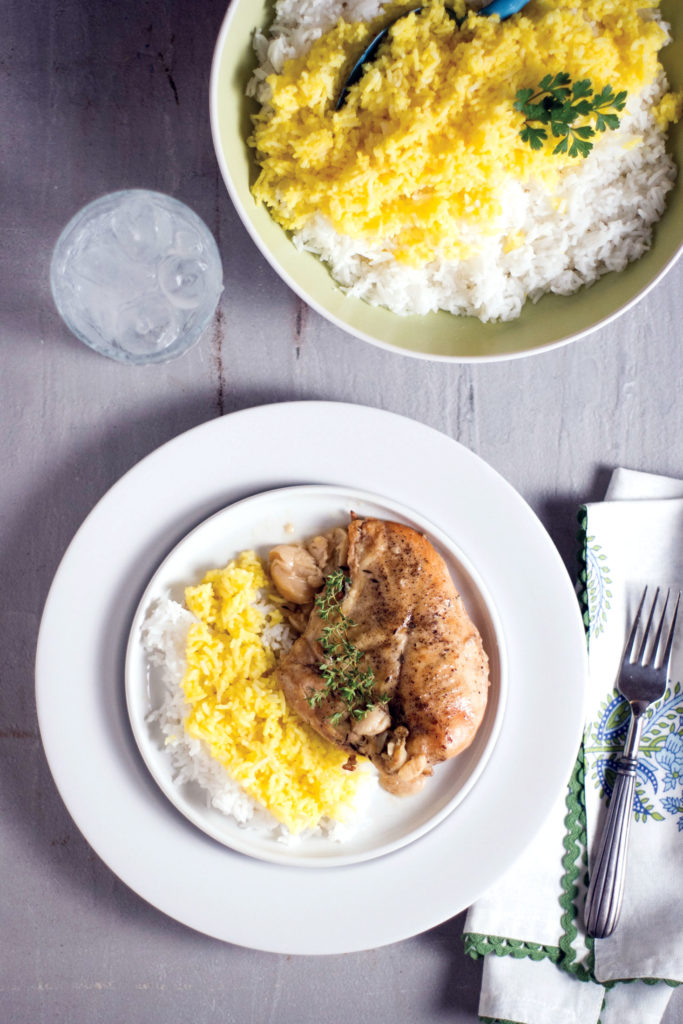 40 CLOVE GARLIC CHICKEN
Before you start:
Do not be put off by the idea of too much garlic. The garlic takes on a much more subtle flavor when cooked than fresh garlic. The result is a somewhat sweeter flavor with those familiar garlic undertones.
Save the garlic for some other great dishes. Try mashing it up and using it on bruschetta or blend a little of it with mayonnaise for a robust sandwich spread.
We paired our dish with traditional basmati rice topped with saffron. I wish I had some genius culinary explanation for the pairing, but I don't. The flavors taste (and smell) great together, but the real reason is I just love basmati rice.
You can use a whole chicken cut up for this recipe or just purchase mixed pieces.
The ingredients:
3 tablespoons olive oil
3 tablespoons butter
4-5 lbs. chicken pieces (bone-in)
Salt and pepper
40 cloves garlic (approximately 3-4 heads)
1 cup chicken stock
3 tablespoons brandy (optional)
4-5 sprigs fresh thyme
The method:
Remove the skin from the chicken and pat it dry. Add salt and pepper liberally to the outside of the chicken. Heat olive oil and butter in a large skillet over medium-high heat. Place the chicken in the pan and brown for 2 minutes on each side. Place browned chicken in a slow cooker.
Reduce heat to medium and add garlic cloves. Sauté for 2-3 minutes or until softer and lightly browned. Add chicken stock, brandy (optional), and thyme sprigs. Cook for another minute or two scraping the bottom to deglaze the pan.
Pour the garlic mixture over the chicken in the slow cooker. Set the slow cooker to low and cook for 4 hours.
Serve with rice or pasta and fresh vegetables. Garnish with a fresh sprig of thyme if desired.