"Somebody's coming!" Darrell exclaimed in a hushed but excited tone. The three of us, Kenny and Darrell, who were brothers, and I, scrambled to hide just on the other side of the landscaping garage. We knew that if we were caught picking and eating the park manager's grapes there would be trouble.
We were the three musketeers. I was a year older than Kenny and a year younger than Darrell, who stood about a foot taller than us. In hindsight, I don't know why he was ever chosen as the lookout. It probably had less to do with his skill set and more to do with Kenny's. Kenny was the most agile and sneaky of the three of us.
Together we had many adolescent adventures and created more mischief than we probably should have. Between Kool-aid stands and skateboarding, we found time to terrorize the park manager. One of our favorite things to do was sneak behind his landscaping shed and eat from his garden. There was plenty to pilfer, but we focused primarily on the concord grapes. There were so many. We were sure he wouldn't miss a few… hundred.
I was thinking of Kenny and Darrell as I started to develop this week's Treat of the Week post. I haven't seen them in 30 years, but I will never forget the fun we had. I wanted to incorporate some of my memories into an easy to make treat. The result… Grape Cupcakes.
These are simple to make because I've taken out a few steps for you. Yes, I used a boxed cake mix. Most of the recipes you find here are 'from scratch', but sometimes boxed cake mix is the right answer. However, I draw the line at frosting. I have yet to find one that compares to the one you make yourself. To make things even easier, much of the flavor comes from your
childhood favorite, grape Kool-aid. It sounds crazy, but it's true.
I added a bit of concord grape jelly to the frosting and topped the cupcakes off with a fresh grape to reinforce the flavors. These cupcakes brought back a flood of concord grape conquests… and nobody had to get grounded.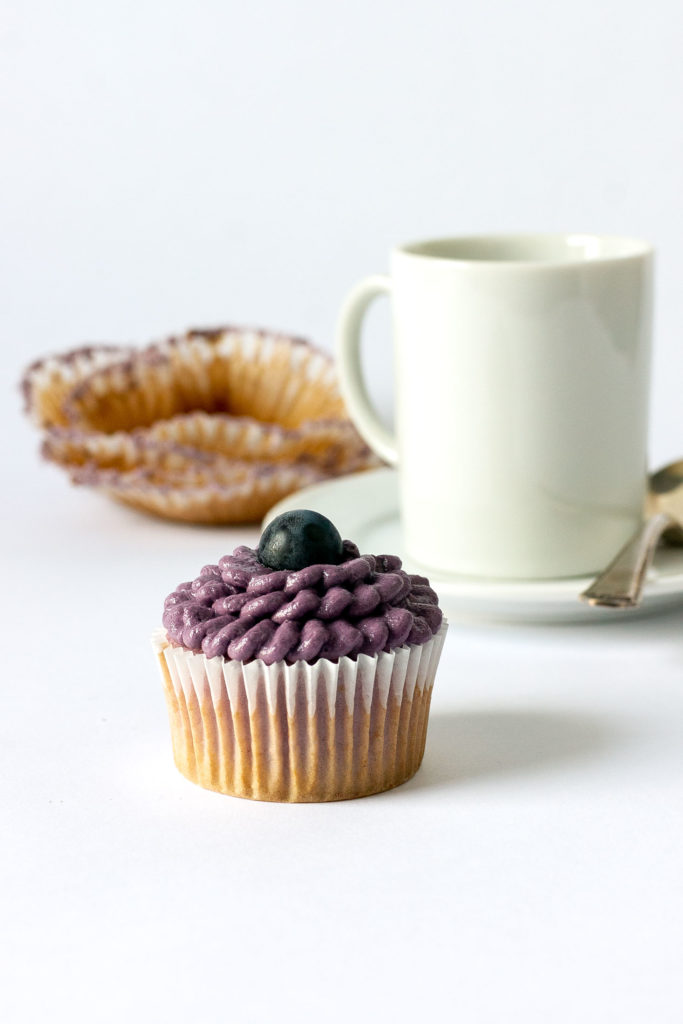 GRAPE CUPCAKES
Before you start:
The grape jelly will make the icing shiny and a little smoother than usual. You may wish to add a bit more confectioners' sugar if you want firmer frosting.
The ingredients:
1 white cake mix (and ingredients as specified on the box)
2 packets of grape Kool-aid (non-sweetened)
1 stick unsalted butter, softened
1/3 cup vegetable shortening
3 ½ cups confectioners' sugar
1/2 teaspoon powdered violet food coloring (optional)
2 tablespoons concord grape jelly
24 fresh concord grapes
The method:
Line 2 muffin tins with cupcake papers (24) and preheat oven to 350˚F.
Make a white cake mix according to the instructions on the box, but incorporate 1 packet of the Kool-aid before adding the liquid ingredients.
Allow cupcakes to cool completely.
Add butter and shortening to a medium bowl and mix on medium
speed until smooth and fully combined.
Add sugar, food coloring, grape jelly, and the other packet of Kool-aid.
Mix on low at first for 30 seconds. Turn the mixer to medium or medium-high and mix for 2 minutes.
Add frosting to a piping bag and top cooled cupcakes from the outside edge inward.
Stop at the center and top with a fresh concord grape.