My jaws get tight just thinking about you. I know I'll get your celery-like strands stuck in my teeth, but I don't care. I love you, rhubarb, and that's all there is to it.
I am not sure what it is about rhubarb that makes it so appealing. It has some cards stacked against it but every year people pour into stores to buy it at its freshest moment and rush home to make something. This year we are using ours to make this very simple crostata. The flavors are traditional, the recipe simple, and the results outstanding. You could have the complete dessert ready to eat in less than an hour; flour to fork.
savour… rustic and ready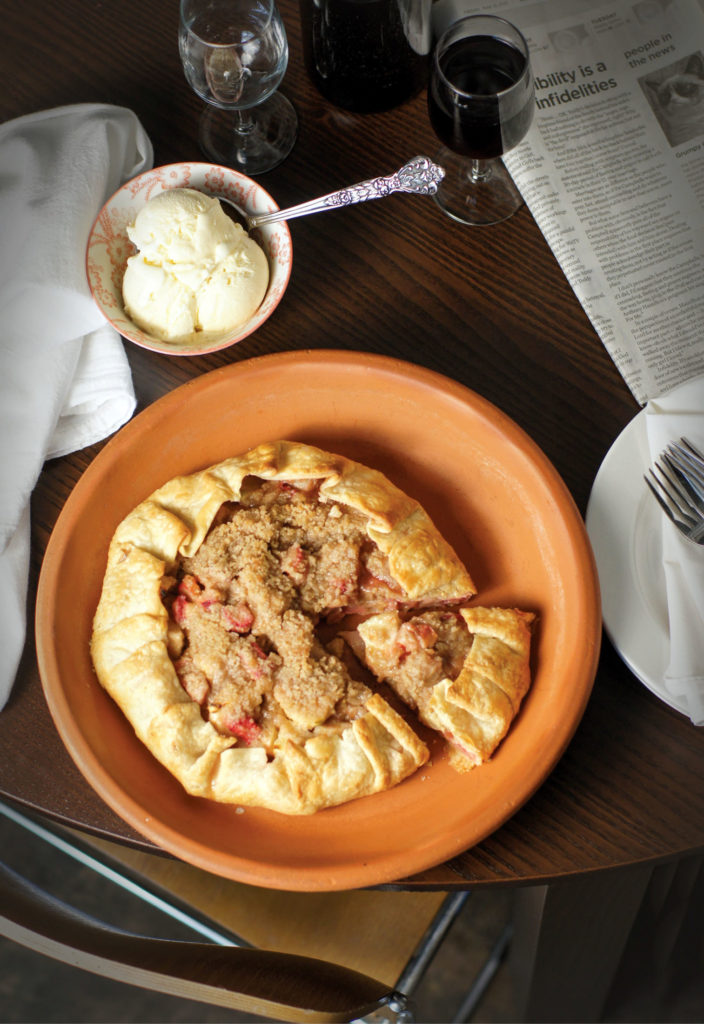 RUSTIC APPLE RHUBARB CROSTATA
Before you start:
We used our own pie crust recipe for this treat, but you could use the refrigerated kind (I guess) and we won't judge. OK… maybe a little, but here's the thing. Pie crust is really easier to make than many think. If you haven't tried it in a while, try again. Use this recipe and instructions. If you have any questions, contact us. Then make several batches and freeze them. You'll have fresh berry pies all summer.
Don't worry about having perfect edges. That's the beauty of the crostata. As long as you get the dough rolled out in the general likeness of a circle you'll be fine.
Maintaining consistency when cutting the apples will ensure even cooking throughout.
If you don't have a pastry blender to make the filling you can use a fork to cut the butter into the flour. Alternatively, you could use a food processor, but it's so little work that you may find it easier to just do it by hand.
If the edges begin to brown too much before the cooking time is done, loosely cover the top with a sheet of aluminum foil.
This is outstanding just as it is, but ridiculously good with a scoop of vanilla ice cream.
The ingredients:
2 medium granny smith apples
4 medium ribs rhubarb
juice of one medium lemon
¼ cup flour
¼ cup sugar
4 tablespoons unsalted butter, cold and cubed
¼ teaspoon coarse salt
¼ teaspoon cinnamon
1/8 teaspoon allspice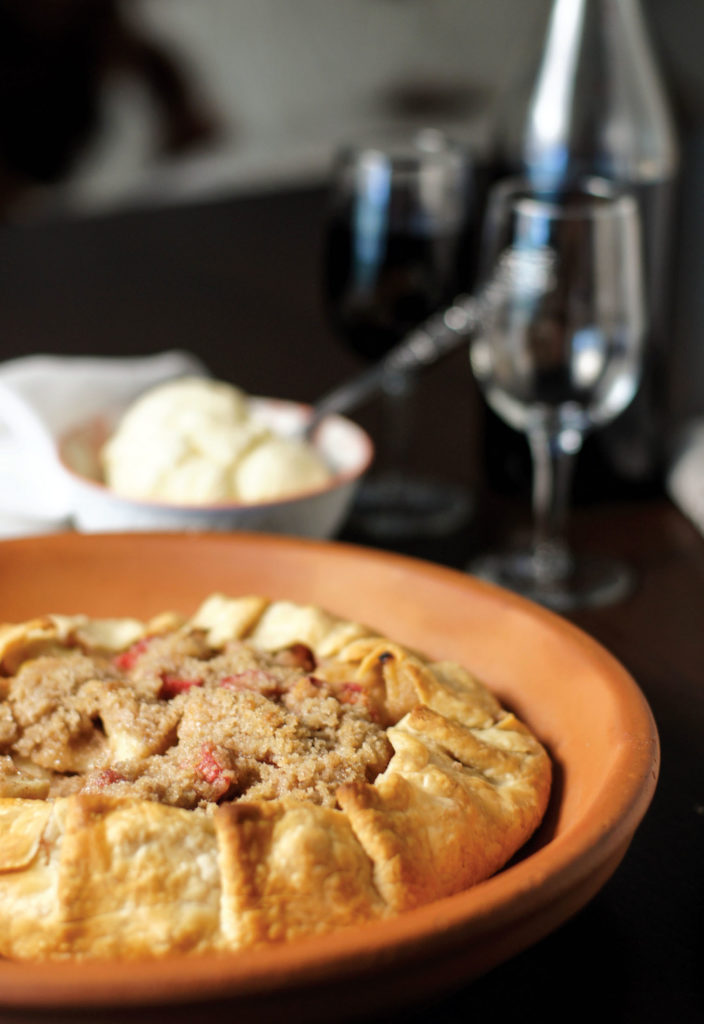 The method:
Preheat oven to 450˚F.
Roll dough into 12-13 inch circle. Place on parchment lined baking sheet. Set aside.
Peel and core apples. Cut into 12 wedges. Cut each wedge into 3 pieces.
Cut rhubarb into pieces no bigger than ½ wide.
Place apples and rhubarb in a medium bowl and squeeze lemon juice over it. Toss to make sure apples and rhubarb are coated. Set aside.
In a small bowl add flour, sugar, salt, cinnamon, and allspice. Whisk together to fully blend. Add butter and cut butter into flour mixture using a pastry blender or fork until it reaches small gravel consistency.
Add apples/rhubarb mixture to the center of crust and spread out evenly leaving about 1 ½" of crust all the way around.
Sprinkle flour/butter mixture evenly over the apples and rhubarb.
Fold up the edges of the pie crust overlapping just a bit each time to produce 'pleats'.
Bake for 20-25 minutes or until fruit is tender. Cool slightly before serving.