We're getting a bit of a late start with Ice Cream Month, but we've got several great flavors coming your way this July. We begin our smooth journey with this pear ice cream. If you like the flavor of pear, you are going to LOVE this treat. The ice cream is delicious, but the caramel swirl makes it out of sight.
I first had pear ice cream a couple of years ago. It was an impulse buy at my local Target. I liked it so much that I got it again and again and again… until, at last, they stopped carrying it. I decided I would have to make my own and this is the recipe upon which I settled.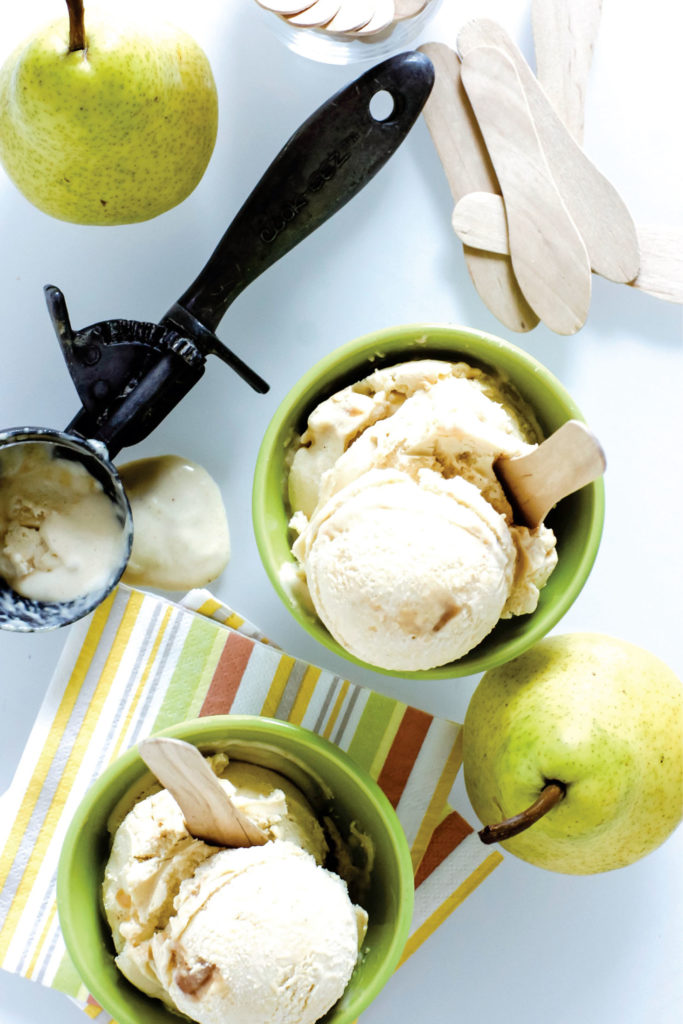 SPICED PEAR ICE CREAM WITH SALTED CARAMEL SWIRL
Before you start:
You could just make caramel sauce and pour it over the ice cream, I suppose. I like the swirl inside because the cold ice cream makes it a little chewy.
I did not specify which type of pears to use because you really could use any kind. I used Bartlett for this batch, but another type would do just fine. You just need to end up with about 2 cups of puree.
I say it in every custard based ice cream post, I think, but here it goes again… Regarding the cream and yolks, SLOWLY pour the warm cream into the yolks while your whisk briskly, fervently, furiously, fast. Not following these instructions may result in some very delicious scrambled eggs.
We've given you a few shortcuts that will be really helpful for this recipe. First of all, the apple butter adds the perfect amount of spice for this recipe. You won't notice the apple in the finished dish. Next, You could make caramel from scratch if you prefer, but melting caramels will make this really simple and ensure that the caramel sauce is ready when the ice cream maker is done doing its thing.
The ingredients:
For the ice cream:
6 pears, peeled and cored
¼ cup water
2 tablespoon apple butter
2 cups half and half
1 cup heavy cream
6 egg yolks
½ cup sugar
2 tablespoon pear liqueur (optional)
For the caramel swirl:
30 caramels
1/3 cup heavy cream
¼ teaspoon ground cinnamon
1/8 teaspoon coarse salt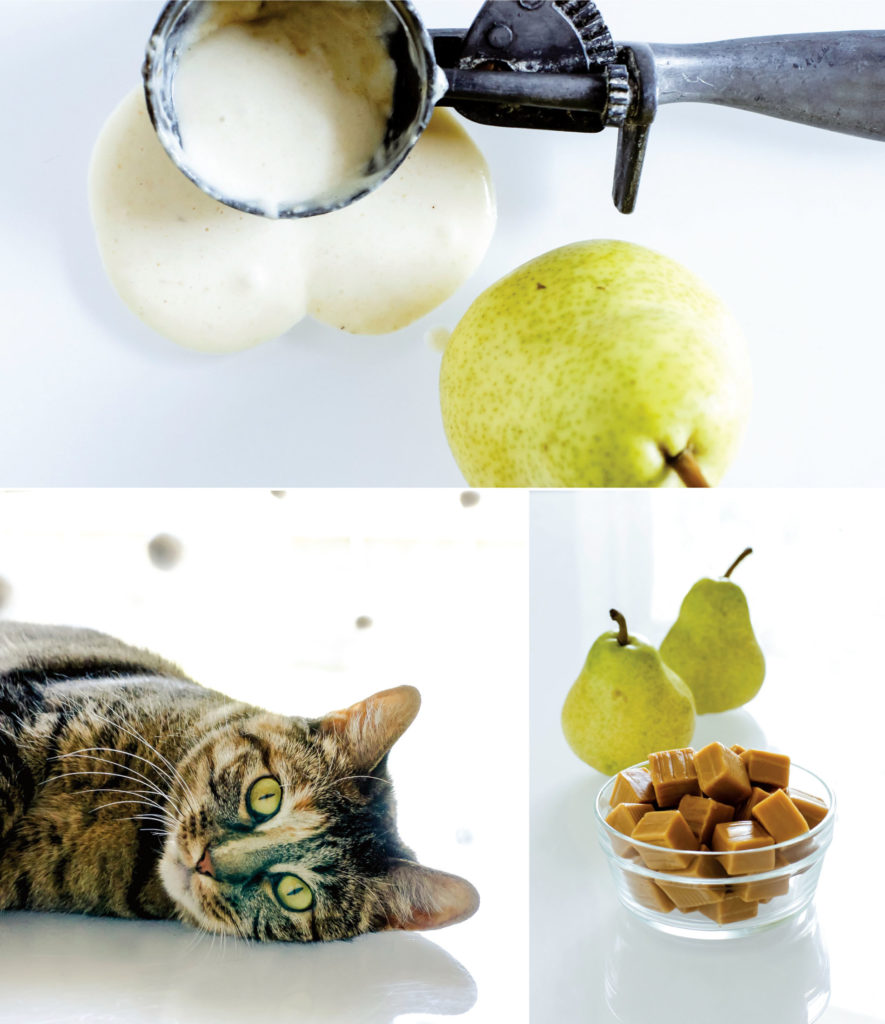 The method:
For the ice cream:
Cut pears into chunks and place in medium saucepan with water. Cook over medium heat, covered, for 50-60 minutes or until soft and tender. Pour off any excess liquid and let cool slightly. Add pears to food processor with apple butter and process until smooth puree is formed. Set aside.
Add milk and heavy cream to a medium saucepan. Heat over medium low heat until it just begins to simmer.
Whisk together egg yolks and sugar. Add about a cup of the warm cream to the egg yolks while whisking briskly. Pour the egg and cream mixture into the saucepan with the other cream and stir to incorporate. Cook over low heat until the mixture thickens enough to coat the back of a wooden spoon (about 5-7 minutes).
Strain the mixture into a heat proof bowl (I like stainless steel ones for making ice cream). Add the puree and pear liqueur. Cover the bowl and refrigerate for at least 3 hours before continuing.
Freeze the mixture in an ice cream maker according to manufacturer's instructions. When the ice cream has reached soft serve consistency, layer it in a bowl with caramel sauce. Gently fold ice cream and caramel sauce a couple of times to create swirl thoughout.
For the caramel sauce:
Add all ingredients to a small saucepan and heat over medium-low heat until the caramels melt (about 7-9 minutes). Stir frequently. Remove from the heat and allow caramel sauce to cool slightly