Some foods just don't get the attention they deserve. For years, I felt that way about Nutella. Having enjoyed it in Europe as a young man, I sought it out at import shops upon my return to the States. Now there is no need. You can't stumble, tumble, or surf the web or walk through a supermarket without bumping into it.
Another spread that I am surprised has not caught on is apple butter. It's certainly not new to the US, but it has never really made a big splash. I'm doing my part by keeping a jar in my fridge almost all of the time. In fact, I recently made a big batch of it from scratch for another project. With all the leftovers, I decided it was time to put it to use in a cake. To that end, I present the treat of the week.
This cake has medium density and is something more like a light muffin. It is fragrant and robust in flavor. The warmth and spiciness of it make it perfect for cooler weather entertaining. The depth of flavor is largely due to the apple butter, which has been caramelized by hours of roasting in the oven with sugar and spice, refusing to be ignored.
savour... looking out for the little guy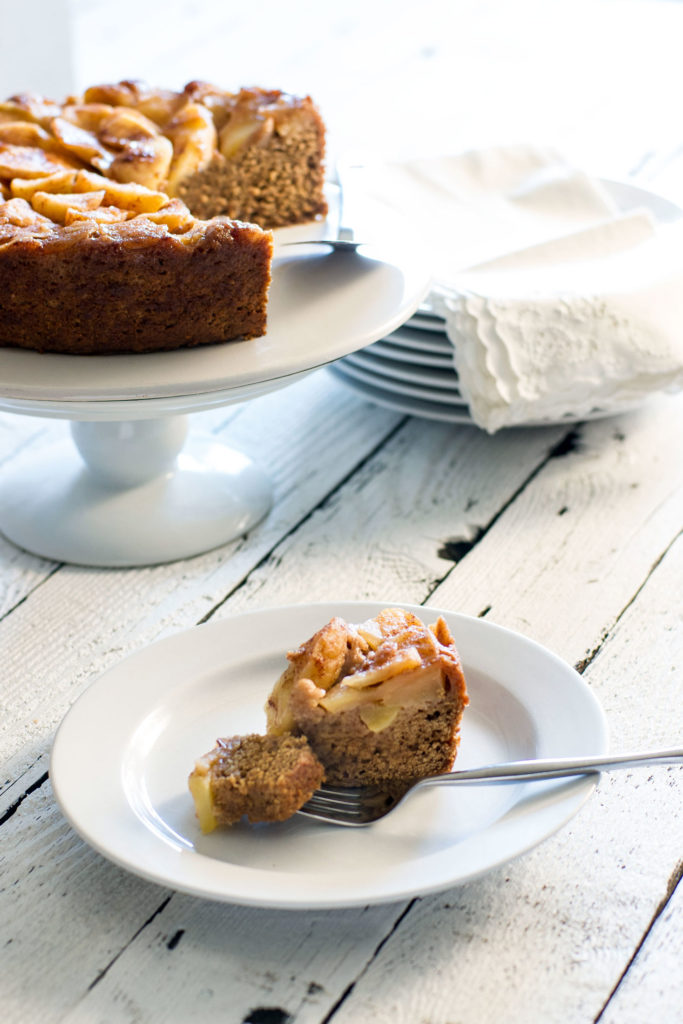 APPLE BUTTER UPSIDE DOWN CAKE
Before you start:
Your apple choice matters. Look for apples that are somewhat sweet and firm. For the example we used Braeburn, but Jonagold would be a good choice, as well.
As with any upside-down cake, the moisture from the topping (in this case quite a bit) will eventually work its way into the drier cake below. For that reason, this cake is best eaten soon after it is finished.
Save yourself some trouble. No mixer is necessary for this cake. A good bowl and a rubber spatula will do nicely.
The ingredients:
For the apple topping:
4 large apples, peeled, cored, quartered
Juice of one lemon (zest lemon first and reserve for cake batter)
6 tablespoons unsalted butter
pinch salt
1 cup sugar / 200g
1 teaspoon cinnamon
1/3 cup water
For the cake:
1 tablespoon butter, melted
1 cup apple butter / 235 ml
3/4 cup light brown sugar / 165g
3 tablespoons vegetable oil
1/2 cup buttermilk / 120 ml
1 egg, beaten
zest of one lemon (about a teaspoon)
2 teaspoons vanilla extract
2 1/4 cups flour / 315g
2 teaspoons cinnamon
2 teaspoons ground ginger
1/2 teaspoon ground allspice
1 teaspoon baking powder
1 teaspoon baking soda
1/4 teaspoon salt
The method:
Preheat oven to 350˚F. Line the bottom of a tall 9″ round cake pan with a parchment paper circle. Lightly butter the parchment paper. Cut long strips and line the sides of the pan with parchment paper. Set aside.
Cut apple quarters into 3 or 4 slices each keeping them all around 1/4″ wide on the widest edge. Toss the slices in a bowl with the lemon juice. Melt butter in a large skillet over medium heat. Cook until foam appears on the top of the butter and then dissipates. Cook 2-3 minutes more until butter turns golden brown. Add the apples and salt. Toss to coat completely with butter. Cook for 5 minutes tossing again at the midpoint. Cover and cook for 7.5 minutes, removing the lid and tossing every 2.5 minutes. Remove from the heat to cool.
In a medium saucepan, add sugar, water, and cinnamon. Cook over medium heat until sugar dissolves, stirring occasionally. Stop stirring as the syrup comes to a boil. Use a pastry brush dipped in water to wipe down the sides of the pan and remove crystallization, if necessary. Allow mixture to boil another 3-5 minutes until dark golden brown, swirling pan gently occasionally. Pour syrup in prepared pan and swirl the pan to coat evenly. Allow syrup to cool.
Add cooled apple slices to the pan starting in the center. Make concentric circles by overlapping each slice just a bit. Work your way outward by overlapping the first circle with another circle of apple slices. You should have enough slices to complete 3 circles. Set aside for cake batter.
Begin the cake batter by beating butter, apple butter, vegetable oil, and brown sugar together in a large mixing bowl until smooth. Add buttermilk, egg, lemon zest, and vanilla and beat until fully incorporated.
Sift all dry ingredients together. Add to mixing bowl and fold just until moist. DO NOT over mix. Pour batter over apples and level top with a rubber spatula. Bake in the bottom third of the oven for 45-50 minutes or until the center of cake passes the clean toothpick test.
Remove cake and cool in the pan for 20 minutes. Place a serving plate upside down on top of the cake and invert both. Gently rotate cake pan clockwise and counterclockwise to ensure apples will release. Carefully remove the cake pan and parchment paper. Allow cooling for at least one hour before serving.