As promised, we have more healthy food coming your way this month. Personally, I hope you LOVE this one as much as I do. It is one of my absolute favorite things to eat. This is certainly not an American flavor combination and may make you cringe a bit, but I urge you to try it and discover how these flavors play so nicely together.
Beyond the flavor and the fragrance… and the texture is the sheer beauty of it. What a wonderful palette! In fact, I will post a color palette for it in the next day or two. While this dish is often served in the winter months and is a staple on holiday tables in southern Italy, you can enjoy it year-round. It would make the perfect complement to a summer barbecue.
savour… unexpected flavor
ORANGE AND OLIVE SALAD
Before you start:
We have used both regular navel orange and blood orange slices here. You can choose one or the other but try both together if you can find the blood oranges. It has a different taste and is much prettier.
Remove as much of the white pith as possible without harming the fruit. If necessary, use the edge of a paring knife to carefully scrape the pith away.
Use quality, fragrant olive oil for your dressing.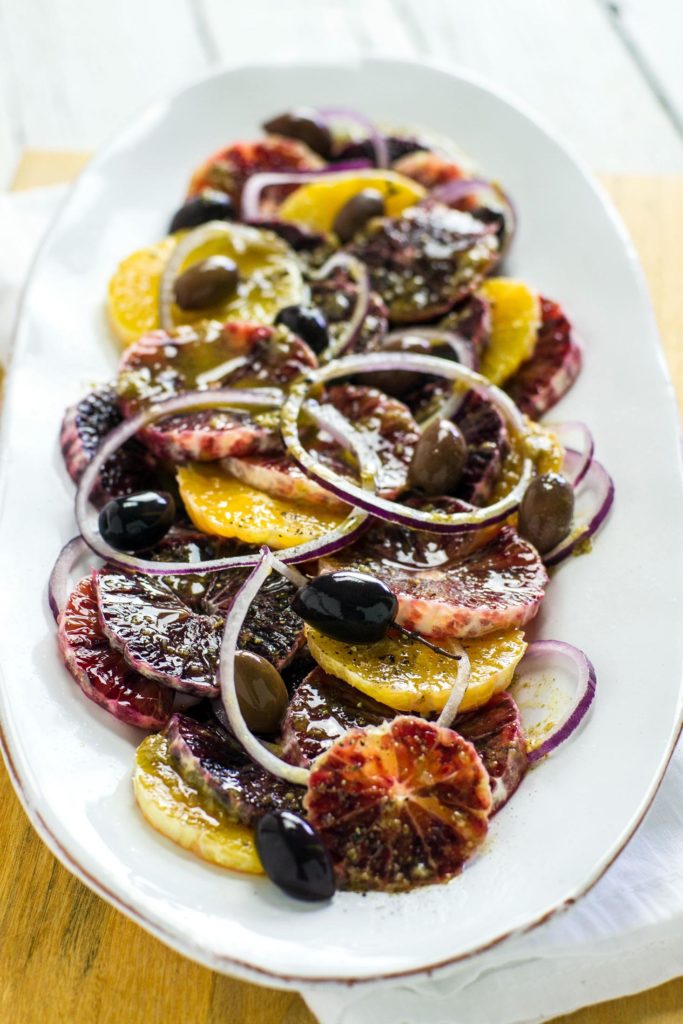 The ingredients:
3 medium-sized oranges, peeled and cut into 1/4 inch slices
1/4 – 1/2 of red onion, cut into 1/8 inch rings (about 12-15 wide rings)
15-20 kalamata olives
1 clove garlic
3/4 teaspoon coarse salt
1 teaspoon ground cumin
juice of half a lemon (1- 1 1/2 tablespoons)
3 tablespoon olive oil
freshly ground pepper to taste
The method:
Prepare the oranges and onion. Arrange the orange and onion slices on the serving platter by layering them. Vary the sizes and colors of the oranges for visual appeal.
Sprinkle the olives over the orange and onion slices evenly.
Prepare the dressing by finely chopping the garlic. Add coarse salt directly to the garlic on the cutting board. Use the flat side of your knife to crush and drag the garlic and salt on the cutting board repeatedly to create a paste. Add the paste to a small mixing bowl with the cumin and the lemon juice. Whisk until fully combined.
Slowly drizzle in the olive oil while briskly whisking the mixture. Pour the dressing over the salad just before serving. Top with freshly ground pepper to taste.