Happy Pie (pi or 3.14) Day! I hope your day is filled with all sorts of pie, sweet and savory. Start the day with a quiche florentine, maybe have a pulled pork empanada for lunch, pot pie for dinner, and finish it all off with a mile-high lemon meringue. That's just my recommendation. Tweak it as you see fit.
We've taken a little sidestep from the traditional pie path for this week's treat. I fully intended to make this in pie form, but then a quick browse through my props led me to these dessert cups, which have never made an appearance here. The rest is history.
This grasshopper pie is the ideal dessert for St. Patrick's day (or any other day, for that matter). The cookie crumb base is the perfect textural backdrop for the smooth, fluffy mint chocolate filling. Speaking of the filling, we made it super simple for you by replacing some of the ingredients and steps found in most grasshopper pie recipes with the inclusion of marshmallows. Although we have used liqueur for flavoring, there is very little proportionally. We topped ours with fresh whipped cream and more chocolate cookie crumbs, but you could poke some fresh mint there, too, for a very nice finish.
savour... a life of pie
GRASSHOPPER PIE DESSERT CUPS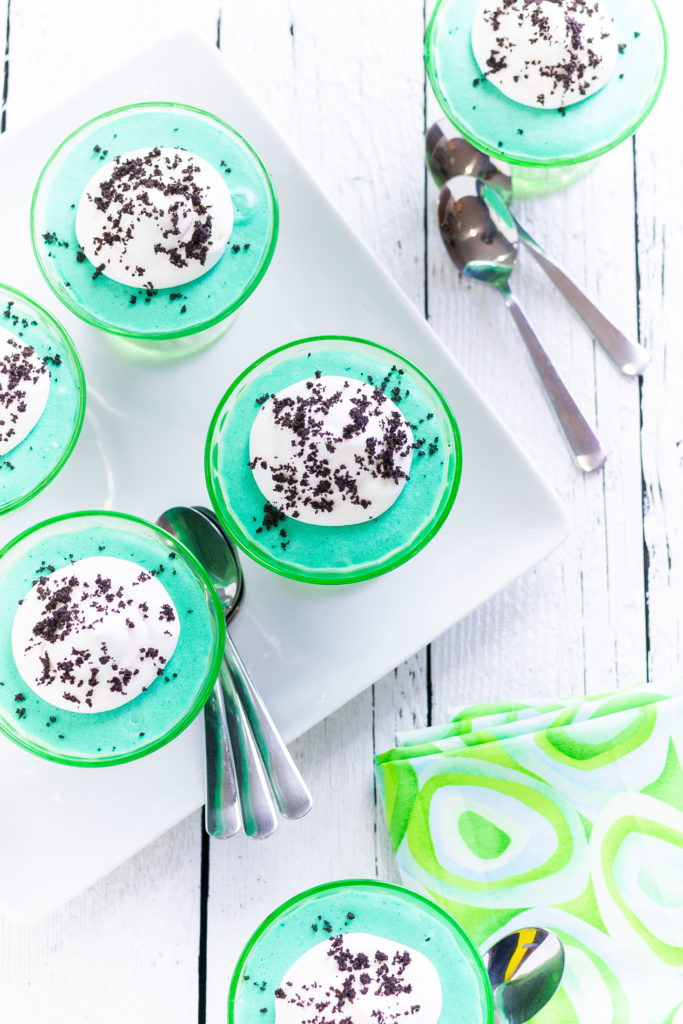 Before you start:
To save yourself some time, skip the task of scraping filling from Oreos. I typically use Nabisco Famous Chocolate Wafers for this, but I could not find them at any local store when I set out to make this post.
I added a bit of green, powdered food coloring, but that is completely optional. Without it, there will be a green tint, although less pronounced.
The ingredients:
18 Oreos (36 halves, no filling) or 36 Nabisco Famous Chocolate Wafers
4 tablespoons butter, melted
2/3 cup milk
20 large marshmallows
3 tablespoons creme de menthe
2 tablespoons creme de cacao
powdered green food coloring (optional)
3/4 cup heavy whipping cream
For the topping:
1 cup heavy whipping cream
2 tablespoons confectioner's sugar
1/2 teaspoon vanilla
cookie crumbs
The method:
Grind cookies to a fine crumb. Place them in a small bowl and add melted butter. Mix until fully combined. Press about 2 1/2 tablespoons of the crumb mixture into each of 8 dessert cups. Place the cups on a small baking sheet and put them in the freezer. Reserve the remaining crumbs for garnish.
Place milk and marshmallows in a medium saucepan over medium-low to medium heat. Heat until milk begins to simmer and marshmallow melt. Whisk until smooth, remove from the heat and allow to cool slightly.
Meanwhile, whip the heavy cream to stiff peaks.
When marshmallow mixture has cooled, add liqueurs and whisk to fully incorporate. Fold in whipped cream. Divide filling evenly among the 8 chilled dessert cups. Place them back on the baking sheet and in the freezer for at least 3 hours.
To serve, top with whipped cream and a sprinkling of cookie crumb mixture.