Ah, the laundry room. That quiet little corner of the house that, once a week, beckons you to carry out the dreaded task. Depending on the size of your family, you might be spending a good amount of time in the laundry room, so it needs to function well and not look like a prison cell. Let's see if we can help…
Where to put it
Chances are the location for your laundry room has already been decided, but if you are in the planning stages put some extra thought into where the laundry room will be. For decades the default location was the basement… and for good reason. The machines made a great deal of noise, generated lots of humidity, were somewhat unsightly, and had the potential to malfunction and create a watery mess.
Today's washers and dryers have changed dramatically. There are models to fit the needs of every consumer. Because they can be found in quieter, more stylish, and super-efficient versions, the choices for location have become much less limited. Consider the convenience of having the laundry center near, or in, the master suite or nestled between kids' bedrooms. If you spend a great deal of time in the kitchen, consider a laundry center adjacent to that area. If you can't find a model that is quiet enough for your taste, consider a door to the laundry room.
Getting started
The laundry room is probably not somewhere you will 'hang out'. It is a necessary component of your home, but the real purpose is more operational than inspirational. To get to the heart of the matter, think about what you will be doing in this space… sorting, washing, drying, folding and perhaps ironing. Start with those things in mind and add task-oriented features that support the cause.
Shelving is a must. This will keep all of those cleaners and solvents in order. If you have small children, install shelves which are high enough to prevent access to harmful chemicals. If you have ample room, a sorting station will save you loads of time. Lastly, an open, flat surface for folding will make your laundry task much easier. Make sure that it is installed low enough for you to not have to strain to fold clothes. Your layout should make it easy for you to move laundry from washer to dryer to folding surface.
Moving on
Once you have gotten the basics down, there are some other design elements that you may wish to include to simplify your laundry life. A hang bar is a great addition to any laundry room. Even a simple closet rod installed over the washer and dryer will make it easy to air dry items you don't want in the dryer. Also, a fold-out ironing station can be very useful in a laundry space. At the very least, consider a wall mounted iron & board hanging station. If you have the room, install a laundry sink near the washer.
Lighten up
If you are lucky enough to have windows in your laundry space, be sure to keep them unobstructed for good overall light. Install overhead lights for overall lighting and task lighting over the folding area.
On the surface
Your surfaces matter. Choose a smooth, durable surface for the countertop for folding and other laundry tasks. The flooring should be hard, durable, and resistant to stains and bleaching.
Making it yours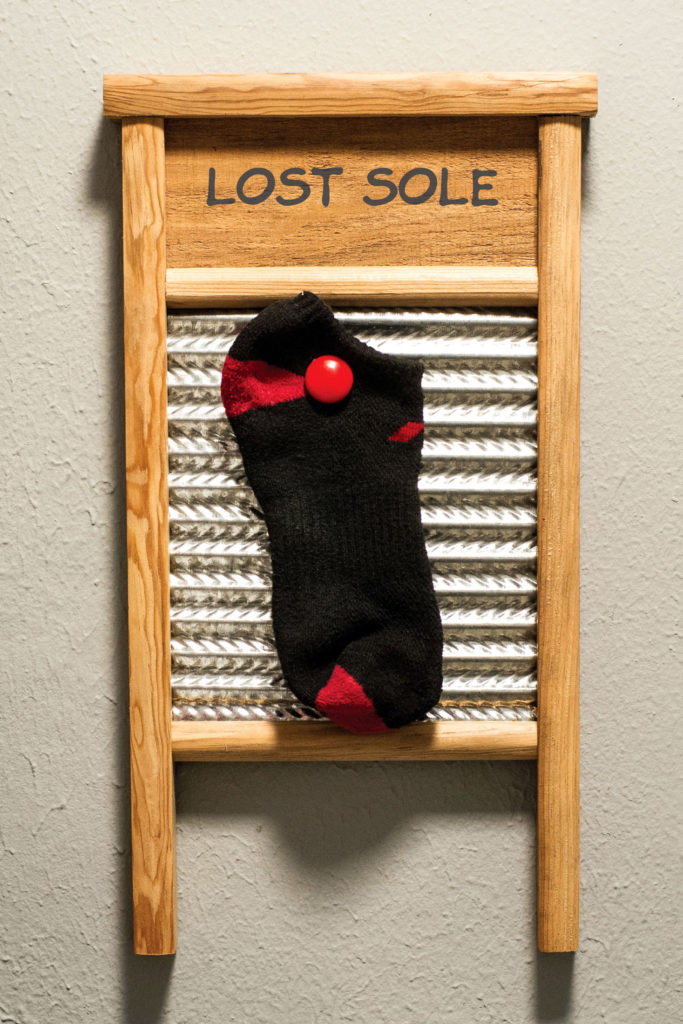 Now it's time to dress it up. Stick with colors, textures, and materials that complement the rest of your home. Add small touches that will make your task more enjoyable like speakers for your music or tablet while you fold. Make it a place you don't mind spending an hour or two by adding some artwork or plant life. Keep with the laundry theme by hanging small washboards. Use them as a frame for artwork or as a holder for mismatched socks.
Note: While there are lots of 'pin-worthy' photos out there of laundry room shelves filled with powdered detergent in apothecary jars and the like, be sure to consider functionality first.
Small spaces
If you are dealing with a small space, consider a stackable washer and dryer. You might also install a fold out iron inside of a cabinet that can house laundry detergents and solvents on the shelves below. If you have small children, be sure to get a lockable cabinet to keep them from harm.
Large spaces
If you have a large utility room, consider designing the space for several household activities such as potting, crafting, pet grooming, etc. Lay out specific cabinets and zones for each of the tasks that will be performed in the space.