Spring is in the air and you know what that means… lots of fresh fruit and swimsuit season. But what's a nester to do when you still want a little something sweet? I've got your shapely back with this week's Treat of the Week. The fresh fruit is a no-brainer, loaded with vitamins and antioxidants, but the real star of the show is the custard sauce. I lightened it up a bit with a few less egg yolks and skim milk. My version only has about 65 calories for a quarter cup and about 1 gram of fat.
This dessert is super simple to make and can be made well in advance and assembled just before serving. The custard sauce is deceptively rich and creamy. Your guests will think you're a genius and you can eat it almost guilt free.
savour... having dessert and eating it, too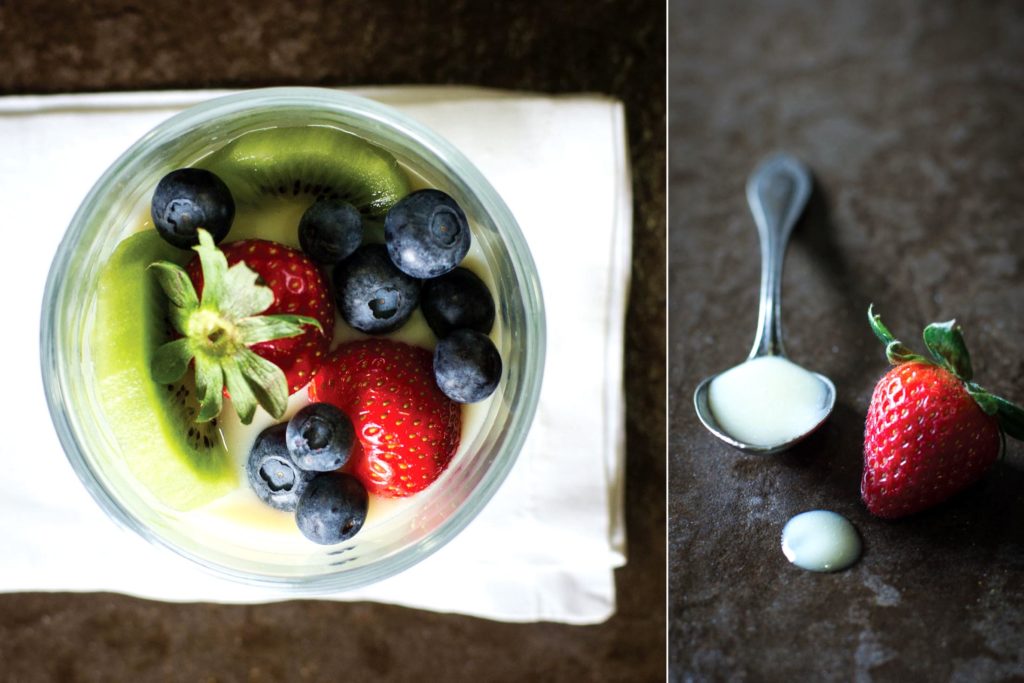 FRESH FRUIT WITH SKINNY VANILLA CUSTARD SAUCE
Before you start:
Adding the milk to the eggs and then the eggs to the milk is a tried and true method for making custards. It is imperative that you temper it in this way to avoid cooking the eggs. Likewise, it is important to add slowly while whisking quickly.
Feel free to substitute other fruits for those we outlined here. These three play very nicely together and also taste great with vanilla.
Speaking of vanilla… You can do this with vanilla bean if you wish instead of extract. However, if you are using extract be sure to use quality vanilla. In this case, the vanilla is the star of the show and only the best will do.
The ingredients:
2 cups skim milk
3 eggs
3 egg whites
6 tablespoons sugar / 85g
2 teaspoons vanilla extract
dash of salt
18 fresh strawberries, hulled
50-60 fresh blueberries
4 fresh kiwi, peeled and cut into 1/4" slices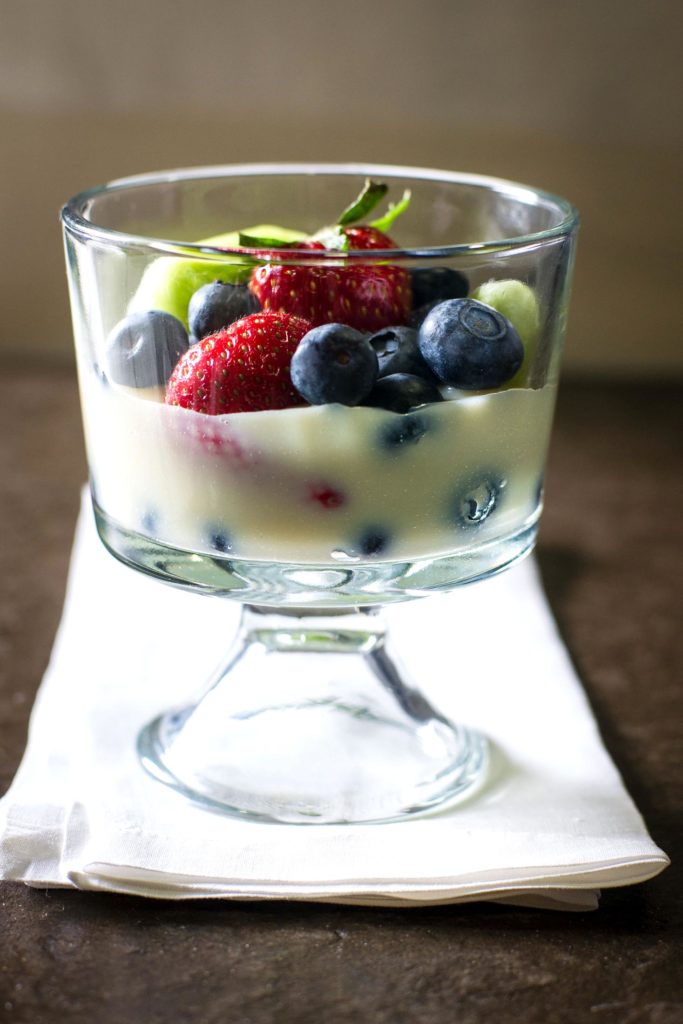 The method:
Place milk in medium saucepan over medium heat. Heat to just before the boiling point, stirring frequently. Set aside.
Whisk together eggs, egg whites, and sugar until smooth. Slowly pour about 1/2 cup of the warm milk into the egg mixture while whisking briskly. Pour all of the egg mixture into the saucepan with the milk slowly while whisking briskly.
Return saucepan to the heat, but turn it down to low to medium-low. Stir continuously until the mixture thickens and coats the back of a spoon (about 20 minutes).
Remove the saucepan from the heat and whisk for a few minutes to cool it. Add vanilla and salt, and stir until fully combined.
Immediately pour the custard sauce into a bowl and cover by placing plastic wrap directly on the surface of the sauce. Refrigerate for at least 3 hours before serving.
To serve, fill dessert bowls with 1/2 cup of custard sauce. Divide fruit among the containers evenly. Serve chilled.