Struggling with ideas for weekday dinners? We all go through it. Our days are busy, but we still want to provide a healthy dinner… one that doesn't come in a paper bag. Beyond that, our hectic schedules make the time a real factor. This recipe might be just what you need.
This Ginger Beef with Kale and Mushrooms has loads of good nutrition, can be prepared in about 30 minutes, and is super tasty. The ginger adds a kick to the dish and the kale and mushrooms sneak in some extra nutrition disguised as deliciousness. We've paired ours up with noodles here, but it would be equally good with some brown rice or quinoa for even more superfood goodness (chopsticks optional).
savour... weekday rescue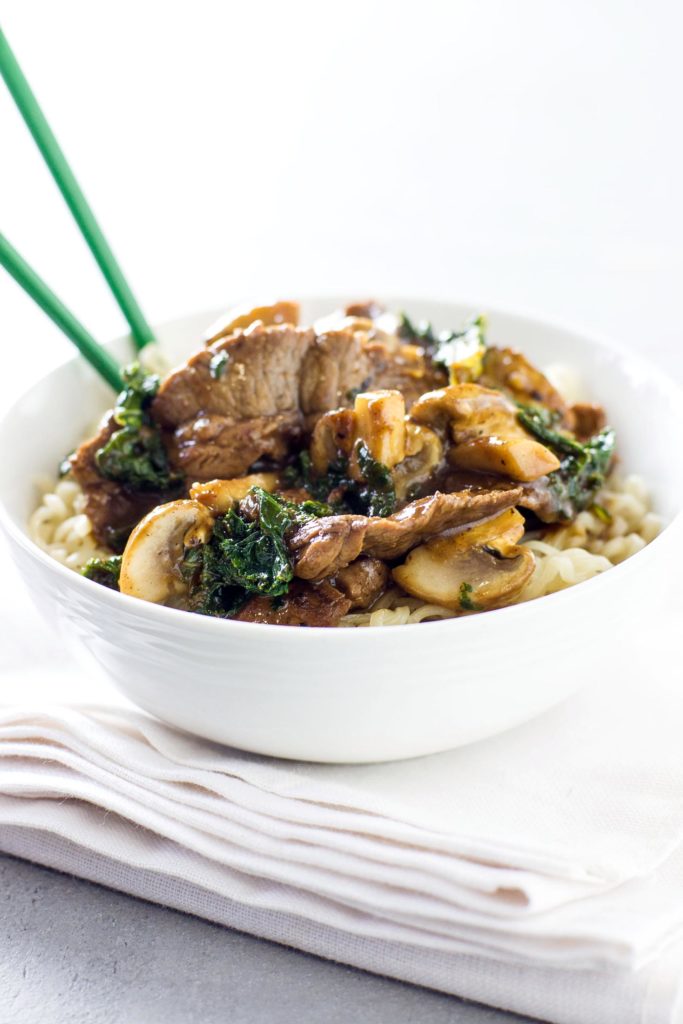 GINGER BEEF WITH KALE AND MUSHROOMS
(serves 4-6)
Before you start:
For best results, slice your beef diagonally against the grain. You'll end up with wide strips with plenty of surface area that will cook quickly.
For a spicier version, toss in 1/2 teaspoon or so of crushed red pepper flakes.
The ingredients:
1/4 cup soy sauce
2/3 cup low sodium beef stock
2 tablespoons rice wine vinegar
2 tablespoons corn starch
1 1/2 tablespoons fresh ginger, finely grated
1/2 teaspoon black pepper
2 tablespoons olive oil
1/4 cup onion, finely chopped
2 cloves garlic, minced
1 pound lean beef (top round or sirloin), thinly sliced
3 1/2 cups chopped kale leaves
8 ounces white mushrooms, cleaned and quartered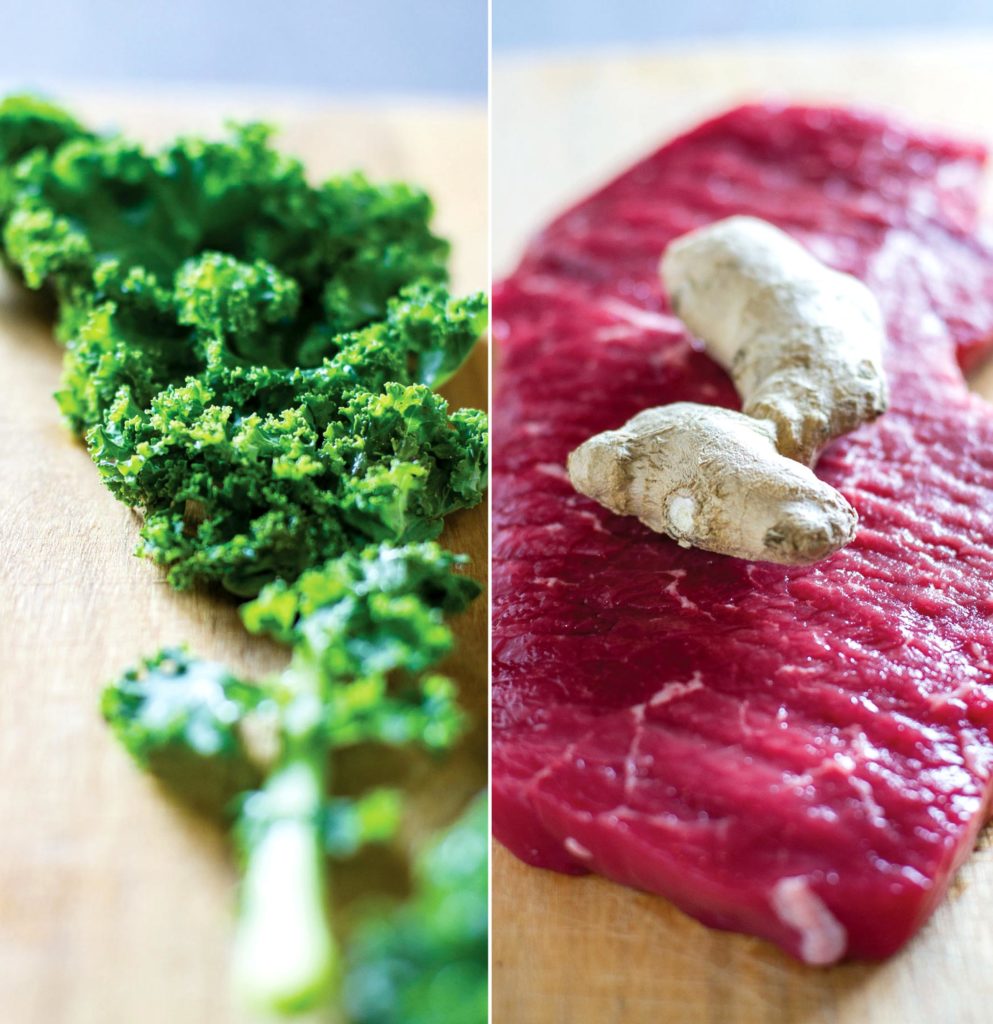 The method:
Place soy sauce, beef stock, vinegar, corn starch, ginger, and black pepper in bowl. Whisk until fully combined to make marinade. Add sliced beef to a zip top freezer bag and pour in marinade. Remove as much air as possible, place in a bowl in the refrigerator for 20 minutes.
Prepare remaining ingredients. When ready, add 2 tablespoons of olive oil to a large skillet or wok heated over medium high heat. When oil is hot, add onion. Cook onion until softened, but not browned (about 2-3 minutes). Add garlic and cook for another minute.
Add beef from the marinade by removing it with tongs or a slotted spoon. Reserve marinade. Cook beef in skillet or wok in a single layer until cooked through and browned (about 4-5 minutes). Remove beef and set aside.
Turn the pan to medium, add kale and a little water if necessary. Add mushrooms and toss until kale has wilted (about 2-3 minutes). Add reserved marinade and cook until thickened. Add beef and stir.
Serve over rice or noodles.