I probably freaked some of you out last week with the Chocolate Cake recipe. It is certainly NOT light and not a good option for anyone who is trying to lose a few elbees (LBS). As promised, though, I have some lighter treats in store for you this month beginning with today's recipe. It's still chocolate, but the calories and fat are dramatically less than the cake.
These chocolate tacos may seem a little tricky at first, but once you've got the hang of it and understand what setting on your stove works best, you'll be making these shells all of the time. Draping them over the spine of a book gives them a good base to stand tall.
I filled these with strawberry, banana, and fresh coconut. Why coconut? Because I LOVE it! You can fill yours with just about any fruit… or marshmallows and graham crackers if you aren't interested in the fruit option. However, filling them with fruit will make them a light, healthful end to any meal.
savour... stand and deliver
FRUIT FILLED CHOCOLATE TACOS
Before you start:
If you are using fresh coconut, first remove all of the coconut water by inserting a hammer into TWO of the eyes of the coconut. Pour the water out and tap the coconut firmly in the middle to reveal its natural cracking point. Continue turning and tapping all the way around the coconut using the crack as your guide. Carefully (super carefully) use a paring knife to loosen chunks of coconut from the shell. Don't worry about the brown skin that may remain on your coconut pieces. It's delicious.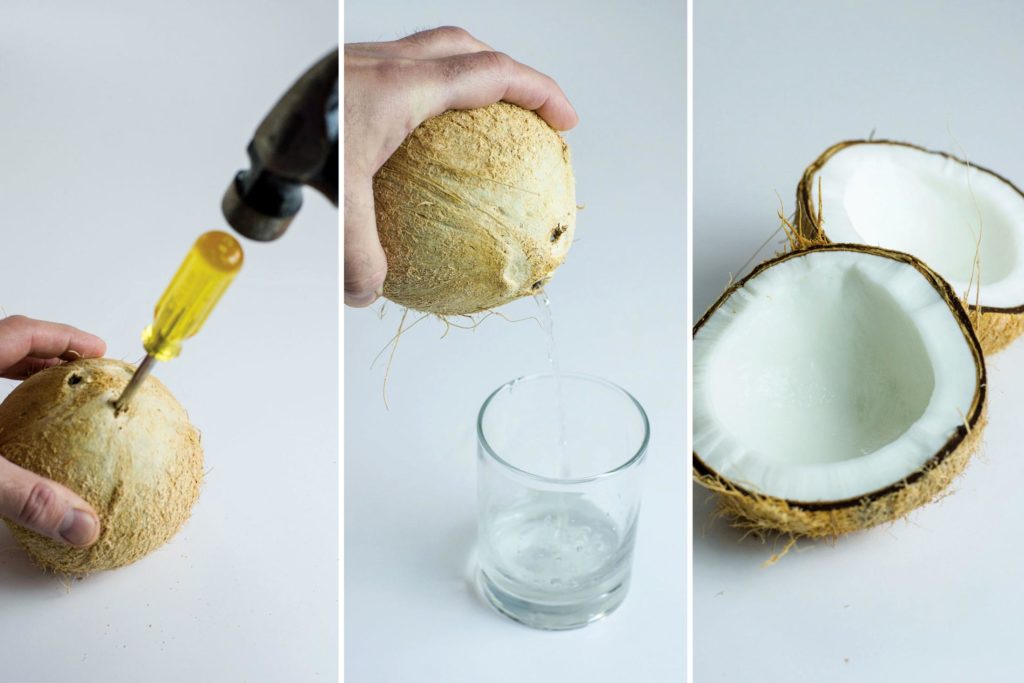 If you are making this for the first time, it may take a little practice to get the tacos right. The key is to dry the batter out without burning it. Any that are too doughy will be limp. You may have to adjust the heat until you get it right. For that reason, I recommend making two batches of batter the first time, so you can toss a few if necessary.
Set up a cooling area for the tortillas in advance. Place a few books on a towel (to keep them from sliding) on a countertop with the spines pointed upward. Place a piece of parchment paper over the books to protect them.
(makes 6)
The ingredients:
1/4 cup all-purpose flour / 35g
1/4 cup sugar / 60g
1 tablespoon cocoa
2 tablespoons skim milk
2 tablespoons vegetable oil
1 teaspoon vanilla extract
1 egg white
pinch salt
2 cups sliced strawberries
2 cups sliced banana
3/4 cup sliced fresh coconut
cooking spray
whipped cream for garnish (if desired)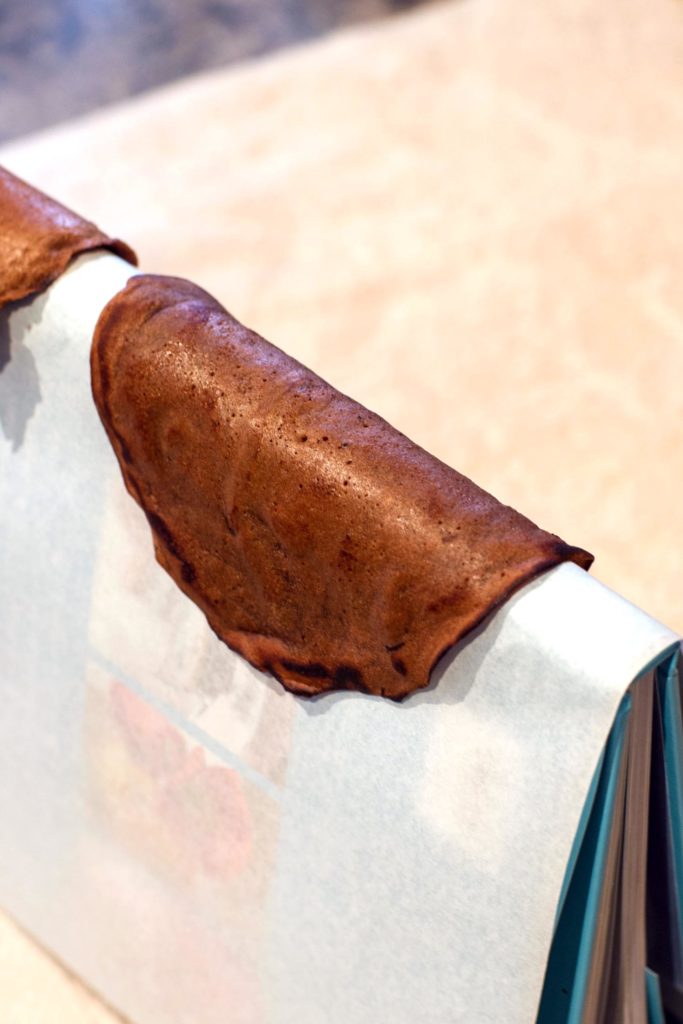 The method:
Add flour, sugar, cocoa, milk, oil, vanilla, egg, and salt to a medium bowl. Whisk until smooth. Cover with plastic wrap and place in the refrigerator for at least 3 hours.
Lightly coat a small, non-stick skillet (8″ max) and place on the stove on medium (or just below) heat. Heat pan until hot.
Add 2 to 2 1/2 tablespoons of batter to the center of the pan. Tilt and swirl the batter around, coating the pan to make an even circle. Cook for about 1 1/2 minutes or until mostly dry in the center. Using a rubber spatula and your fingers, carefully flip the tortilla over and cook for about 30 seconds more.
Remove the tortilla and immediately drape it over the spine of a book covered in parchment paper. Allow the tortillas to cool completely before filling (about 15-20 minutes).
Continue preparing the remaining tortillas. Set them aside until ready to serve.
Serve the tacos by filling with the fruit and coconut. Add a dollop of whipped cream or dust with confectioners' sugar.