Spring has sprung, and with it comes the opportunity for outdoor entertaining. Finding the right, and somewhat tame, drink to serve is a key element to an afternoon gathering or perfect brunch. The shandy offers light refreshment with just a hint of 'spirited' kick.
The shandy is generally made of beer mixed with a soft drink, such as ginger ale or a carbonated lemon-lime drink. Perhaps the most popular version worldwide is 50% beer to 50% lemon soda. The ratio of beer to drink is usually 1:1 and from there the sky is the limit. Some are flavored and colored by fruit-based syrups. By adding fruit juices and other complementary spirits, a new drink is born.
This Ginger Shandy focuses on ginger and botanicals. The drink is light, but still a little earthy. The ginger adds a unique kick and lemon brings just enough pucker to the party.
savour… 'spirited' kicks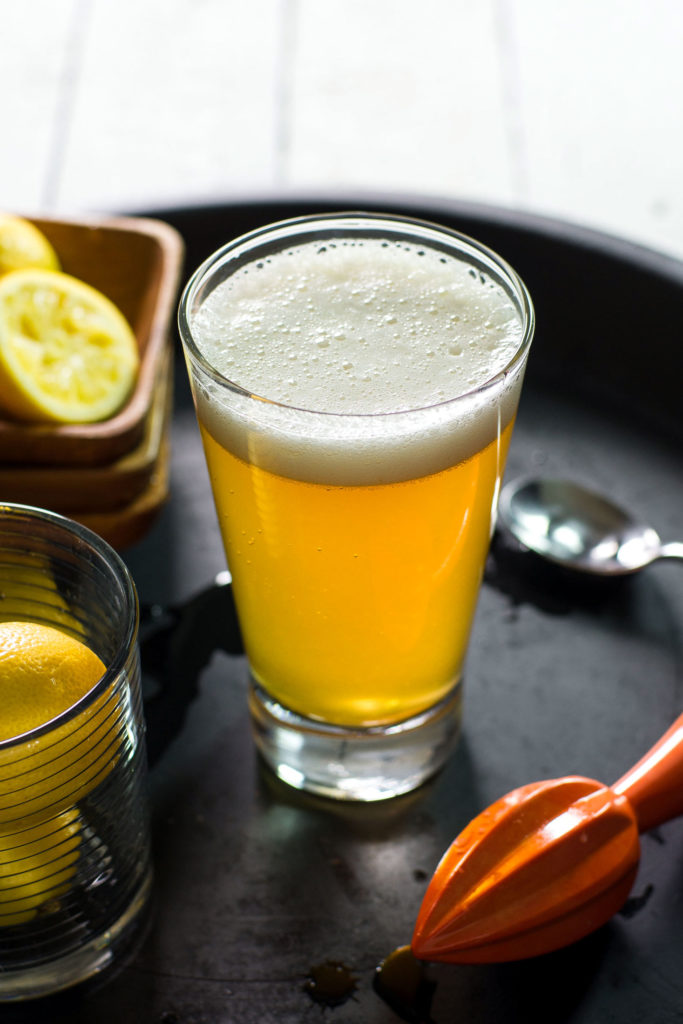 GINGER SHANDY
Before you start:
The drink gets a little extra sweetness in the form of simple syrup. Just combine equal parts of sugar and water in a small saucepan. Bring to a boil over medium-low heat, stirring occasionally to dissolve sugar completely. Remove it from the heat and allow it to cool before using.
To keep the drink from becoming cloudy, you may wish to squeeze the lemon and strain through a fine mesh strainer to remove any seeds and pulp.
The ingredients:
1 ounce (30 ml) ginger liqueur
½ ounce (15 ml) dry gin
¾ ounce (22 ml) fresh lemon juice
1½ teaspoons simple syrup
3 ounces (90 ml) pale ale
3 ounces (90ml) ginger ale
twist of lemon peel for citrus oils
The method:
Add syrup, gin, juice, and ginger liqueur to a cocktail shaker with ice.
Shake until jet cold and strain into a chilled pilsner glass.
Slowly pour pale ale and ginger ale into the glass.
Twist lemon peel over the glass to express citrus oils for flavor and to calm the foam.