I am so happy to be here with new content for you today. I feel like I have been away for far too long finishing up work for later this year.
I can't wait for fall for a couple off reasons. First of all, I have loads of projects to share with you from fall foods to Halloween decor to costumes. Secondly, it's June 6 and already close to 100 degrees in Dallas. This is the time of year I go into hibernation, only showing my face between the hours of 10am and 8pm if it means a trip to the pool. So except for the people at the grocery store or those sharing a late dinner with me, I won't likely be seen again until October.
I'm starting my hibernation period with a celebration that includes today's tasty treat. This cake is super simple to make. It is rich and moist and a must have recipe in your box. The salted caramel frosting is my new favorite. It is rich and creamy and has just the right amount of caramel flavor. I like mine a little heavy on the sea salt, so I also added a heavy sprinkling to the top. You may wish to leave that out or just use a light sprinkling.
savour... hibernation celebration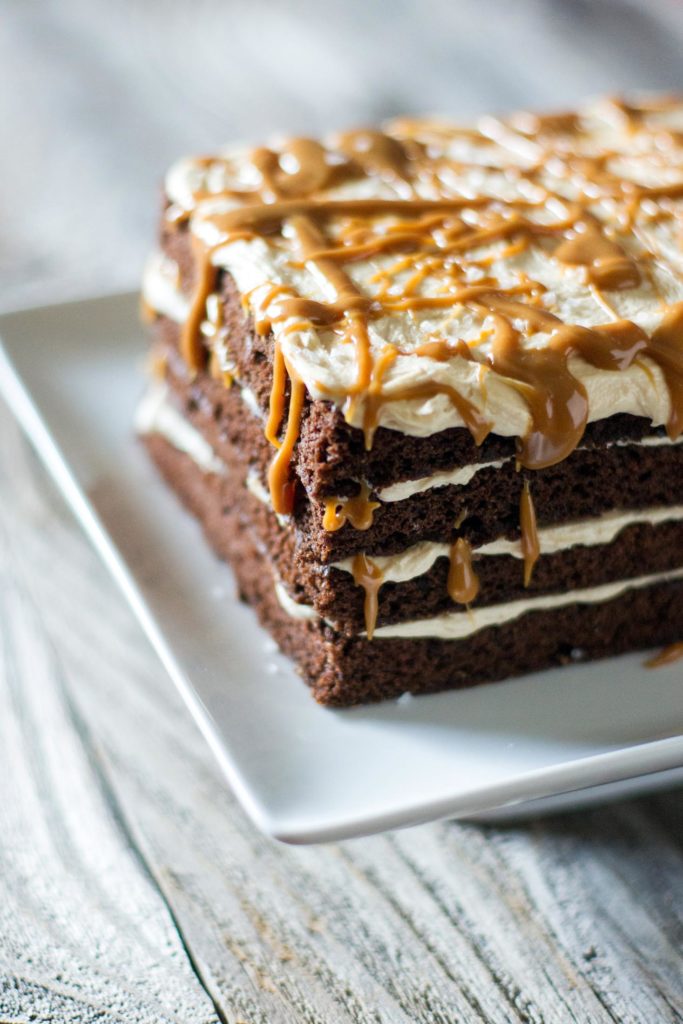 DEVIL'S FOOD CAKE WITH SALTED CARAMEL FROSTING
Before you start:
We used four tablespoons of cream to get our frosting to the desired consistency. I would start with 3 when you get to that stage and judge whether you will need more.
For the caramel drizzle, simply melt another 1/2 cup of chopped caramels in a small saucepan with 3-4 tablespoons heavy cream. Cool to lukewarm before drizzling over the top of the frosted cake.
There will be bits of hardened caramel when first added to the frosting mixture, but they will dissolve before the mixing is done.
You could also make this in two round cake pans if you wish. I like this method because it bakes a little quicker and the many layers gives it a little elegance, I think.
The ingredients:
For the cake:
2 cups cake flour
1 teaspoon baking soda
1/2 teaspoon salt
2 cups sugar, divided
1 cup plain yogurt
1/2 cup unsweetened cocoa powder
1 teaspoon vanilla
1/2 cup unsalted butter (1 stick)
2 large eggs
For the frosting:
1/2 cup caramels, cut into small pieces (about 10-12)
5 tablespoons heavy cream
1/2 cup (1 stick) unsalted butter, softened
4 cups confectioners' sugar
1 teaspoon vanilla extract
3/4 teaspoon sea salt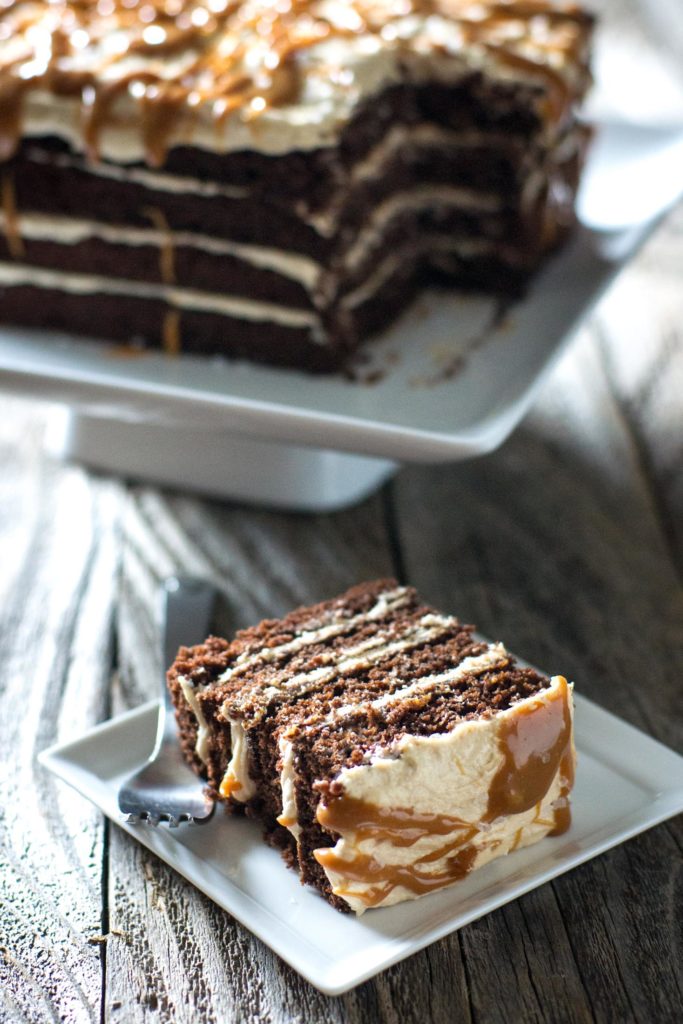 The method:
For the cake:
Preheat oven to 350˚F. Lightly grease rolled rim baking pan and dust with flour tapping out any excess. Line with parchment paper. Set aside.
Sift cake flour, baking soda, and salt together into a medium bowl. Whisk to fully combine ingredients.
In another medium bowl add 1 cup sugar, yogurt, cocoa powder, and vanilla. Whisk until smooth and creamy.
In a large bowl beat butter on medium-high speed until smooth and creamy. Add remaining 1 cup sugar gradually and beat for 4-6 minutes or until light and fluffy. Add eggs, one at a time, and beat until combined. Add flour mixture in three parts and wet mixture in two parts, alternating between the two beginning and ending with flour.
Pour batter onto a sheet pan and spread evenly to level batter and fill corners. Bake on the center rack of the oven for 18-20 minutes or until the center passes the clean toothpick test. Allow to cool completely on a wire rack before removing from pan. Place a cutting board on the cake and carefully invert it. Remove the pan and the parchment paper. Cut away the edges of the cake with a serrated knife (about 1/4 inch all around). Cut the cake into 4 equal parts by cutting in the middle horizontally and then vertically. Wrap with plastic wrap and place in the freezer until ready assemble.
For the frosting:
Place caramel pieces and 2 tablespoons of the heavy cream in a small saucepan. Cook over low heat, stirring occasionally until the caramels are completely melted. Remove from the heat and allow to cool to lukewarm.
Place butter in a mixing bowl and beat on medium speed for 30 seconds. Add sugar, vanilla, and salt. Beat on low speed for 1 minute until ingredients combine into a clumpy mixture. Add caramel and beat on low for another minute.
Add 3 more tablespoons of heavy cream and beat on high for 1 minute. Check the frosting and add additional cream as necessary to obtain a spreadable consistency. Beat for another 4 minutes.
Assembly:
Remove the cakes from the freezer. Place a small dab of frosting on your serving plate to keep the cake in place. Lay the first layer in the center of the plate. Add a thin layer (about 1/8 inch) to the top of the first layer and add the next layer. Repeat for the next two layers. With the top layer on, add the remaining icing layer (about 1/4 inch). Drizzle with melted caramels and sprinkle with more sea salt, if desired. Store refrigerated in an airtight container.