Among the many charms of living in the South is the undying devotion to sweet tea. This staple sip is part of daily life for many of those in the lower states. Truth be told, I could take it or leave it, but in the event that I could take it, there is no shortage.
Our treat for today combines the flavor of sweet tea and the cool comfort of ice cream. The ice cream is flavored only by the tea, some sugar, and lemon… just as it should be. This ice cream is custard-based, soft and smooth, and makes a believer of even those (me) who are ambivalent about iced tea.
To make it even better, we've added some glazed pecans for taste and texture. These honey lemon glazed pecans are out of this world. Even if you don't make the ice cream, make the pecans. Eat them as a treat on their own or add them to a salad.
savour... southern living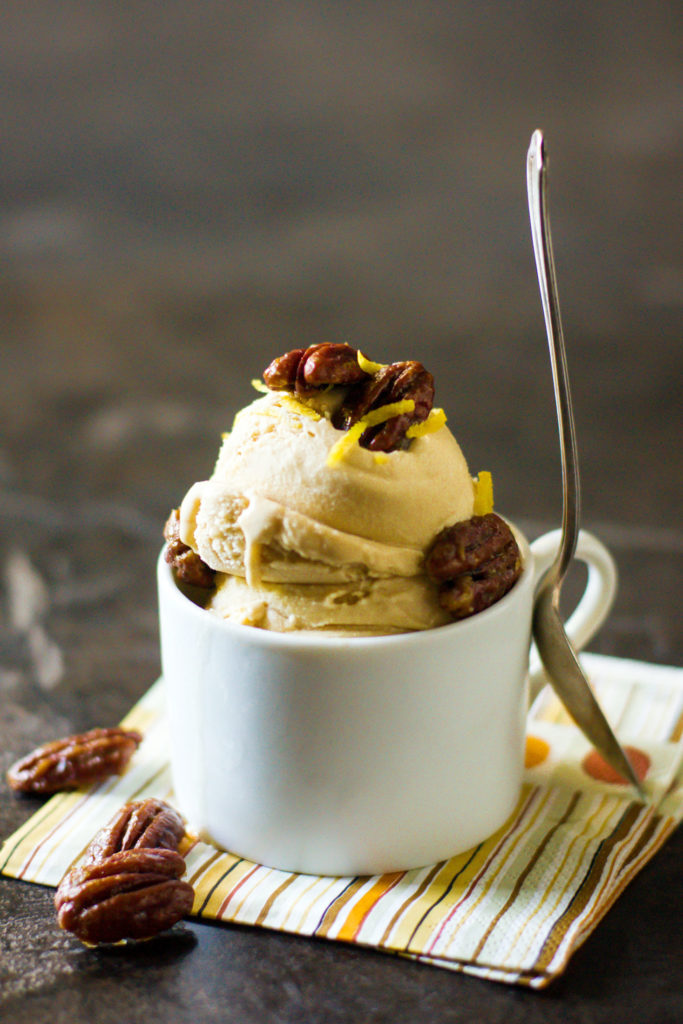 SWEET TEA ICE CREAM WITH HONEY LEMON GLAZED PECANS
Before you start:
Standard black tea is the way to go here for authentic flavor. However, there are endless variations to this idea that could be made with different tea/fruit combinations.
The tea bags will be hot, but it is important to express as much flavor from them as possible. Squeezing between two large serving spoons works great unless you want to squeeze them with your hands (be careful).
I find the best way to toss the pecans after they've been coated is with two forks. Gently flip the nuts around and keep them separated to make them easy to work with once they've cooled.
The ingredients:
For the ice cream:
1 cup water
1 cup + 1/3 cup sugar
8 regular sized tea bags
1 1/2 tablespoons lemon zest (about 3 small lemons)
1/4 cup fresh lemon juice (about 3 small lemons)
4 large egg yolks
1 cup whole milk
2 cups heavy whipping cream
pinch salt
For the glazed pecans:
2 cups pecan halves
2 tablespoons honey
2 tablespoons butter
1 tablespoon lemon zest
pinch salt
The method:
For the ice cream:
Make the sweet tea syrup by bringing the water just to a boil in a small saucepan. Steep the tea bags in the water for 8-10 minutes for bold tea flavor. Remove tea bags and squeeze between two large spoons to capture as much of the liquid as possible. Discard tea bags. Add 1 cup of sugar to the mixture and bring to a simmer over medium-low heat. Continue simmering, stirring occasionally, until the liquid has reduced by half. Set aside to cool completely.
Zest and juice the lemons. Set aside. Whisk the egg yolks and 1/3 cup sugar until smooth and then set aside.
Add milk to a medium saucepan. Bring to the point just before boiling over medium heat. Remove from heat and add about a 1/4 cup of warm milk to egg yolks while whisking briskly. Slowly add egg yolks back to milk mixture while whisking briskly. Heat over medium low – medium heat, whisking constantly until mixture thickens and coats the back of a wooden spoon. Remove from heat.
Add lemon zest, lemon juice, salt, tea syrup, and heavy cream. Stir to combine. Using a fine-mesh strainer over a metal bowl in an ice bath, strain any solids from the ice cream mixture. Stir the mixture while it is in the ice bath to cool it. Refrigerate for 1 hour before processing.
Process the ice cream in your ice cream maker according to the instructions. Pour the finished ice cream into an airtight container and freeze for at least 4 hours before serving. Serve with honey lemon glazed pecans and some fresh lemon zest, if desired.
For the glazed nuts:
Preheat the oven to 300°F. Line a baking sheet with parchment paper.
In a large skillet melt butter and honey over medium heat. Add pecans and toss to fully coat. Continue cooking until most of the moisture has evaporated from the pan. Remove from the heat and add lemon zest and salt. Stir and pour onto parchment-lined baking sheet making sure to keep the nuts separated.
Place the baking sheet in the oven and bake for 15 minutes, tossing the nuts every 5 minutes. Remove from the oven and place on a wire rack to cool completely before serving. Store in an airtight container.