SoupMonth has returned. In the past 5 years I have posted numerous soup recipes here and most of them in the month of January. Anytime is really the right time for soup, but the chill of January makes it ideal. This January is no exception and I have several new soup recipes to share with you… first up, Black Bean and Pastrami.
This may be a combination you hadn't considered, but I promise you it is full of crazy good flavor. Black bean soup on its own is delicious, but the pastrami adds a unique flavor that takes this from experiment to starred recipe.
In a hurry? We all still have to work. If time is an issue for you, consider making this with canned black beans. You'll need at least two average sized cans. Be sure to rinse them thoroughly before adding them to the recipe.
Otherwise, this soup is super simple to make and done in about 30 minutes. Spice it up a bit further with a little hot sauce. Serve it piping hot with corn bread or tortilla chips.
savour… soup spoons
BLACK BEAN AND PASTRAMI SOUP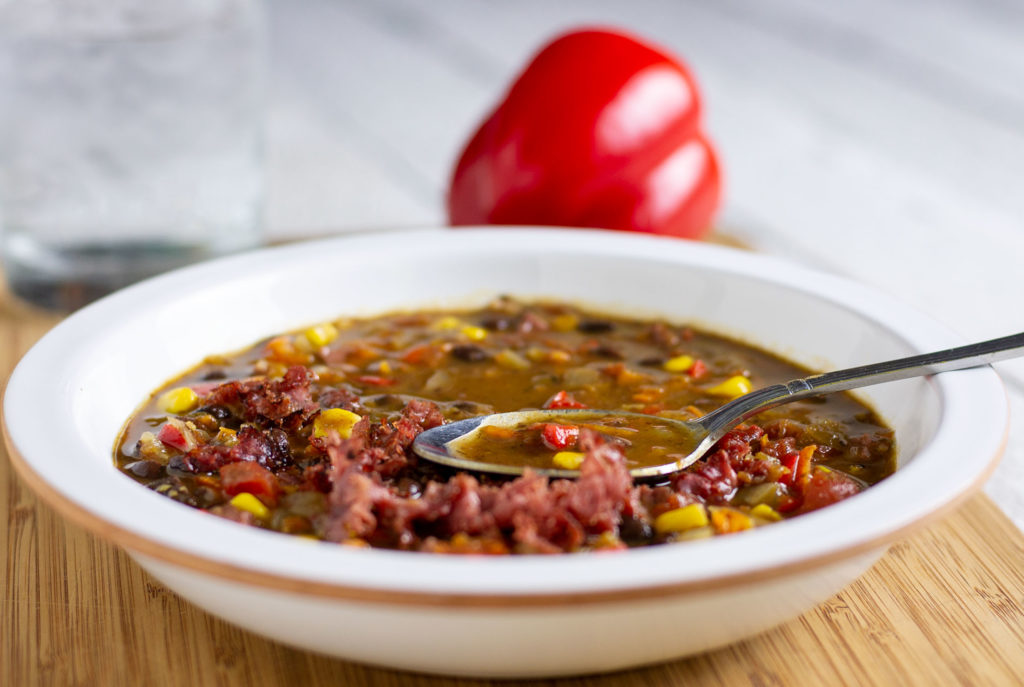 Before you start:
We keep beans of one kind or another on the stove most of the time. Black beans are good to keep around for everything from quick quesadillas to salad toppings. If making the beans from scratch, you'll need to start that process earlier or a day before depending on your method.
For the garnish, I simply added my pastrami shavings to a non-stick skillet over medium heat. Cook until the edges are brown and crispy. Transfer the shavings to a paper towel to drain. Garnish the soup just before serving.
You could probably substitute canned corn if that is what you prefer. I like to use frozen corn and have a little more control over the salt. Speaking of that, don't add the salt until after you've added the pastrami. Give it a taste and make sure you get the level you desire.
Don't skip the bean smashing step. It makes the broth full and smooth.
The ingredients:
3 tablespoons olive oil
1 medium onion, diced
1 carrot, grated
1 red bell pepper
1 serrano pepper
2 cloves garlic, minced
3 cups chicken stock
3 cups cooked black beans
1 can diced tomatoes (15 oz)
1 cup frozen corn
1 tablespoon fresh oregano, finely chopped
juice of one lime
1/2 lb. pastrami (one or two thick slices, cubed)
3/4 teaspoon salt
shaved pastrami for garnish
The method:
Heat oil over medium heat in a large saucepan. Add onion, carrot, red bell pepper, and serrano. Cook until onion is softened (about 5 minutes). Add garlic and cook for another minute or two.
Add 1 1/2 cups of beans and 1/2 cup of chicken stock to a food processor. Blitz until the beans are smooth.
Add remaining chicken stock, blended beans, whole beans, tomatoes, and corn to the pot. Bring pot to a boil over medium-high heat. Reduce to simmer and add oregano, lime juice, pastrami, and salt. Taste and adjust salt as necessary. Simmer for 15 minutes.
While soup is simmering, prepare the garnish. Serve hot with a garnish of crispy shaved pastrami.