I am happy to report that we have moved a safe distance from the 100˚ mark in Dallas. It's still hot, but not the kind that makes you break into a sweat if you dare go out to check the mail. Over the coming weeks we will get our VERY short autumn and then straight to wind and rain.
As is often the case, I am doing my part to usher in fall with a little baking. This week it was cookies. These cookies have absolutely won me over. I am not usually a big fan of white chocolate, but here it really does the trick. The pecans add a nice crunch and the coconut enhances the nutty flavor. Truth be told, I could really just eat a handful of coconut.
This recipe is fairly standard and simple to execute. Make some of your own and let me know what you think. Enjoy them on the porch with a cup of tea or mug of cider… and welcome fall.
savour… sweaters
WHITE CHOCOLATE PECAN COOKIES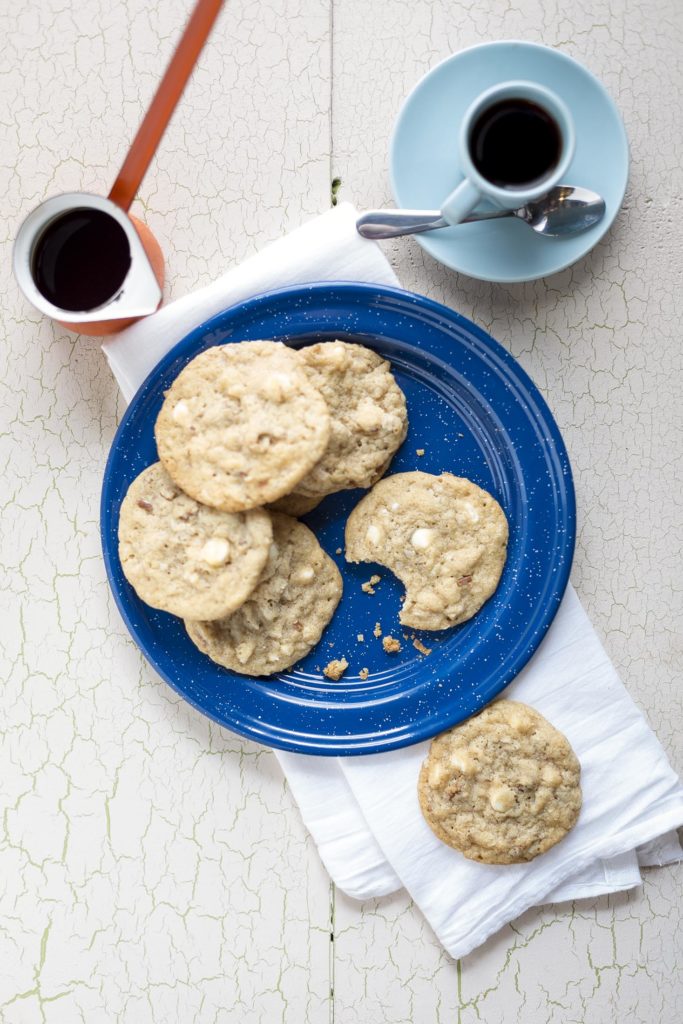 Before you start:
This recipe makes about 4 dozen medium-sized cookies… if you don't eat any of the cookie dough before baking.
The dough should be refrigerated for at least a few hours to let the flavors blend, but it would be better to let it go overnight.
Transfer the cookies after 1 minute to a wire rack to finish cooling. Leaving them on the piping hot tray will continue to cook them.
If you are baking two trays at once, rotate them every 4 minutes. The first time you rotate them switch which rack they are on also. You will need to increase the baking time to 13-16 minutes.
It is imperative that the dough is cold before going into the oven. If you let the dough balls come to room temperature before baking, they will spread out too far before they have a chance to cook.
The ingredients:
½ pound butter, room temperature
¾ cup brown sugar, packed
½ cup granulated sugar
2 large eggs, room temperature
1½ teaspoons vanilla
2¼ cups all-purpose flour
1 teaspoons baking soda
½ teaspoon salt
1 cup white chocolate chips
¾ cup pecans, chopped
¾ cup shredded coconut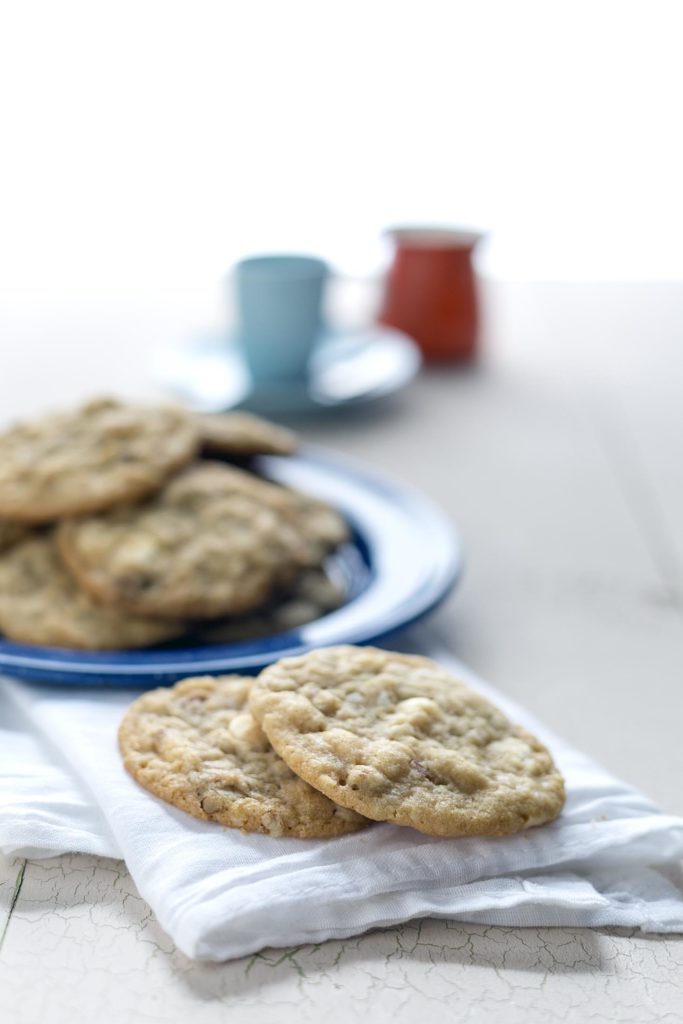 The method:
Place the butter and sugars in the bowl of your stand mixer. With the paddle attachment, beat for about 30 seconds on low speed. Turn the speed up to medium and beat until light and fluffy (about 3 minutes).
Meanwhile, sift together the flour, baking soda, and salt in a medium bowl or onto a sheet of baking parchment. Set aside.
When the butter is ready, add one egg at a time, beating until completely incorporated after each egg. Add the vanilla and beat until well combined.
Turn the mixer to low. Add the flour mixture in thirds, beating until just combined after each addition. 
With the mixer running on the lowest speed, add the white chocolate, pecans, and coconut. Mix just until combined.
Cover the bowl with cling film and store in the refrigerator until ready to bake, but at least 3 hours.
Preheat oven to 350˚F.
Use a medium cookie scoop to fill a parchment-lined baking sheet with a baker's dozen of cookies. Bake for 10-12 minutes or until lightly golden brown around the edges, rotating the tray halfway through baking.
Remove from the oven and cool on the tray for 1 minute. Transfer the cookies to a wire cooling rack to cool completely.
Store in an airtight container.