'Tis the season… to party. With just a couple of weeks left until the New Year's Eve parties begin, I thought I would give you a simple DIY hostess gift that you can take with you to a party or give out to your guests if you are having your own party.
This simple craft takes very little time (minus the drying time) with big impact. It's perfect for New Year's Eve, but could also be used for giving a nice bottle of wine for Christmas. The message and level of decoration are completely up to you.
savour… holiday spirits
NEW YEAR'S EVE HOSTESS GIFT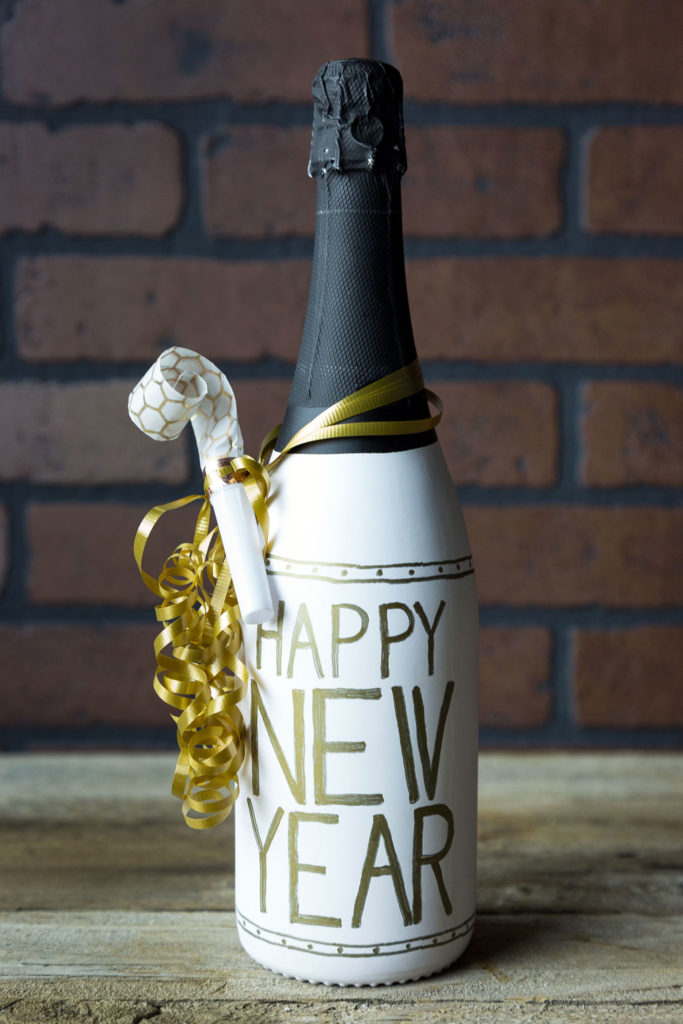 Before you start:
I used this particular bottle because it is black and went with my overall color theme. It is also frosted, which made it easier for the paint to stick. Choose a different color bottle if you wish, but if the glass is smooth it will need to be roughed up a bit with medium-grit sandpaper.
The flat paint is essential. This will make writing on the bottle far easier. For best results use a primer/paint combo.
If you are worried about your handwriting consider using adhesive letters found in the scrapbooking section of your local arts supply store.
For New Year's Eve the noisemakers work perfectly as an add-on. For Christmas, add a sparkly ornament or miniature stocking.
The materials:
champagne bottle
razor blade
newspaper
painter's tape
bucket with rice, gravel, sand or something similar
flat white spray paint
metallic permanent marker
curling ribbon and/or other embellishments
The method:
Begin by removing any labels from the bottle with a razor blade. If sticky residue remains, use a little liquid adhesive remover. Wash and dry the bottle.
Mask off the top of the bottle with newspaper and painter's tape. Be sure to cover the foil, but do not apply tape to the foil as it may remove some of the finish. Scrunch the newspaper around the top of the bottle to ensure that no paint can get to the foil.
Fill a bucket or large bowl with rice, sand or similar material. Invert the bottle and insert the top into the bucket, no further than the newsprint. Coat the bottle completely with spray paint. A second coat couldn't hurt. Allow to dry completely before proceeding.
Remove the masking from the bottle top and rest the bottle on a flat surface. Use the metallic permanent marker to draw out your design and write your message.
Add ribbon and other embellishments as desired.