I would never adopt the paleo diet.
I know… that's probably going to stir up some trouble, but if you follow a strict paleo diet and you are reading this article for focaccia with mozzarella, you've probably landed here by mistake. I'm not discounting its merit and I applaud those who stick to it because they find it is the right fit for them, but here's what…
I LOVE BREAD!
I'm saving the food choice discussion for an upcoming article, but for now, suffice it to say that I believe you should savour life. Enjoy what pleases you… in moderation, of course. Eat more of what's good for you and less of what's not. Pair that with regular exercise and you are already doing more than the vast majority. It's really that simple (well, there's a little more to it… stay tuned).
I suspect if you are still reading that you are a proud member of the Hot and Steamy Bread Lovers Association. Your devotion is rewarded today with this simple focaccia recipe. This bread is ideal for a light Italian meal or served with a salad for lunch. The crust is a bit crispy and the center is soft and slightly chewy. Best of all, the leftovers are perfect for sandwiches.
savour… hot and steamy
FOCACCIA WITH TOMATO AND MOZZARELLA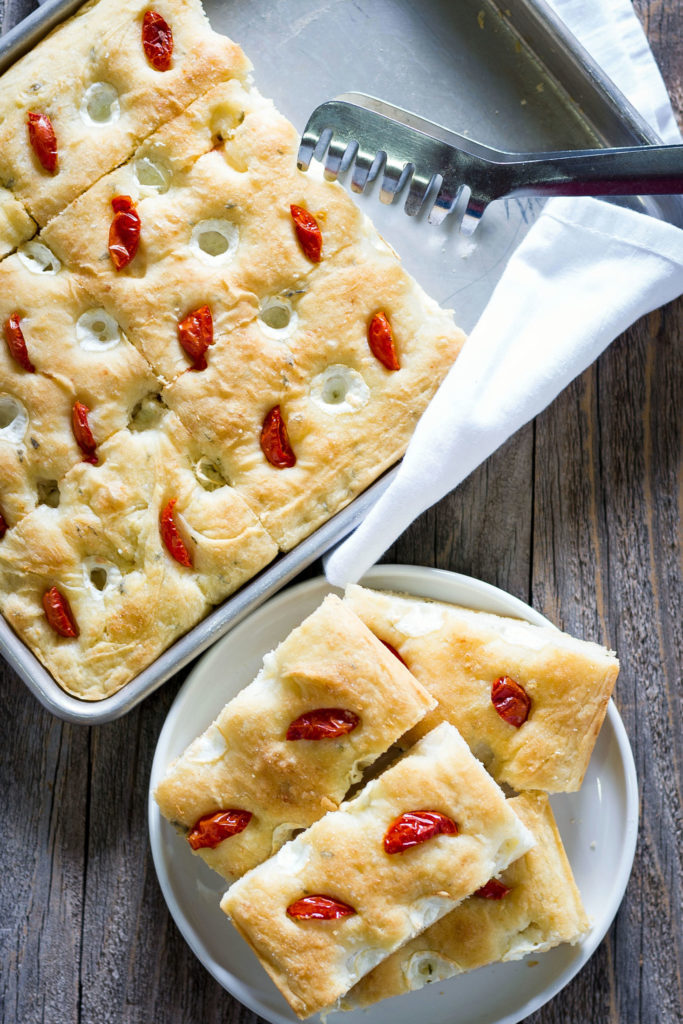 makes 2 loaves
Before you start:
This recipe is for two loaves. One is never enough. If you don't need both for your meal, save the remainder for sandwiches. Sliced horizontally and filled, it is perfect for panini.
Change it up. For some variety, use olives or thin slices of onion instead of tomatoes.
Don't bother trying to poke your rows of holes with one hand. It simply won't line up straight. I like to use three fingers from one hand and two from the other. I start in the middle and distribute two more rows evenly in both directions.
The ingredients:
5 cups all-purpose flour / 635g
4 teaspoons yeast / 17g
⅔ cup grated parmesan / 35g
2 teaspoons sea salt
2 tablespoons fresh thyme, finely chopped
2 cups warm water
4 tablespoons extra virgin olive oil
For the topping:
2 tablespoons extra virgin olive oil
¼ teaspoon fine sea salt
1 clove garlic, grated (optional)
12 cherry tomatoes
25 fresh mozzarella pearls
The method:
Coat two ¼ sheet rolled rim baking pans (9"x13") with oil. Set aside.
Add flour, yeast, parmesan, salt, and thyme to a large mixing bowl or the bowl of a stand mixer. Add water and olive oil gradually while stirring. Continue stirring until all ingredients are wet. If preparing by hand, move the dough to a lightly floured work surface and knead for 10 minutes. If using a stand mixer, add hook attachment and beat on medium speed for 5-7 minutes.
Cut kneaded dough in half. Roll it out in a rectangle, slightly larger than your baking sheet, on a lightly floured surface. Place the dough rectangles in the greased pans and shape to fit. Give each dough a light dusting of flour and cover with plastic wrap that has been lightly greased with olive oil or cooking spray.
Set the doughs aside in a warm place and cover them with a kitchen towel. Let them rise until doubled in size (about 1-1½ hours depending on conditions).
Preheat oven to 450˚F.
Prepare the topping by cutting the mozzarella pearls in half, 25 halves for each loaf. Cut the cherry tomatoes in half. Remove the seeds and cut them in half lengthwise again, creating 48 quarters, 24 for each loaf. Place them cut side down on a wire rack to remove excess liquid. Stir together olive oil, salt, and grated garlic. Set aside.
When the dough is ready, carefully remove the plastic wrap and, using your fingertips, poke 5 rows of 5 holes in the dough. Place a piece of mozzarella in each hole. Brush the top of the loaf with the oil mixture. Poke 4 tomato halves into the dough in rows between the rows of mozzarella.
Bake the dough for 20-25 minutes or until light golden brown. Cool on a wire rack before serving.