This is NOT a sponsored post. The fine people at Stemilt did send me some pears to use, but it was without pay or obligation. I say this only to tell you that I am proud to use fruit from Stemilt. I recently visited their orchards and packing facility in Washington and I was blown away by the passion they have for their work. This family has been providing top-notch produce for the nation for decades. It only takes a few sentences from the patriarch, Kyle Mathison, to feel his love for his company, his family, and his fruits. Years of research and development have led to a refined process and quality produce.
With the utmost care in packaging, my pears arrived without bruise or blemish and ready for their fate. Making this tarte tatin with pears and a select choice of spices makes it a simple dessert loaded with fall flavor. The juicy pears provide plenty of extra liquid idea for making a sauce to be used for the tarte or just over ice cream.
savour… passion fruit
PEAR TARTE TATIN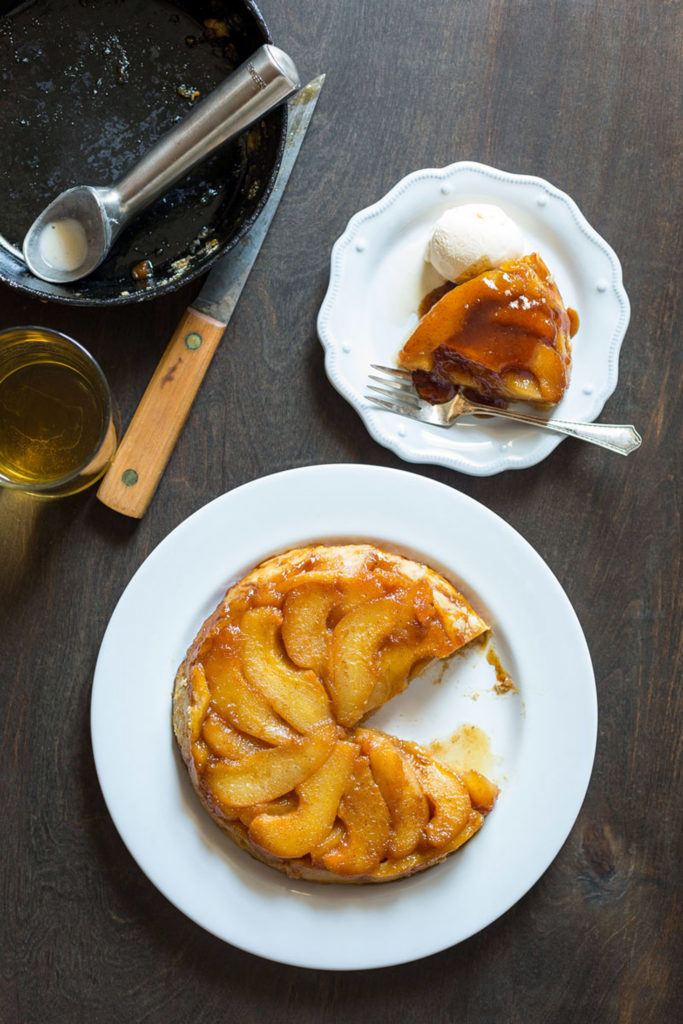 Before you start:
The pear slices can be placed in the refrigerator (uncovered) to dry out for a couple of hours if necessary.
Cooking the pears in a separate skillet allows you to manage the amount of liquid that gets transferred to the baking dish. Keep the extra liquid in the skillet to make the sauce.
I use pie crust for this dessert, but it is sometimes made with puff pastry. Need a pie crust recipe? Be sure to check out my Kitchen Basics: Pie Crust article.
If you have any sauce remaining, store it in the fridge for up to two weeks. Use it to top ice cream or add it to plain yogurt.
The ingredients:
6 medium pears
2 tablespoons fresh lemon juice
2 tablespoons water
6 tablespoons unsalted butter
1 cup sugar
½ teaspoon ground ginger
½ teaspoon ground cinnamon
2 star anise
pinch of salt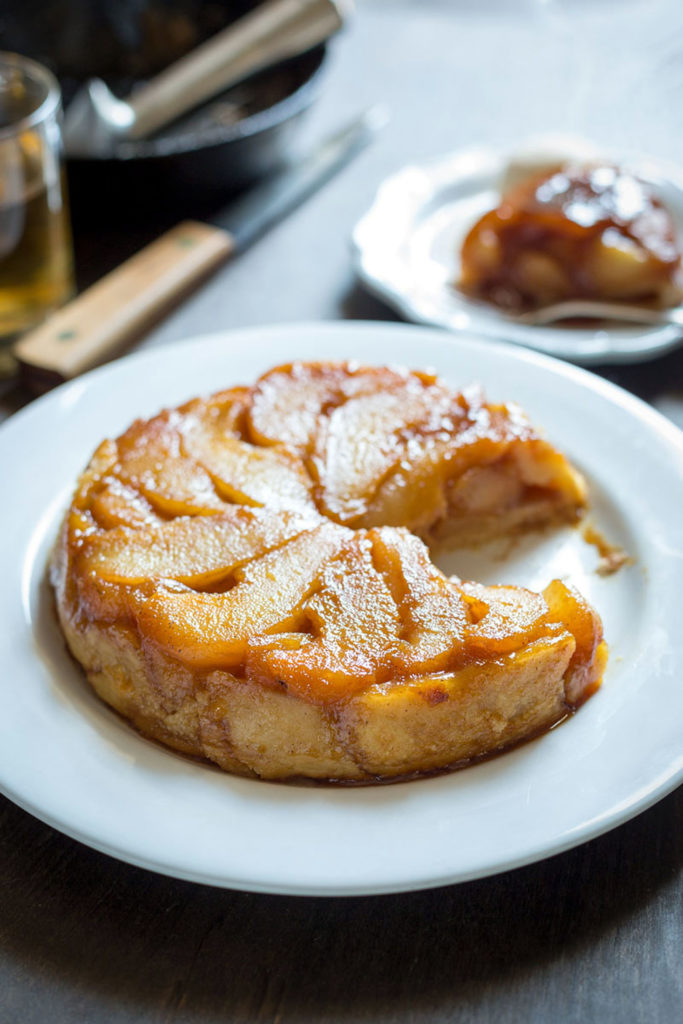 The method:
Preheat oven to 375˚F.
Put lemon juice and water in a large bowl. Peel pears then cut in half vertically. Remove the core (a melon baller works best for this). Slice each peeled half into 4 equal pieces. Place all pear slices in the lemon juice and water and toss lightly. Transfer to a wire rack to dry.
Place butter, sugar, ginger, cinnamon, star anise, and salt in a large skillet over high heat. Cook, stirring frequently, until bubbling calms and mixture is a toffee color. Add pear slices, reduce heat to medium-high, and cook, stirring occasionally, until pears are slightly tender and caramelized (about 10 minutes). Remove from heat and cool slightly.
Add pear slices to a cast iron skillet (8 or 9 inches) in a spoke pattern with the widest end of the pear slice on the outside. Continue layering slices until they are gone. Place any broken pieces in the middle. Some liquid will naturally transfer with the pears. There is no need to add any extra. Keep any remaining liquid in the original skillet to make a sauce.
Roll the pie crust out to about ¼" thickness. Use a plate that is about 1" wider than your cast iron skillet all the way around to cut out a circle from the crust. Carefully drape the pastry circle over the pears and tuck the edges between the pears and the inside of the skillet. Poke four ¼" vents in the crust.
Bake on a baking sheet in the lower third of your oven for 15 minutes. Take the skillet out and carefully drain off any excess liquid into the first skillet with the reserved liquid.
Reduce the heat to 350˚F and place the tarte back inside for about 15 minutes or until the pie crust is lightly golden brown. Remove and allow to cool for 10 minutes before proceeding.
In the meantime, bring the liquid back to a boil over medium heat. Continue cooking, stirring frequently, until sauce thickens. Remove any pear pieces if desired.
Carefully run a paring knife around the inside edge of the pan to loosen the tarte. Place a serving platter over the pan and invert it. Remove the pan carefully.
Serve the tarte warm with vanilla ice cream and sauce.
To learn more about pears, be sure to check out my infographic, Nest Essentials: Pears 101.