There is no denying how much I love my job. I am blessed with the ability to do what I love for a living every day. Of the many perks of the position is the frequent product that comes my way to sample. This is NOT a sponsored post, but the apples in this recipe are from the fine people at Stemilt Growers. I say that, unsolicited, because these Piñata apples are exceptional. They are similar to a Gala apple, but a bit sweeter and with an almost tropical flavor. They are unique to Stemilt so I am not sure if they are available everywhere, but if you find them… get them.
For this week's treat, I wanted to introduce you to one of my favorite products, kataifi. It is essentially shredded phyllo dough. You will find it in any worthy middle eastern grocery and some specialty markets. If you don't have a middle eastern market near you (and moving is not an option), you can find it online. If you are a culinary sadist, you can try to make it yourself. I assure you the packaged variety is the way to go.
With just a little butter, sugar, and spice this shredded chaos become perfect little nests for filling with all sorts of things. Here I have filled them with apples spiced with cinnamon and cardamom. If you haven't paired cardamom with apple before, you are in for a real treat.
savour… neat little packages
CARDAMOM APPLE KATAIFI NESTS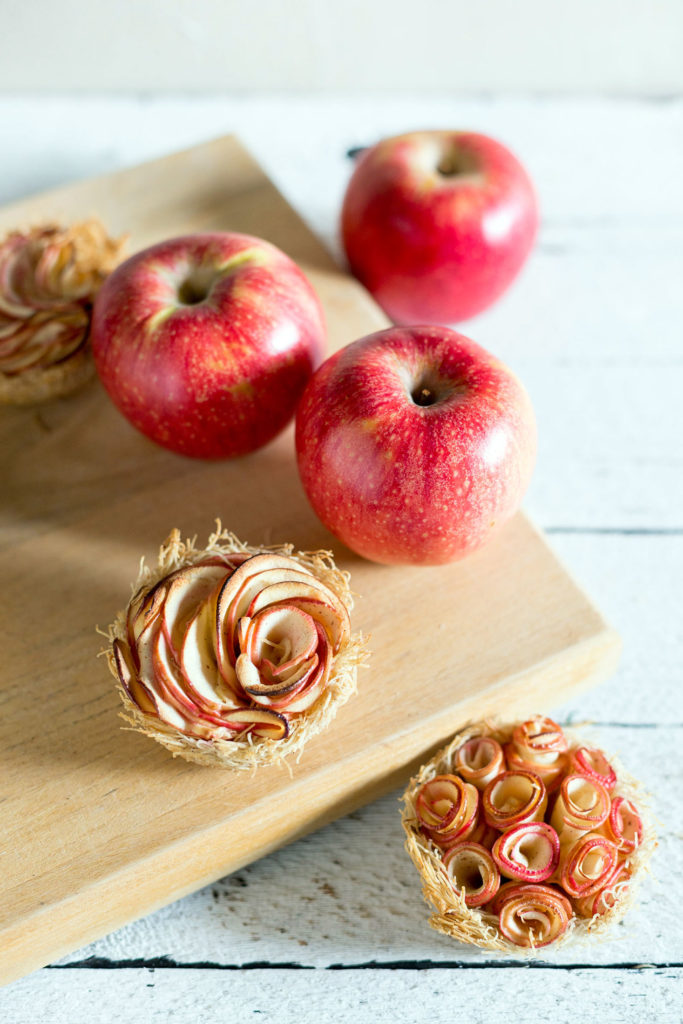 Before you start:
If you don't make many visits to the middle eastern market, buy more kataifi than you need. It freezes very well. You'll be glad you have it later.
The nests filled with individual curled apples are beautiful… and time-consuming. For an equally elegant look, stack a handful of slices in your palm and make a loose fist. Use the fingers on your other hand to gently swirl the slices almost like a rose. Carefully place the swirled sliced in the center of the kataifi nest and make small adjustments as necessary.
I used a ball pan for the nests. If you don't have a ball pan, you could make these in a muffin tin. You just won't have quite the same nest shape.
Leave the peel ON to capture all of that beautiful red and yellow color.
Many ball pans only have 6 spots. You may have to do this twice.
These would be great topped with a little confectioners' sugar or a buttery caramel sauce.
yields 12
The ingredients:
For the filling:
6 apples
⅓ cup sugar
¼ cup brown sugar
½ teaspoon ground cinnamon
¾ teaspoon ground cardamom
pinch salt
3 tablespoons flour
1 tablespoon lemon juice + zest
For the nests:
¼ cup sugar
1 teaspoon ground cinnamon
1 teaspoon ground cardamom
8 ounces (½ package) Kataifi (shredded phyllo dough), thawed
¼ cup unsalted butter, melted
The method:
Wash and core the apples. Use a mandolin to cut the apples into very thin slices. Place the apple slices in a large bowl.
Add the remaining filling ingredients to the bowl and toss gently to coat. Set aside.
Preheat oven to 375˚F.
Prepare the nests by separating the kataifi as much as possible into another large bowl. It will look a bit nuts but hang tight.
Add the remaining nest ingredients and toss the shreds to coat completely.
Distribute the nests evenly over your pan by placing a handful in one palm and gently pressing it down with the other hand to flatten it into a bit of a bowl. Place the 'bowl' into one of the wells and use your fingertips to form a nest.
Make the apple curls by cutting or carefully tearing a slice from the edge to the center. Then simply spiral the slice around itself tightly and place it in a nest. Continue making the curls and filling the nest until it is packed tightly (about 12-15 depending on the size of your nests).
Bake for 25-30 minutes or until the apples have softened and the edges of the nests are browned. Cool in the pan for at least 5 minutes before transferring to a wire rack to cool completely.