Winter warrants warm, comfort food. While I love hanging out in the kitchen, there is nothing like a slow cooker meal to lighten the load and fill your home with delicious scents. This Asian-inspired slow cooker meal makes great use of your slow cooker and solves another problem… what else can I make for dinner with chicken?
Searing the meat before slow cooking will provide a little coating and also help thicken the sauce. The finished product is moist and full of ginger and garlic flavor. This dish would be perfect with some simple steamed vegetables like broccoli or asparagus.
savour... slow comfort
GINGER GARLIC CHICKEN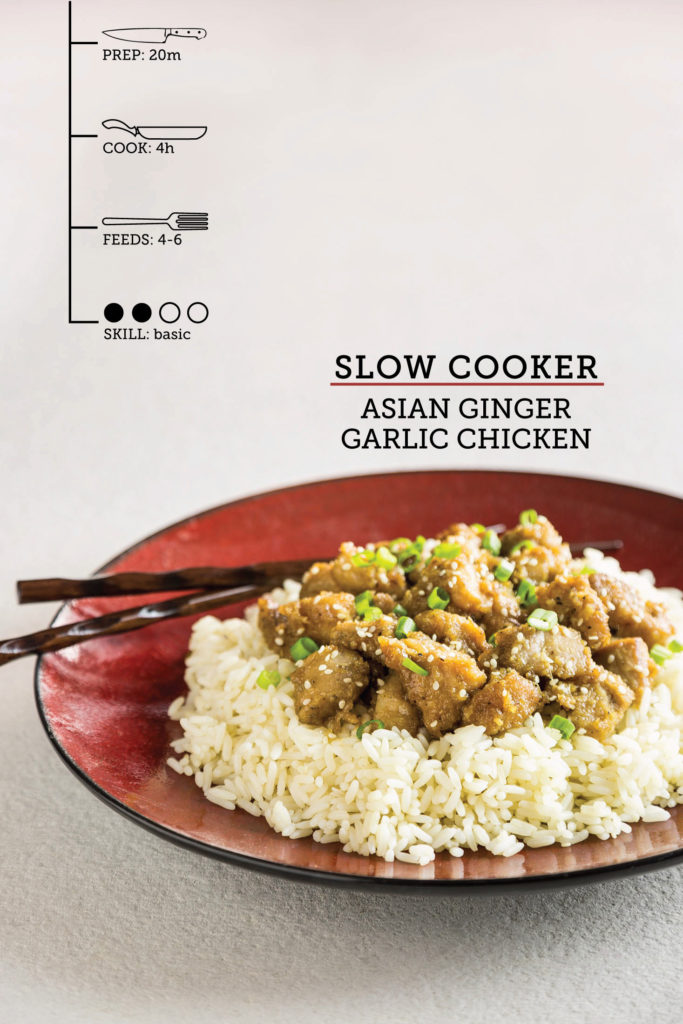 Before you start:
I used chicken thighs here, but you could absolutely substitute chicken breasts if that's what you have. Generally, chicken thighs have better flavor and do not dry out as much as breasts.
Like more ginger, use more ginger. This recipe is fairly forgiving. Feel free to amp up the ginger, garlic, or pepper flakes to suit your taste.
If you don't have rice vinegar, apple cider vinegar will work fine.
The ingredients:
6-8 boneless skinless chicken thighs, cut into bite-sized chunks
4 tablespoons cornstarch 
2 teaspoons olive oil
1 teaspoon freshly ground pepper
¼ cup hoisin sauce
2 tablespoons soy sauce 
2 tablespoons water
2 tablespoons honey
2 tablespoons rice vinegar 
3 garlic cloves, grated
1 inch ginger, grated
½ teaspoon red pepper flakes
scallions and sesame seeds for garnish
The method:
Place meat, cornstarch, and pepper in a large, zippered freezer bag. Shake and toss meat chunks to coat completely with cornstarch. Heat oil in a large skillet over medium-high heat. Add chicken to skillet and cook on all sides to lightly brown the surface completely (about 5-7 minutes). NOTE: Do not overcrowd the pan. If necessary, cook half of the chicken and transfer to a plate while you cook the remaining chicken.
Add the remaining ingredients minus the garnish to a slow cooker. Whisk to fully combine. Add the chicken to the slow cooker and gently toss in the sauce to lightly coat. Set the slow cooker to high and cook, covered, for 2 hours. Remove the lid after two hours and cook another 1½-2 hours, gently tossing occasionally.
Serve finished chicken over steamed rice with a garnish of sliced scallions and sesame seeds.