Look to the cookie! It's impossible to think of these classic New York cookies without thinking of the Seinfeld episode where he and Elaine are at a bakery in Manhattan. Jerry uses the cookie to express how easy it is for all of us to live side by side, despite our differences. I'm not sure that it's quite that simple, but there is a certain harmony that lives on these classic black and white cookies… a sweet, sweet harmony.
savour… harmony
CLASSIC BLACK AND WHITE COOKIES
yields 16 medium cookies
Before you start:
Many cookie doughs can be made and refrigerated before baking. In fact, some should be treated in this way. However, this cookie is NOT one of those. These should be baked right after preparing the dough. The baking powder will be activated and ready to do its thing once it is wet.
You can use Greek yogurt or crème fraîche instead of sour cream, but stick with full fat.
As with many cookie recipes, the temperature of the ingredients is important for a successful dough. Note that the butter, egg, and sour cream should all be at room temperature.
Once the cookies are baked, they can be stored in the refrigerator for a few days before icing, if desired. Be sure to bring them to room temperature before icing.
The ingredients:
For the cookies:
2 cups all-purpose flour
½ teaspoon baking powder
¼ teaspoon baking soda
¼ teaspoon salt
10 tablespoons unsalted butter, room temperature
1 cup sugar
1 large egg, room temperature
2 teaspoons vanilla
⅓ cup sour cream, room temperature
For the icing:
5½ cups confectioners sugar, sifted
7 tablespoons whole milk, divided
2 tablespoons light corn syrup
1 teaspoon vanilla
½ teaspoon salt
3 tablespoons unsweetened cocoa powder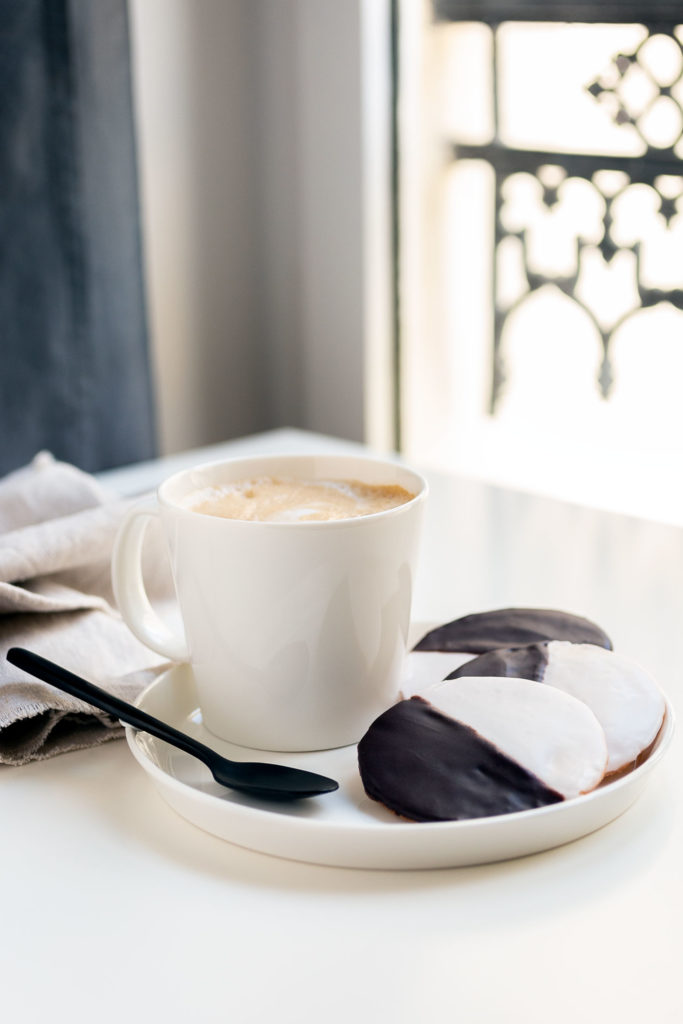 The method:
For the cookies:
Preheat oven to 350°F. Line two baking sheets with parchment paper and set aside.
Place flour, baking powder, baking soda, and salt in a medium bowl and whisk to fully mix. Set aside.
Place butter and sugar in a mixing bowl and beat on medium-high speed until the mixture is paler, light, and creamy (2-3 min). Add the egg and vanilla and beat to fully incorporate. Scrape down the sides and beat again briefly to ensure that everything is fully incorporated.
With the mixer on low speed, add the dry ingredients and sour cream in thirds, alternating between the two. Beat until all of the flour is moistened.
Use a medium cookie scoop to create 8 mounds of dough on each baking sheet (see diagram below). There should be 2-3 inches between each cookie. Bake cookies for 15-18 minutes or until the edges are lightly browned. (see The Right Tools: Baking Cookies)
Cool cookies on baking sheets for 5 minutes before transferring them to a wire rack. Cool completely before icing.
For the icing:
Add confectioners sugar, 6 tablespoons of milk, corn syrup, vanilla, and salt to a medium bowl. Whisk until smooth. Transfer 1 cup of the mixture to another bowl and add remaining milk and cocoa powder. Whisk until smooth.
Cover half of the smooth side of each of the cookies with vanilla icing. Place the cookies in the refrigerator for 10-15 minutes to set up. Spread the chocolate icing in the other half. Allow the icings to set completely before serving, at least one hour.
Store cookies in an airtight container in the refrigerator for best results