Your weeknight meal planning just got a little easier. This garlic butter herb chicken is quick and easy, but absolutely does not skimp on flavor. The chicken pieces (your choice) are infused with garlicky butter and herbs. The mushrooms make a nice addition to be served with the side of your choice.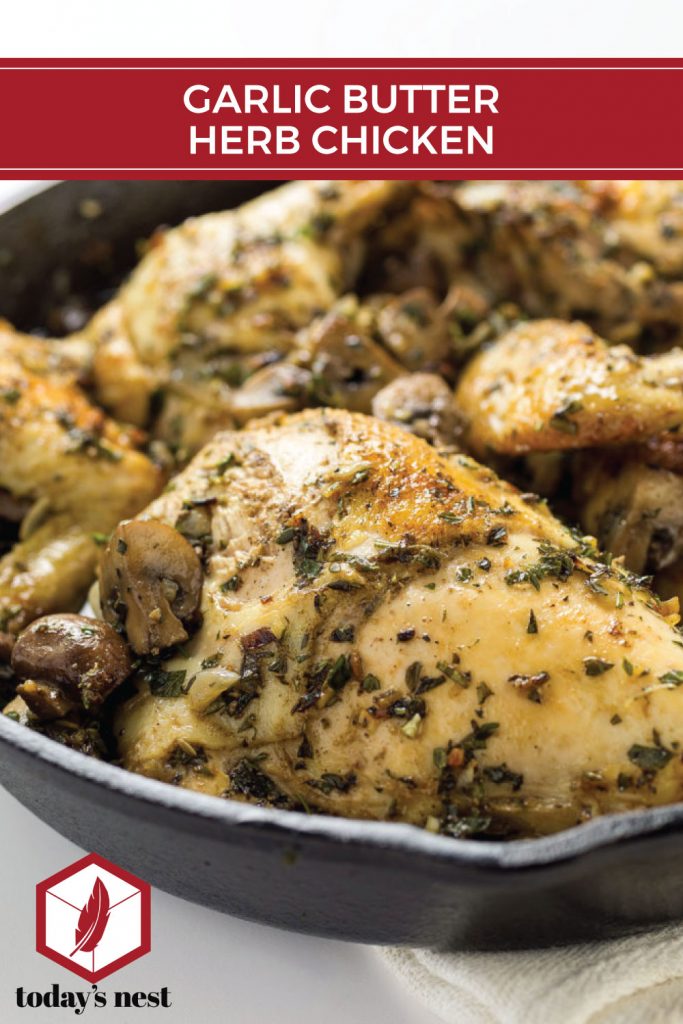 We made our recipe with chicken pieces with bones and skin. You can make it without that if you prefer.
Fresh herbs are really what make this dish. If you use dried herbs, you may want to reduce the quantity a bit.
This dish would be great with a
potato side dish
, rice, or even a simple side salad.
Garlic Butter Herb Chicken
Prepare this flavorful chicken dish as the main course for a weeknight meal in just 30 minutes.
Prep Time

10 min

Cook Time

20 min

Total Time

30 min

Yield

6 servings

Energy

319 cal
Cuisine

Course

Cooking Method
The ingredients:
4 tablespoons butter
¼ cup freshly chopped oregano
1½ teaspoon fresh rosemary chopped
1½ teaspoon fresh thyme chopped
1½-2 pounds chicken pieces
salt and pepper to taste
½ pound cremini mushrooms, cleaned and quartered
6 garlic cloves minced
The Method:
1
In a large skillet over medium-high heat, melt 2 tablespoons of butter. Add oregano, rosemary, and thyme. Add chicken pieces and lightly season with salt and pepper. Cook on each side for 4-5 minutes or until it reaches 165˚F. The skin should be golden brown, if applicable. Remove the chicken from the pan and set aside.
2
Reduce heat to medium. Add the remaining 2 tablespoons of butter, the mushroom quarters, and the garlic. Cook, stirring occasionally, for 4-5 minutes until mushrooms have softened and garlic is lightly golden. Do not allow garlic to burn.
3
Return the chicken to the pan. Cook for 1 minute on each side, coating the pieces in herbs and garlic butter.
4
Allow to cool slightly and serve.
Amount per serving

Calories

319

% Daily Value*

Total Fat

20 g

25.64%

Total Carbohydrate

25 g

9.09%

Protein

29 g

58%

* The % Daily Value (DV) tells you how much a nutrient in a serving of food contributes to a daily diet. 2,000 calories a day is used for general nutrition advice.
NOTE: These nutritional values have NOT been verified by any laboratory. They are estimates based on publicly available information to help you make informed food choices.
calorieking.com