Mediterranean food speaks to me in a way that no other does. I am dizzied by the aroma of fresh herbs and garlic. Of course, you already know how I feel about olives. Fresh and uncomplicated is always the flavor of the day in Mediterranean cooking. Our dish for today, although Americanized, is a good example of a simple, fresh "sandwich" whose whole is better than the sum of its parts. Meet the gyro (yee-roh).
If you are lucky enough to live in a city with a decent Greek representation, you probably have a Greek cafe nearby. Some of them will sell you the gyro meat by the pound. Many specialty supermarkets have started carrying gyro meat at the deli or meat counter. It is typically made up of up to 50% lamb and the rest beef. Herbs, spices, garlic, and onion are added. The meat is then ground, formed on a spit and roasted. Once shaved, the meat is assembled on a pita with other traditional ingredients to build a gyro.
One of the best parts of this sandwich is the tzaziki sauce. It is light and fresh and could have many other uses. Buying Greek yogurt is advised, but you could also use regular, unflavored yogurt if you drain all of the water off with a cheesecloth.
By the way, you could easily adapt this sandwich into a salad by chopping the pita and meat into small chunks and tossing with the vegetables. Use the tzaziki as a dressing and top with feta. That, a glass of red wine, and a little imagination will put you on a patio in Athens in no time.
savour… food travels
GYROS AND TZAZIKI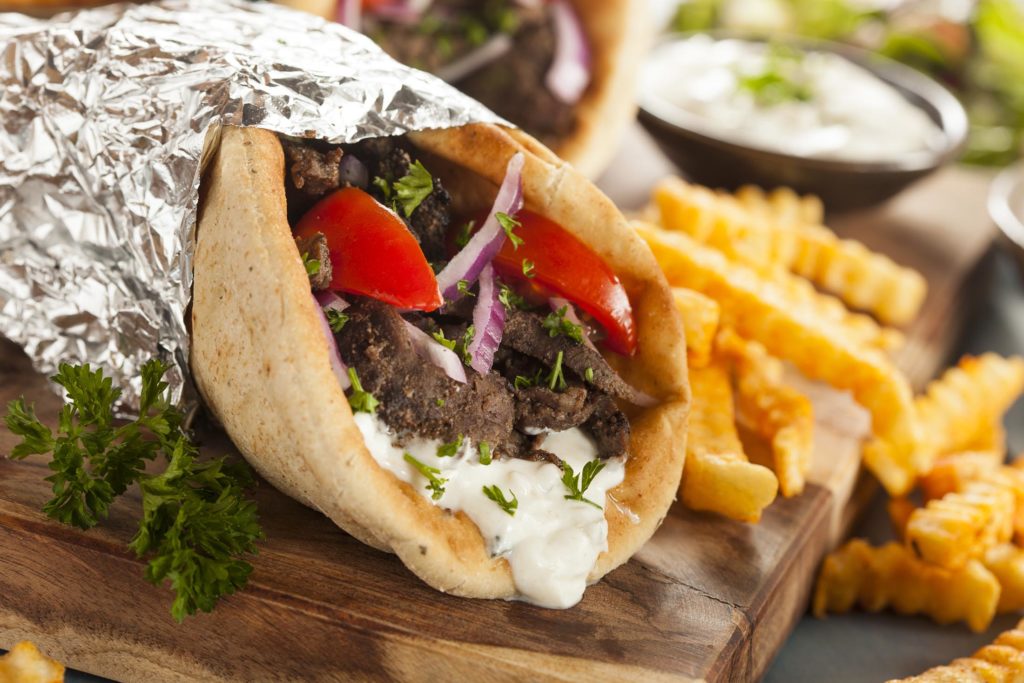 The ingredients:
4 pitas (Most mass-produced ones lack the proper flavor and texture. Go for authentic if possible.)
Gyro meat – approximately 24 slices.
Romaine lettuce
2 medium tomatoes
Red onion
Kalamata olives
Feta cheese
Tzaziki sauce (recipe follows)
The method:
Cut up the tomatoes into bite-size pieces.
Tear the romaine into bite-size pieces.
Make the tzatziki sauce.
Break up feta if necessary.
Have all ingredients at the ready.
Place gyro meat under a broiler. Adjust rack if necessary to get meat within 6 inches of heat.
After slightly browned, turn over and lightly brown the other side.
Assemble sandwich – meat, lettuce, tomato, onion, olives, feta, tzatziki.
Roll into a cone shape to serve (I made a cone out of double parchment paper for "on-the-go").
Tzaziki sauce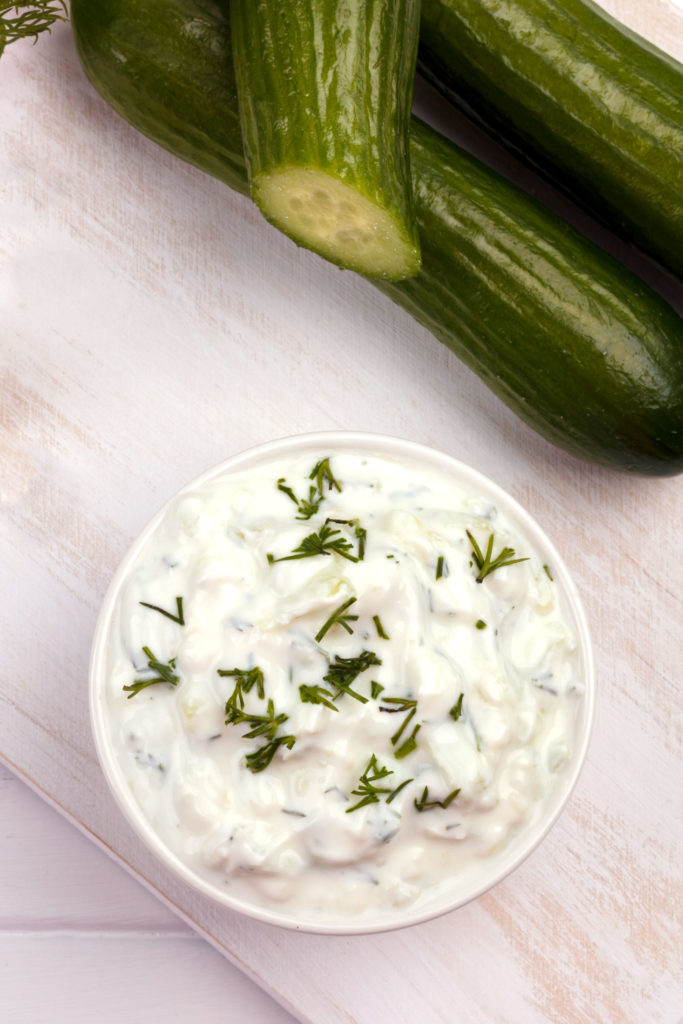 The ingredients:
1 cucumber
1 16 oz Greek yogurt
2 cloves garlic
pinch of kosher salt
The method:
Remove peel and seeds from the cucumber.
Finely grate the cucumber.
Squeeze/strain excess liquid from cucumber.
Pour off any excess liquid from the yogurt.
Mince garlic or put through a garlic press.
Add all ingredients to a bowl and mix thoroughly.
Keep refrigerated.