This time of year always reminds me of heading to my aunt and uncle's home for the summer as a child. As soon as I was old enough to work I began at Knapp Orchard. I was paid some pittance per pint and could eat all I wanted. The work started with strawberries, but it wasn't long before the cherries were ready. The field foreman would strap a kidney-shaped bucket to me and send me up the most rickety ladder in search of the sweet bounty.
I could not wait to take some cherries home knowing that my aunt would whip up something fantastic. She had a cherry pitter which attached to the counter. You would drop the cherries in the top and crank the handle. The fruit fell out one side and the pit out the other. This was clearly a contraption for someone who used lots of cherries. Today I mainly pick my cherries from the produce section and I don't have any machine to pit them. But I do love cherries so. That love led me right to this week's Treat of the Week.
Clafoutis (kla-foo-TEE) is a simple dessert that falls somewhere between pancake and custard. If you like custard, you will enjoy this treat. Once mastered you will be making it regularly. The ingredients are few and the effort is minimal minus the cherry pitting.
There are many variations of this recipe. Some will yield results that are more "cakey" or more "custardy". You will have to adjust according to your taste. I lean more toward the cakey side so I have added fewer eggs than many recipes.
To pit the cherries I cut a few plastic straws in half. Next, I cut a small slit in the bottom of the cherry and "screw" the straw into the stem end of the cherry. Pushing down and twisting simultaneously will force the pit right out of the bottom. You may want to purchase a cherry pitter instead if you do not have one, but this method works well once you get the hang of it.
When cherries are bountiful they can usually be found on sale, but like everything, the price soon goes up. Get them while it is affordable and try this recipe… and be thankful you don't have to teeter precariously on the edge of a ladder to do it.
savour… sweet rewards
CHERRY CLAFOUTIS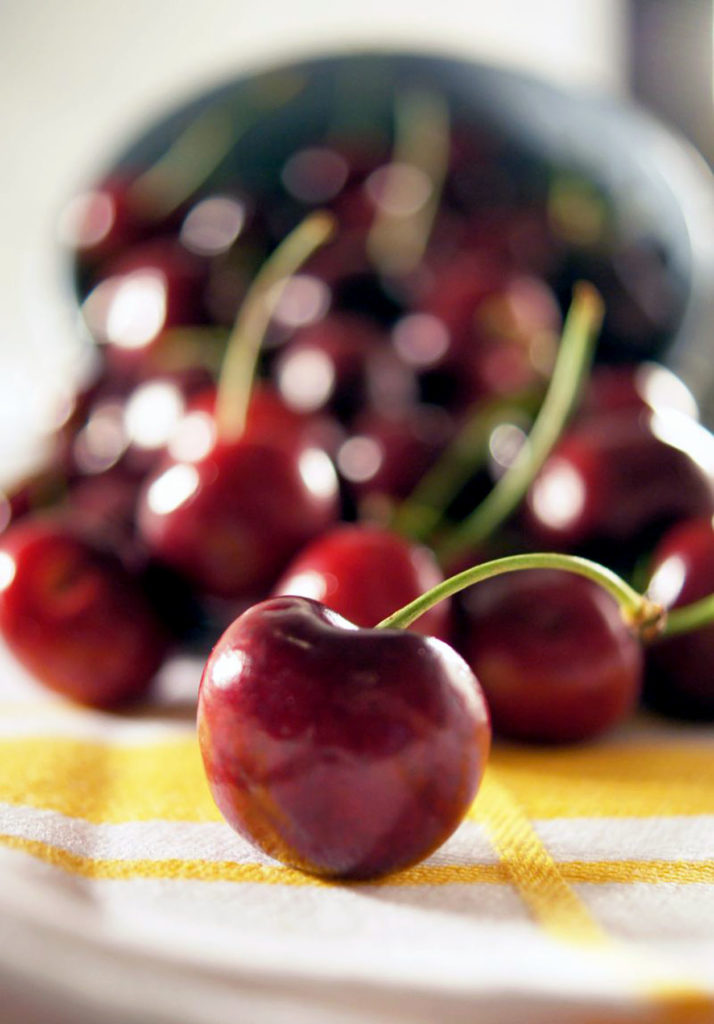 Before you start:
You could certainly make this in your stand mixer, but the process goes so quickly that I don't think it is worth the time to employ it.
Be careful about overcooking. This will turn even the best intentions into a rubbery glob.
Choosing the right fruit is always important. Try to find cherries with the stems attached. They should be plump and juicy and free of brown spots or cuts.
This dessert was traditionally made without removing the pits. The pit reportedly adds a lovely almond flavor. To prevent a chipped tooth, I remove the pit and add just a little almond extract. It may not be exactly the same, but safety first.
This is absolutely best served warm. It will start to deflate soon after being removed from the oven.
You will enjoy clafoutis even more with a bit of fresh whipped cream or even slightly sweetened Greek yogurt. I ate the one in the photograph with a bit of pistachio gelato. That was ridiculously good.
The ingredients:
2 1/2 cups of pitted cherries
3 large eggs
1/3 cup granulated sugar
1 cup half and half
1 teaspoon vanilla extract
1/4 teaspoon almond extract
1/2 cup all-purpose flour
pinch of salt
confectioners sugar for dusting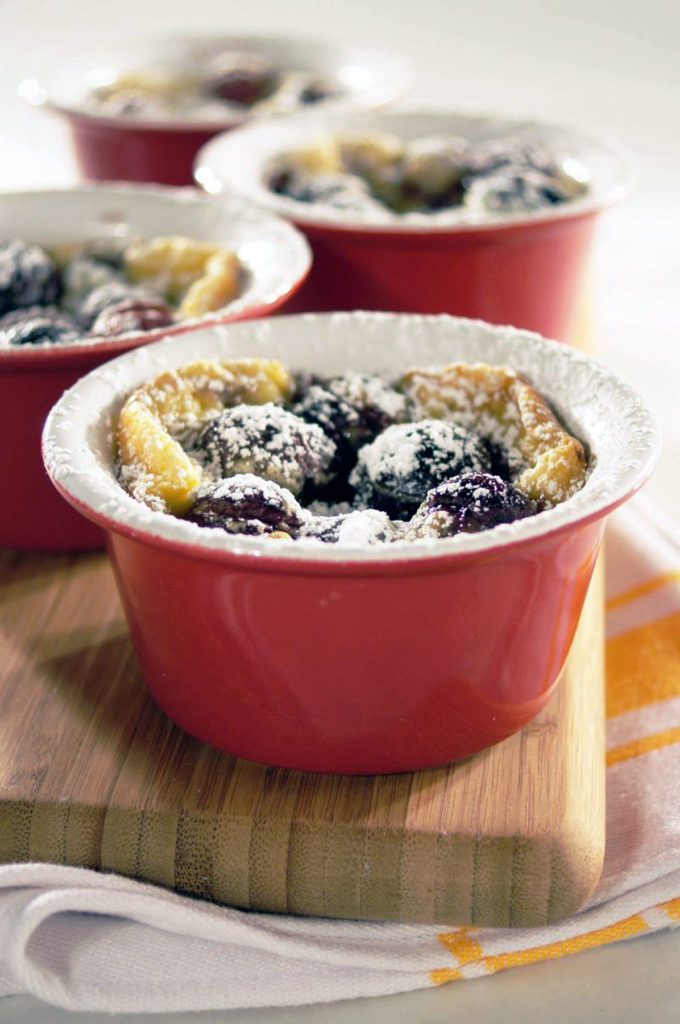 The method:
Move rack to the upper third of the oven.
Preheat oven to 350˚F.
Lightly butter baking dish(es).  I used 6 small ramekins, but this recipe will work with a 9-inch pie dish.
Place ramekins on a baking sheet.
Split the cherries up amongst the dishes and place them in the bottom of each. 
Whisk eggs and sugar until light yellow, smooth, and slightly thickened (60-90 seconds).
Add half and half, extracts, and salt.  Whisk just until combined.
Sprinkle the flour evenly over the top of the liquid mixture.  Whisk until smooth (will look something like pancake batter).
Distribute the batter evenly into the ramekins.
Place pan in the oven and bake for 35-40 minutes (lightly browned and puffy sides…use clean toothpick method).
Allow to cool slightly.
Dust with confectioners sugar just before serving warm.