Father's Day is just a couple of days away. I thought it might be a good idea to offer up a treat that would be useful for your weekend celebration. As a dad, one of the things to which I have grown accustomed is Father's Day breakfast in bed. I am a very light sleeper. Most days I am up by 4:30 am and rarely in bed past 6:00 am. But on Father's Day I lie in bed and pretend to be extra sleepy to wait for the inevitable tray.
There is something quite sweet about it and I am very aware that I must cherish it while my kids are still excited by it. They try to sneak in quietly and gently wake me. I pretend to just be waking up and put on my best-surprised face when I see the tray. I haven't decided if they are on to me yet or not.
The tray is always filled with the requisite breakfast items… scrambled eggs, bacon, sausage, tomato slices, and part of a waffle. Orange juice and coffee with milk are always on hand and there is, of course, the cinnamon roll. The meal is always more than I should eat, but I manage to put a sizable dent in it. Needless to say, I always find room for the cinnamon roll.
I enjoy spicy-sweet so I have changed this cinnamon roll up just a bit. The cinnamon roll recipe itself is the basic one I regularly use. I added a bit of cayenne to the mix and substituted toffee bits for the icing. Truth be told, I totally had myself in mind with this recipe. It is my day after all.
savour… fatherhood
SPICY CINNAMON ROLLS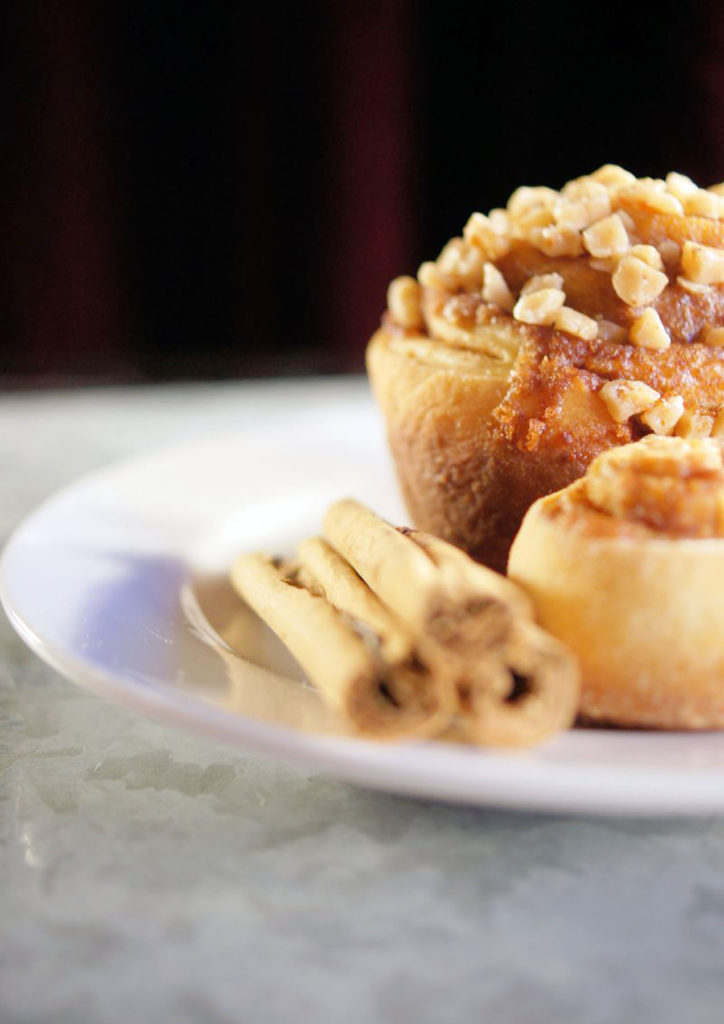 Before you start:
I like lots of layers. You may choose to roll out your dough a bit thicker.
Start with1/2 teaspoon of cayenne. If you like it add a little more next time.
If you haven't purchased a thermometer by now, you must do so. Baking is science.
Cut the ragged edges from the roll before you begin cutting your slices.
The ingredients:
4 cups flour
1 (1/4 oz) package of yeast
1/4 cup water
3/4 milk
2 eggs
1/2 cup granulated sugar
1 cup brown sugar
1/3 butter plus another 1/3 butter
3/4 teaspoon salt
2 tablespoons cinnamon
½ teaspoon cayenne
1/2 tablespoons flour
1 cup toffee bits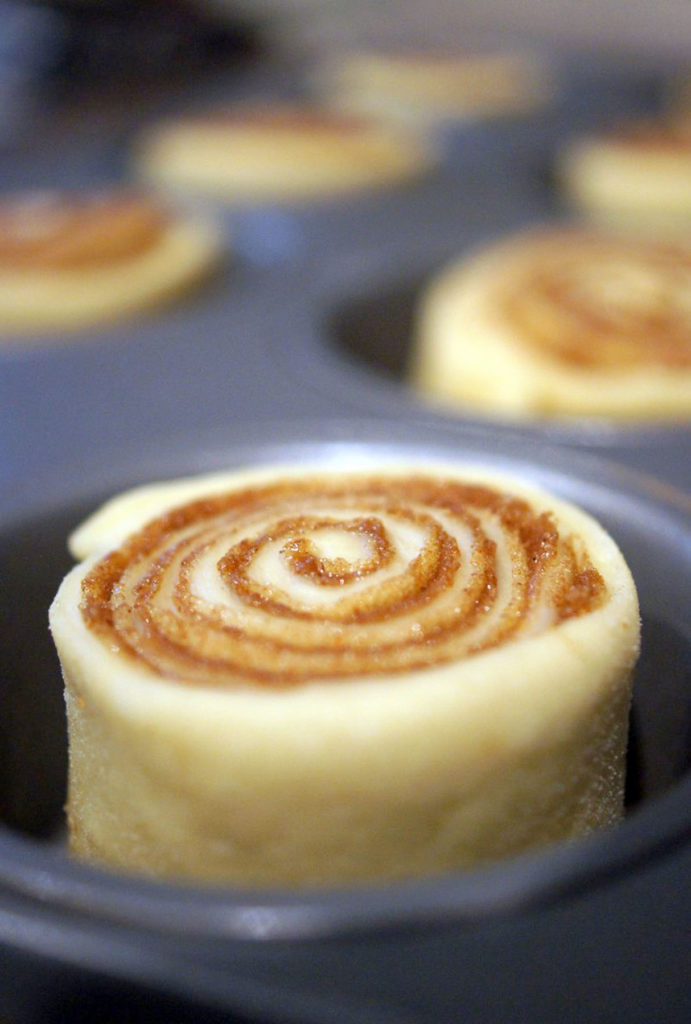 The method:
Place warm water (110˚F – 115˚F) in a small bowl with a teaspoon of the granulated sugar.
Sprinkle on yeast.
Stir gently and allow to proof for the next 5 minutes.
In the meantime, warm 1/3 cup of the butter in the milk to around 140 degrees.
Lightly oil a bowl where the dough will rise.
Place yeast mixture, milk/butter mixture, flour, salt, granulated sugar, and eggs in the bowl of your stand mixer.
With the hook attachment stir ingredients for approximately 30 seconds.
Turn up to medium-high and beat for 3 minutes.
Remove from bowl onto a lightly floured surface.
Knead dough by hand for 3 minutes. Sprinkle in enough flour to obtain a smooth and elastic dough as you go.
Form dough into a ball and place in an oiled bowl. Then turn it over.
Cover the bowl with a couple of towels and allow it to rise to double its size (about 1 hour).
Preheat oven to 400˚F.
Lightly oil cupcake pans.
Thoroughly combine brown sugar, cinnamon, tablespoon flour, and cayenne powder in a small bowl.
Roll the dough into a rectangular sheet approximately 16×21 inches (it should be about ¼ inch thick).
With a butter knife (or your fingers) spread the softened butter on the dough.
Sprinkle the sugar/spice mixture evenly over the entire sheet.
With the longest edge closest to you, begin rolling the dough tightly (but not stretching it).
With the loose edge down begin cutting with a sharp knife in 1 ½ inch slices.
Place slices in cupcake pans.
Bake for approximately 10 minutes or until lightly golden brown and a toothpick comes out clean.
Remove from the oven. Allow to cool for one minute.
Sprinkle on toffee bits.
Allow to cool for a few more minutes before removing from pan.
Store leftovers in an airtight container.