It is not everyday that an ingredient customarily used in savory applications winds up in ice cream. Our treat of the week may seem foreign to you but stick with me just a little longer. I think you will be pleased. What we are talking about here is a delicate blend of flavors that independently may not have won you over, but combined may become your new favorite.
I stumbled upon a recipe for basil ice cream over at Epicurious.com (there are some genius ideas there). I knew right away that I wanted to make it, but thought it might need something. Luckily for me, the mate for this treat seemed obvious… a sweet and zingy strawberry sauce. They were made for each other.
If you have grown basil in your herb garden, here is your chance to use it for something unexpected. You should be very happy, indeed. Summer has a new couple.
savour… perfect pairings
BASIL ICE CREAM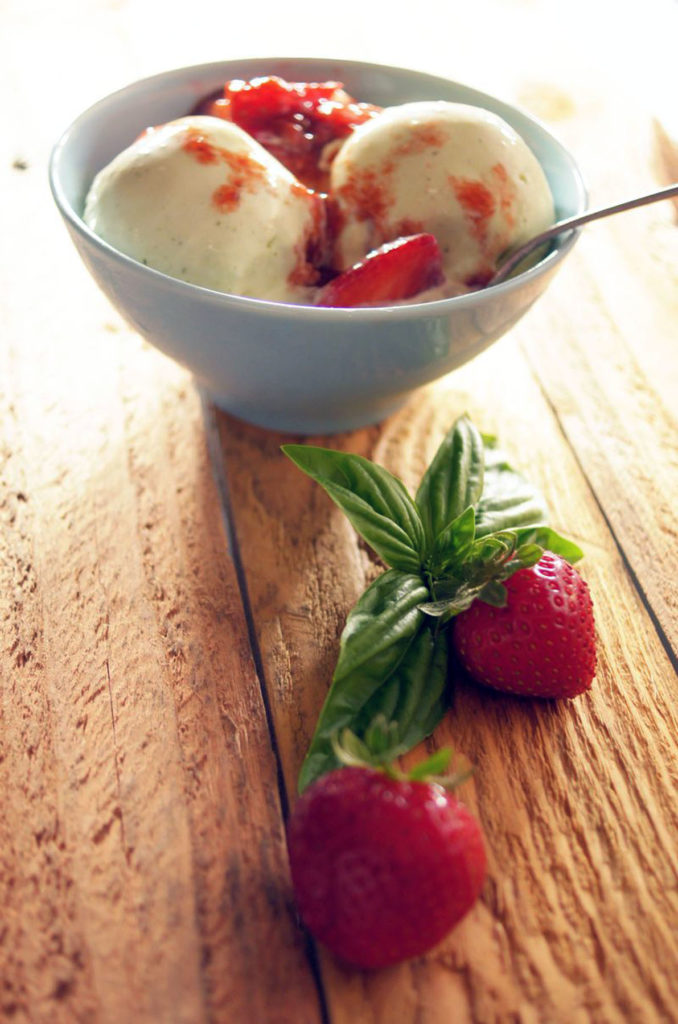 Before you start:
You must be very careful when adding the warm liquid into the egg mixture. If it is too warm and has a chance to sit without being stirred, the result could be scrambled eggs.
When the complete mixture has been added to the saucepan to heat, you must be 100% present.
Constant stirring is critical and you must keep an eye on the consistency. There is a fine line between thickening and the beginnings of a cheese-like state.
Basil Ice Cream
The ingredients:
2 cups whole milk
3 tablespoons fresh basil
pinch of salt
1/2 cup sugar
4 large egg yolks
1/2 cup heavy cream
The method:
Chop the basil into small pieces.
Put milk, basil, 1/4 cup of the sugar, and salt in a heavy saucepan.
Heat just until liquid starts to boil. Stirring constantly.
Remove from heat and steep for 30 minutes.
Blend mixture in blender for about one minute to grind up basil.
Beat yolks and remaining sugar in a separate bowl with a hand mixer until thickened (about 1 min.).
Carefully add the milk mixture to the egg yolks in a slow stream.
Pour the mixture back in the pan and cook over medium-low to medium heat.
Stir constantly until thickened and mixture coats the back of a wooden spoon.
Remove from heat and strain into a metal bowl to remove any basil pieces.
Place a metal bowl inside another bowl filled with ice water to create an ice bath.
Stir until mixture is cold (around 10 min.).
Stir in cream.
Place in ice cream maker and follow manufacturer's instructions.
Place in an airtight container and put it in the freezer.
Allow ice cream to harden for at least 2 hours.
Balsamic Strawberry Sauce
The indgredients:
3 cups sliced strawberries
2 tablespoons balsamic vinegar
2 tablespoons packed light brown sugar
3/4 teaspoon corn starch
pinch of salt
The method:
Place vinegar, sugar, cornstarch, and salt in a small saucepan.
Heat over medium heat until sugar melts.
Add 2 cups of the strawberries.
Continue cooking until sauce thickens and berries soften.
With a hand mixer or wand mixer grind up the berries until almost smooth.
Continue cooking until sauce is thickened (4-5 minutes).
Remove from heat.
Gently stir in remaining berries.
Allow to cool before serving.