Thank goodness someone comes up with unusual holidays and celebrations or we might miss our chance to celebrate the chocolate cupcake. Today, October 18, is the day. You can celebrate it by buying some if you don't have time, but better would be to make some.
Today we offer up our favorite chocolate cupcake recipe. This recipe is moist and delicious and could be eaten with just a sprinkling of powdered sugar. However, we have added the recipe for our truffle frosting. This one is a keeper, for sure. Definitely top your chocolate cupcake with it, but use the truffle frosting for other cakes, as well.
To achieve the icing effect above, I dipped the top of the cupcake into the truffle icing while it was still warm and let it cool/harden. After whipping the icing into its fluffy goodness, I piped a swirl on the top and finished off with an espresso bean. The textures are all different but look quite interesting when put together. Chocolate on chocolate on chocolate… that's a holiday I can support.
savour… culinary celebrations
THE CHOCOLATE CUPCAKE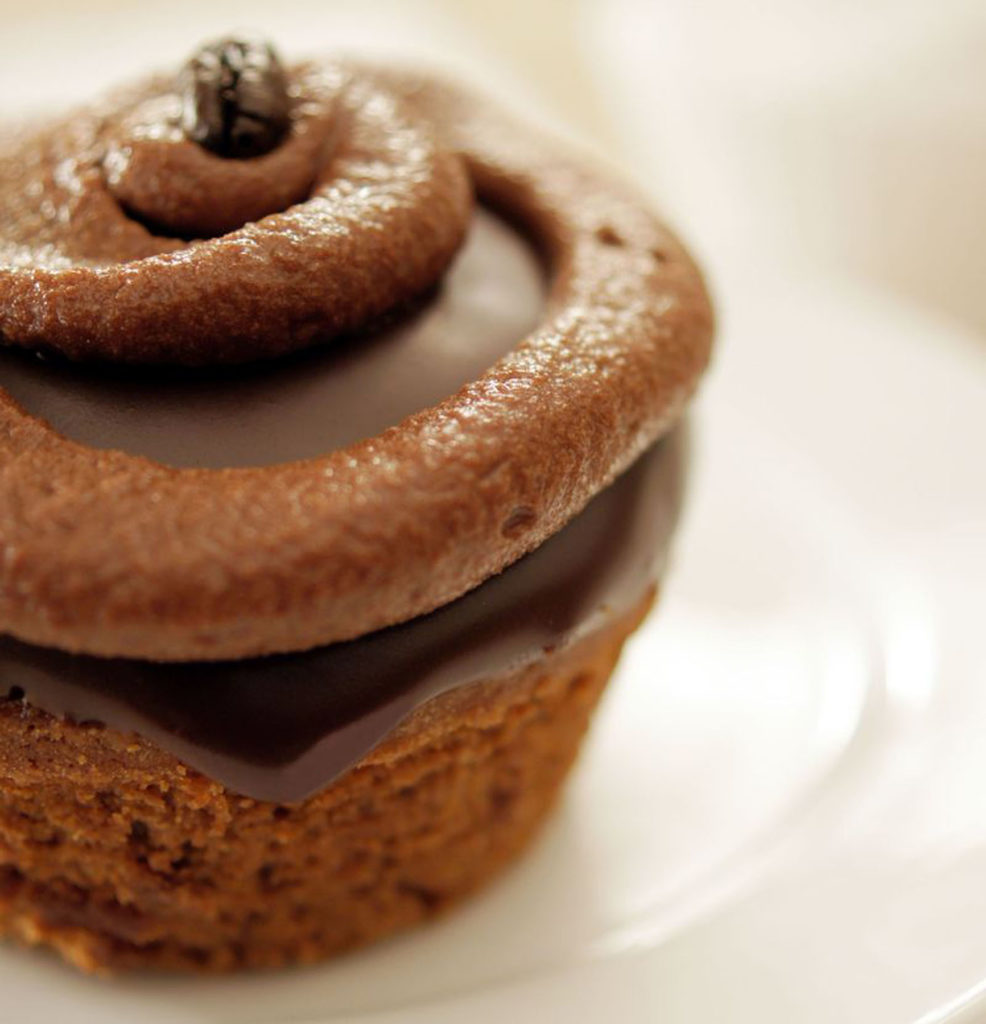 Before you start:
This recipe will yield 3 dozen cupcakes.
I sometimes substitute 1 ½ teaspoons Grand Marnier for the vanilla in the frosting.
Once the frosting has reached spreading consistency it is ready to be whipped, but do so only when you are ready to frost your cupcakes.
If you decide to refrigerate whipped icing for future use, allow it to warm a little at room temperature to get it to spreading consistency. Any attempt to "re-whip" will likely turn into a very delicious mistake that won't be suitable for icing cakes.
The ingredients:
For cake:
1 ½ cups butter
1 cup freshly brewed coffee
½ cup milk
¾ cup cocoa powder
3 cups flour
3 ½ cups granulated sugar
¾ teaspoon baking powder
¾ teaspoon salt
½ teaspoon baking soda
3 eggs at room temperature
¾ cup sour cream
1 ¼ teaspoon vanilla
For truffle frosting:
1 ½ cups whipping cream
¼ cup light corn syrup
2 cups semi-sweet chocolate chips
1 teaspoon vanilla
The method:
For cake:
Preheat oven to 350˚F.
Prepare your cupcake tins by either greasing and flouring or lining with papers.
Slice butter into tablespoon-size pieces.
Put butter, coffee, milk, and cocoa powder in a microwave-safe bowl and microwave until butter melts (about 2 minutes).
While butter is melting, sift together flour, sugar, baking powder, salt, and soda in a bowl.
In a separate bowl, beat eggs and mix in sour cream and vanilla.
Whisk chocolate mixture into dry ingredients. Mix well.
Blend in egg/sour cream mixture just until incorporated.
Fill each cupcake 2/3 full.
Bake for 20-25 minutes or until it passes the clean toothpick test.
Allow to cool completely on a wire rack before icing.
For truffle frosting:
In a medium saucepan, heat the heavy cream and corn syrup to a simmer over medium heat. Stir occasionally.
Add chocolate chips and vanilla.
Remove from heat and let it sit for 3 minutes.
Whisk together until smooth and creamy.
Refrigerate and stir every 30 minutes or so until it reaches spreading consistency.
At spreading consistency, beat mixture on high until it becomes light and fluffy.
Frost cakes.
Store remainder in an airtight container in the refrigerator.