We have finally made it to fall in Dallas.Mid-eighties means fall and that is fine with me. A month ago it was 20 degrees warmer outside. It isn't quite sweater weather, but I'm also not sweating through my clothes on the way to my car.
To me, no food welcomes fall like apples. I love them in many foods from chicken salad to turnovers, so it is no wonder that you will see them here often. I enjoy baking with them and today's Treat of the Week was a pleasure to make.
Today we combine two flavor combinations that are delicious on their own, but even better together. As we thought of doing it, I was instantly reminded of those huge candy apples that were popular several years ago with the crazy amount of toppings. This is like that, but you eat it with a fork and get the added pleasure of a tender flaky crust. It's hard to believe I hadn't introduced these two to each other long ago.
savour… flavor match-making
APPLE TURTLE PIE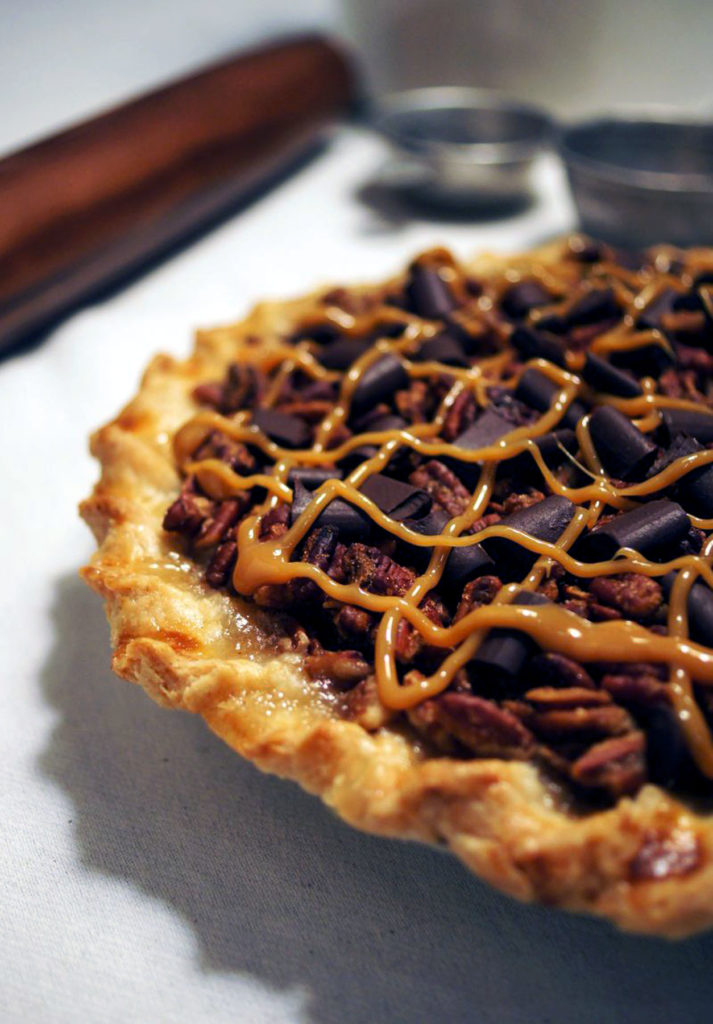 Before you start:
For best results, place a pizza stone on the rack first.
Put pie on a baking sheet in the oven to catch any spill overs.
Be sure to cut the apples to a fairly consistent thickness. This will ensure that they cook evenly.
The apples should create a bit of a mound when you are finished adding them to the pie crust. This will eventually settle significantly.
If you want a rich looking pie crust, brush on an egg wash of 1 large yolk mixed with 1 tablespoon of cream or milk before covering with the pie shield.
The cooling rack will make ensure that the pie cools evenly and prevents steam from making the bottom of the crust soggy.
Be sure to add the toppings as soon as possible after the pie comes from the oven. The idea is to have them melt into the pecans and form somewhat of a top crust.
The ingredients:
6 cups thinly sliced apples (the example took 6 medium granny smith apples)
¾ teaspoon cinnamon
1/8 teaspoon nutmeg
¾ cup granulated sugar
2 tablespoons flour
1 tablespoon lemon juice
2 cups chopped pecans
2 tablespoons brown sugar
2 tablespoons unsalted butter
1 cup chocolate chunks
18 caramels
½ cup sweetened condensed milk
The method:
Line a pie pan with crust and flute edges as desired. Freeze for at least an hour.
While waiting, peel the apples and slice them thinly.
Place sliced apples in a bowl and sprinkle with lemon juice.
Add sugar, flour, cinnamon, and nutmeg. Toss lightly to coat all slices.
When the crust is ready, begin by preheating the oven to 375˚F.
Heat  12 caramels in a small pan with ¼ cup of the condensed milk over medium-low heat.
Stir constantly until caramels are melted and the mixture is smooth and well blended.
When finished, spread the mixture over the bottom of the pie crust.
Add the apple mixture, packing it in a little.
Place a pie shield around the edge of the crust to avoid it cooking too quickly.  The instructions for making a pie shield are here.
Bake for 25 minutes at 375.
Melt the butter.
In a  bowl toss the pecans, brown sugar, and butter.
Remove from the oven and remove the pie shield.
Add pecans over the entire top pressing down slightly.
Return pie to the oven for an additional 25-30 minutes. The crust should be browned, but be careful that the pecans do not get too toasted.
Put pie on wire cooling rack.
Add the chocolate chunks right away.
Place  6 caramels and ¼ cup of condensed sweetened milk in a small pan over medium-low heat. Stir constantly until caramels melt.
Drizzle over the top right away.
Allow to cool completely.