I am somewhat surprised that I made it this far without presenting tiramisu. This is my recipe for my all-time favorite dessert. Cheesecake tries to win my affections, and I admit I sometimes stray, but tiramisu holds a special place in my heart. It has it all… coffee, cream, chocolate… what's not to love?
There is much debate over the origin of tiramisu. We know for sure that it came from Italy and is likely derived from another popular Italian dessert, zuppe inglese. Where the story changes is who developed it and in what year. There are some variations on the original theme including what to use as the biscuit layer, which (if any) alcohol to include, and whether or not to use eggs as sort of a custard base.
Ours uses the most traditional ladyfingers, or savoiardi, for the biscuit layer, includes alcohol, and does not include eggs. Overall, this recipe is quick and easy and yields wonderful results. This Italian "pick me up" recipe is one for your books.
savour… 'pick me ups' when you need them
TIRAMISU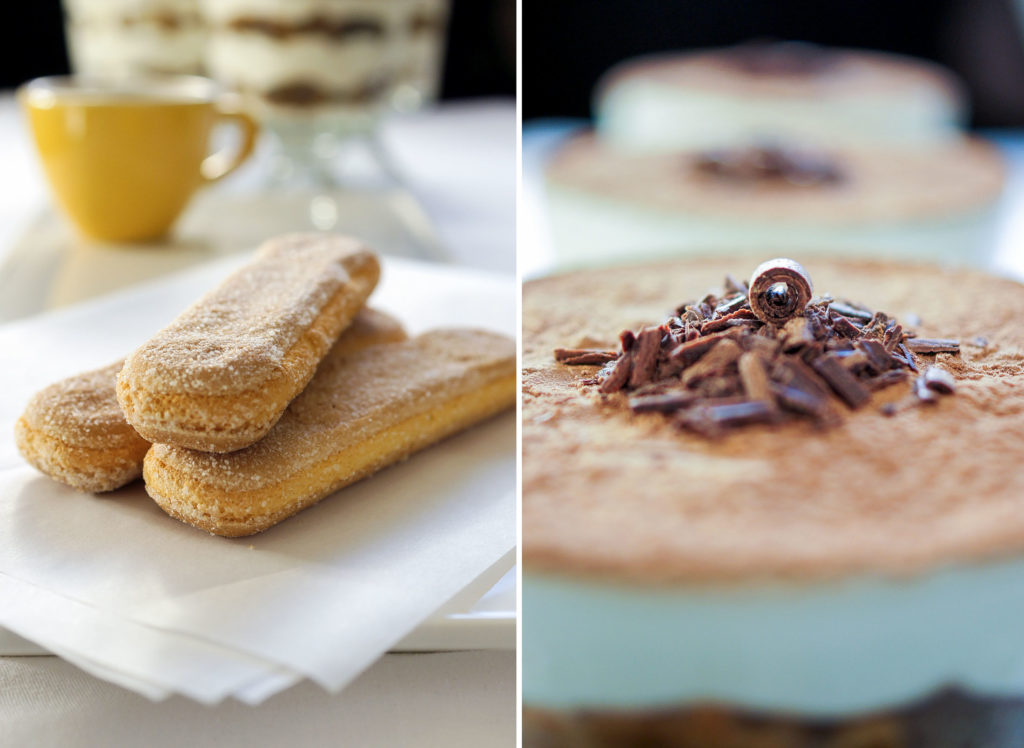 Before you start:
Be sure to have the mascarpone soften at room temperature. This will make this recipe so much more successful.
The ladyfingers are incredibly absorbent. They only need a few passes through the espresso syrup to be sufficiently soaked.
If you don't have the means to make espresso, you could brew some strong coffee and get acceptable results.
I shaved bittersweet chocolate on top as a garnish. I simply used a baking bar and a vegetable peeler.
The ingredients:
Espresso syrup for soaking:
2 cups espresso
1/3 cup sugar
3 tablespoons brandy or cognac
Mascarpone filling:
2 cups heavy whipping cream
1 ½ cups mascarpone cheese
1/3 cup sugar
1 teaspoon vanilla
3 tablespoons Kahlua or coffee-flavored liqueur
30 ladyfingers or savoiardi
Cocoa powder for garnish
The method:
Prepare the espresso and pour it into a baking dish.
Add 1/3 cup sugar to the warm espresso and stir to dissolve.
When the espresso cools, add the brandy or cognac.
Put softened mascarpone cheese in a bowl.
Put whipping cream, vanilla, Kahlua, and 1/3 cup sugar in a mixing bowl.
Mix on high speed until soft peaks form.
Gently fold whipped cream mixture into the mascarpone.
Spread a thin layer of the cream/mascarpone filling in the bottom of a 9×9 square baking dish.
Dip the ladyfingers in the espresso syrup.
Place one layer of the espresso-soaked cookies on the cream.
Add another layer of cream/mascarpone filling.
Add another layer of each.
Top off the dessert by dusting with unsweetened cocoa powder.
Refrigerate for at least 8 hours or overnight.