Designing for kids can be tricky. Designing for boys can be even trickier. However, I promised my boys that I would help them get a "cooler" bedroom. Now I am deep in it. I have decided to bring you the updates as occasional posts to chronicle the project and offer up a few tips along the way.
Let me first say, I don't really do themes. I think a room should have an overall theme, but to me, that more means mood or feeling. For kids, you want the room to reflect their interests, but that doesn't necessarily mean you need to plaster the walls with Spongebob wallpaper and add matching comforter sets. You can get your point across in subtle ways that will be much more meaningful.
Next, our home has plenty of space, but we made the conscious choice many years ago to have the boys share a bedroom. Because they do, we are able to use the other "would be" bedroom for an awesome boy-cave for them. The bedroom is used for sleeping, quiet relaxing or reading, and their clothes. The toys, video games, and musical instruments are kept in the boy-cave.
savour… quiet retreat
SK8R BOYZ ROOM REDUX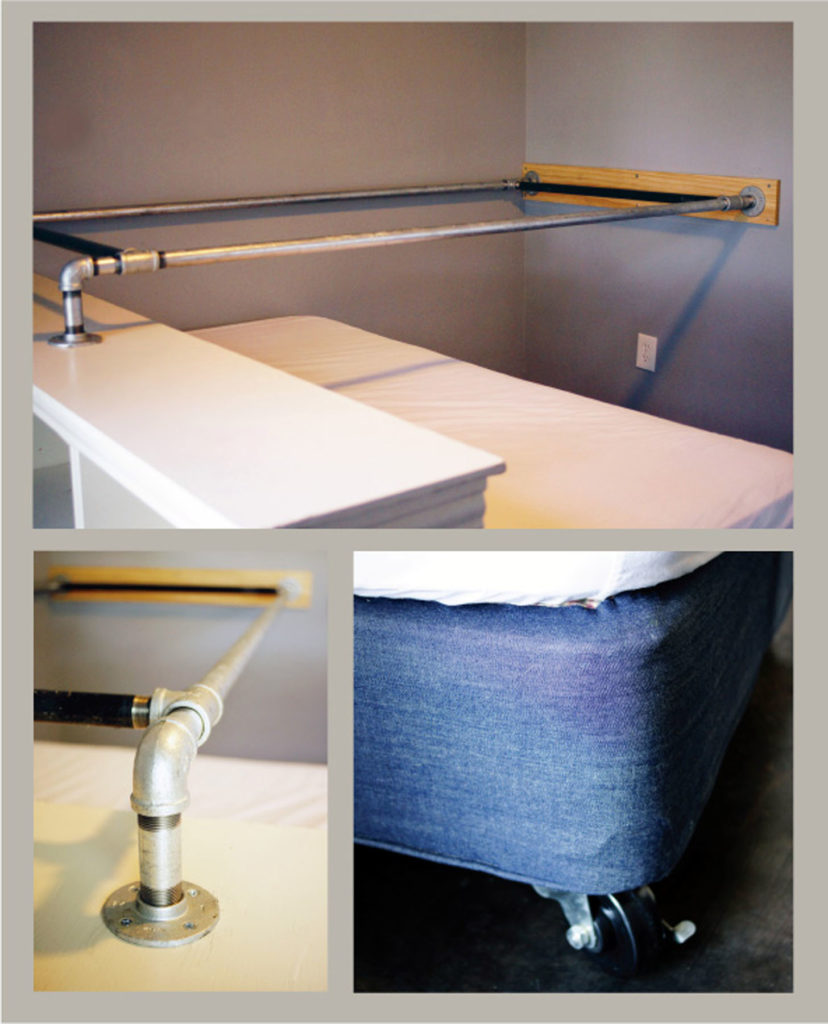 The one thing that our sons share in common is their interest in skateboarding. We are using that as our inspiration for the room while still trying to maintain some semblance of calm and order for this quiet space. The overall theme will mostly be demonstrated through the choice of materials and colors.
The color we have chosen for the walls is called grey matter from Sherwin Williams. It is a bit on the slate side with just a touch of blue. We brighten it up with bright white trim and moldings. The floor is stained concrete.
So here is where we stand…
We have constructed a loft type bed out of plumbing pipes and fittings and attached it to the wall on one end and to a long bookcase on the opposite end. This is a relatively simple project but really requires at least two people. We used a 1-inch pipe, but you could use bigger. I would not advise using smaller ones. We also attached a support plank directly to the wall using the studs and wall anchors to ensure its strength. The flanges were then screwed into it. We will ultimately paint it out with the wall color.
We have upholstered the boxsprings in denim. This is a fairly straight forward upholstery job. The bed under the loft is on casters so it can be easily rolled out. The box spring on top will be attached using fence brackets.
Next, we are on to the other furnishings and a super cool DIY bookshelf/wall unit. I will be sure to post specific instructions. Stay tuned…