I think my efforts to coax Fall out of the shadows is finally working. This week the temperature dropped to the lowest it has been in 7 or 8 months. That's a fairly good start. It's also the perfect excuse to fire up the oven and fill the house with yummy smells. For many, our Treat of the Week for this Friday is the perfect reminder of home baking from years gone by.
Banana Nut Bread was a staple baked good in my childhood home. I am not sure if that is because my mom loved to make it or because she never wanted to waste anything and we couldn't eat the bananas quickly enough. Either way, we loved it. Her recipe was moist and delicious. I still use it today although I substitute toasted hazelnuts for walnuts. The result is the same overall and the aroma is in a word… home.
savour… fall fragrance
BANANA HAZELNUT MINI LOAVES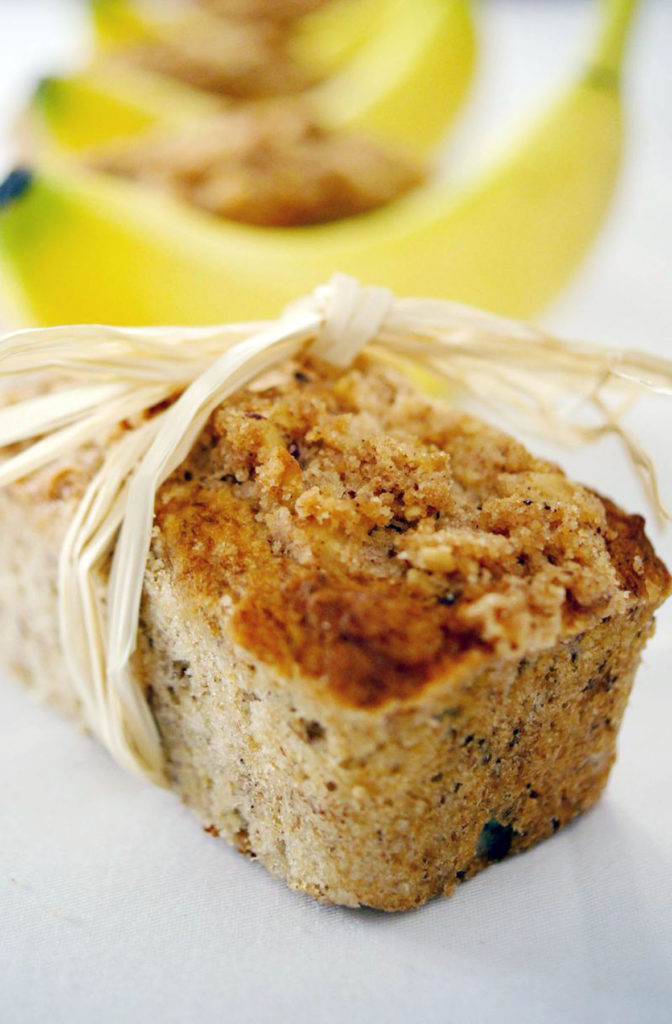 Before you start:
Anytime I have a banana that goes south I toss it in a plastic zip bag and put it in the freezer until I have enough to use for something worthwhile.
As long as you are using a fresh lemon you could zest a little of it into the banana, as well. Not too much, though.
I like to use a ricer to mash the bananas. You could also use a food mill or an immersion blender.
This may go without saying, but your bananas should have brown skins. Overly ripened bananas are best for any banana bread. I used the yellow ones for photo purposes only.
I can't stress enough that the dry ingredients only be stirred in until moist. There may be lumps. That is fine.
The ingredients:
2 cups flour
3 teaspoons baking powder
½ teaspoon salt
½ cup vegetable shortening
1 cups granulated sugar
1 cup mashed bananas (usually 3-4 medium bananas)
1 teaspoon fresh lemon juice.
2 eggs
1 cup toasted chopped hazelnuts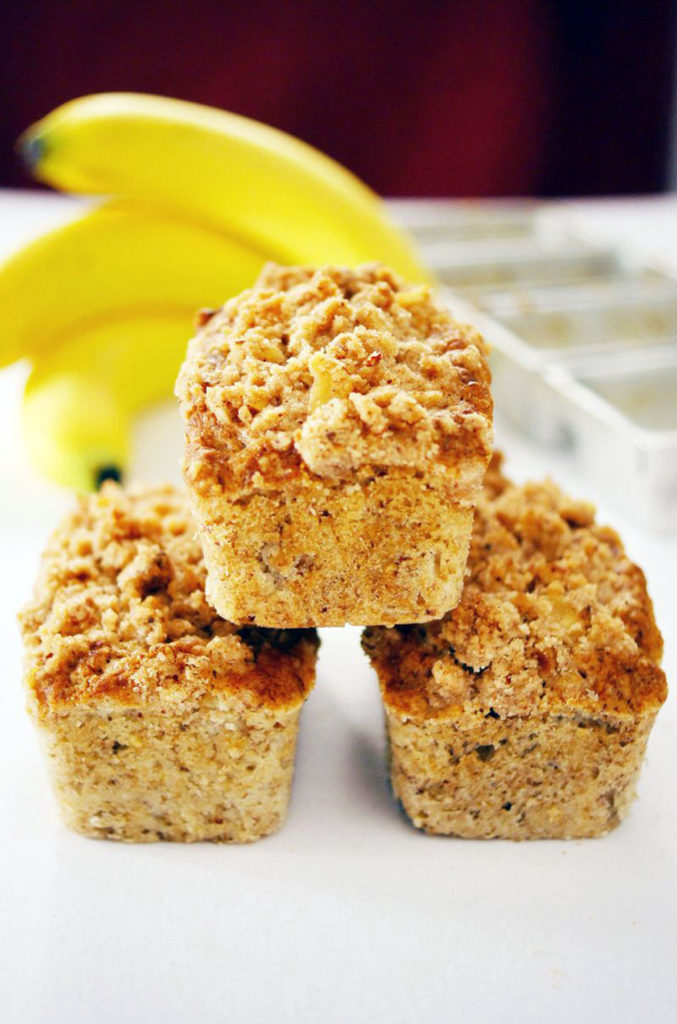 The method:
Preheat the oven to 375˚F.
Grease your mini loaf pans and set aside.
Sift the flour, salt, and baking powder on a sheet of parchment. Set aside.
Mash the bananas. Add the lemon juice (and zest if you are adding any). Set aside.
In a small bowl beat the eggs. Set aside.
Place 1 ¼ cups of whole hazelnuts in a skillet over medium heat. Cook until they are slightly toasted. The skins will start to crack or peel on some.
Allow them to cool for a few minutes and then rub off as much of the skins as possible.
Chop the hazelnuts with a food processor about as coarse as tiny gravel.
In your mixing bowl, cream the shortening and sugar on medium speed for 2 minutes.
Add the beaten eggs. Mix until well combined.
Add the bananas. Mix until well combined.
Pour in the dry ingredients all at once. Stir only until moistened… not a second longer.
Stir in the chopped nuts just until combined.
Fill mini loaf pans about 2/3 full.
Top with streusel (recipe follows).
Bake on parchment-lined baking sheet until it passes the clean toothpick test (about 30 min.).
Allow to cool slightly before covering with aluminum foil.
Cool, covered, overnight before cutting/serving.
Streusel topping
The ingredients:
1/3 cup flour
1/2 cup sugar
1 teaspoon cinnamon
4 tablespoons softened butter
A few drops of vanilla
4 tablespoons chopped dried banana chips
4 tablespoons chopped hazelnuts
The method:
Combine all ingredients in a bowl.
Mix well with fingertips until you get a crumbly consistency.