What a hectic week! This was one of those weeks that you have loads of stuff planned and nothing goes as expected. I felt incredibly busy, yet I am not sure I am any further along than I was on Monday. I am looking forward to a little relaxing this weekend (feet up, I think).
To help get me started I have created our treat of the week… cherry amaretto biscotti. This is far easier than you may think. The result is a twice-baked cookie that is crispy and crunchy, but somewhat tender in the middle. This will be perfect with a steamy cup of coffee.
Freshly made biscotti is wonderful and nothing like the mass-produced ones. Once you see how easy it is, you will surely add it to your recipe box. The cherries in this version add a pop of color and flavor. They are delightful as they are, but would also be delicious dipped in chocolate.
savour… weekends
CHERRY AMARETTO BISCOTTI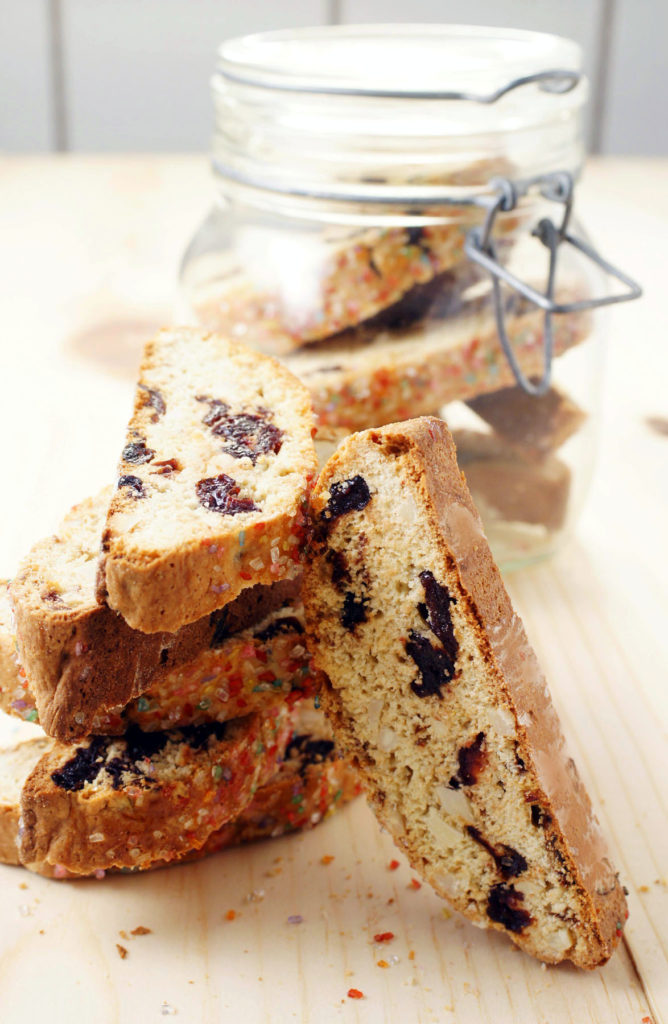 Before you start:
With most cookie doughs, I like to whisk the dry ingredients even after sifting to make sure I have distributed everything evenly.
The finished dough will be very sticky. Be sure to remove jewelry before starting to work with it.
Many recipes will instruct you to cut on a diagonal and bake on one side then flip the cookies over halfway through baking and bake the other side. Avoid this by cutting them wide enough so you can stand them up with plenty of space for the air/heat to circulate around both sides and they will dry out sufficiently… and evenly.
If baking both sheets at the same time on separate racks, I recommend stopping at the halfway point and swapping/rotating the pans. This applies to both baking segments.
A sharp serrated knife will work best for cutting the slices. Use a sawing action with the force applied on the forward stroke and do not press down too hard. Too much force will result in biscotti crumbs.
You could certainly eat the cookies warm from the oven, but they won't become crisp until they have cooled completely.
The ingredients:
1 ¾ cups dried cherries / 245g
½ cup amaretto
3 cups all purpose flour / 390g
2 teaspoons baking powder
½ teaspoon salt
4 tablespoon unsalted butter at room temperature
1 cup granulated sugar / 210g
3 eggs
1 egg lightly beaten
1 ½ teaspoons vanilla extract
¾ cup blanched almond slivers / 90g
Sanding sugar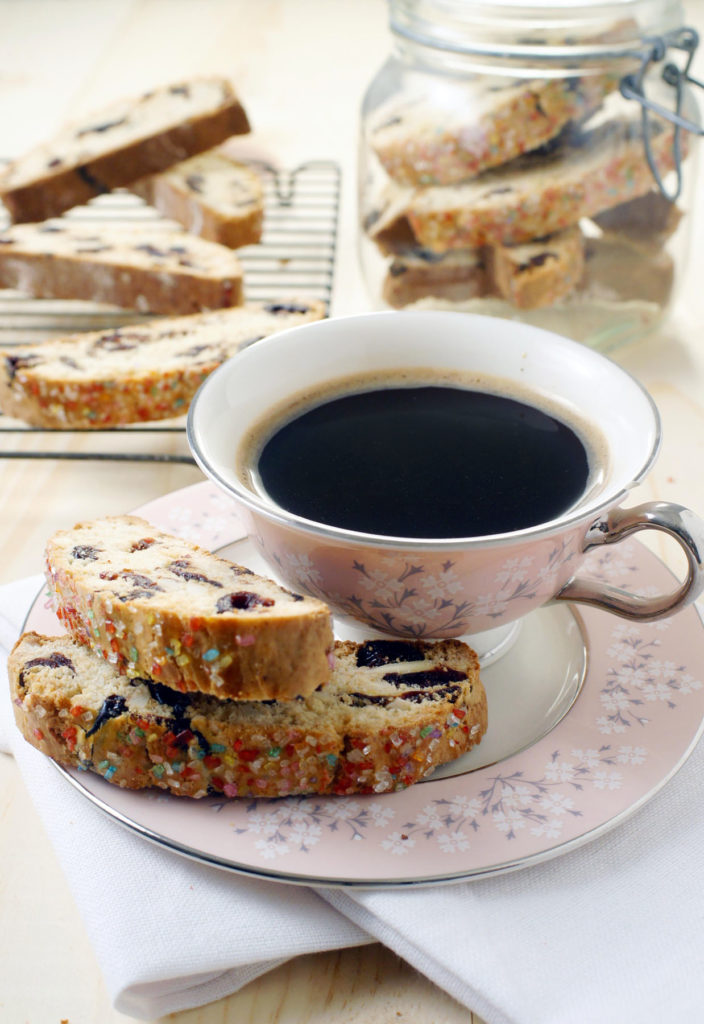 The method:
Preheat oven to 375˚F.
Place cherries and amaretto in a small saucepan and cook over medium-low heat for 9-10 minutes. Remove from the heat and drain cherries reserving 2 tablespoons of the liquid.
Sift together the flour, baking powder, and salt.
In a large bowl or mixer bowl, mix together butter and sugar on medium speed until light and fluffy (about 2 min.).
Add the 3 eggs, one at a time, mixing after each until combined.
Add the vanilla and the liquid from the cherries. Mix until well combined.
With your mixer on lowest speed, gradually add dry ingredients and mix just until moistened.
Add cherries and almond slivers. Mix just until incorporated.
Turn dough out onto a lightly floured surface and divide it into two equal parts.
Place each part onto a parchment-lined baking sheet and form into a log roughly 3-4 inches wide by 12-13 inches long by ½ inch-1 inch high.
Brush lightly beaten egg wash over the top and sprinkle on sanding sugar.
Bake for 30 minutes.
Reduce oven to 300 degrees.
Remove from the oven and cool on baking sheet for 20 minutes.
Move cooled loaves to a cutting board and cut into ½ inch slices.
Place slices a few inches apart on a parchment-lined sheet and bake for 15-16 minutes.
Remove from the oven and cool completely for cookies to become crisp.