Welcome to April. March is always topsy turvy in terms of weather. There were some very chilly days and some very warm days, but I believe that spring is finally here to stay. In Dallas, it seems to only be spring for a couple of weeks. Then we move straight to summer. For me, during that ephemeral spring season, nothing is quite as nice as an outdoor brunch.
A strata is often made with savory ingredients. It is frequently served as a 'breakfast casserole'. Our treat today could be eaten anytime and makes a lovely dessert, but I think it is perfect for a brunch. It is almost like strawberry baked French toast. I like to bake it long enough for the tops of the bread crust to get just a little crunchy. That and the softness of the berries and ricotta make every bite wonderful.
Because it must rest in the refrigerator for hours, you will have plenty of time to get the rest of your dinner or brunch together. Let it bake while you eat the main course and then you are ready for dessert.
savour… the things spring brings
STRAWBERRY STRATA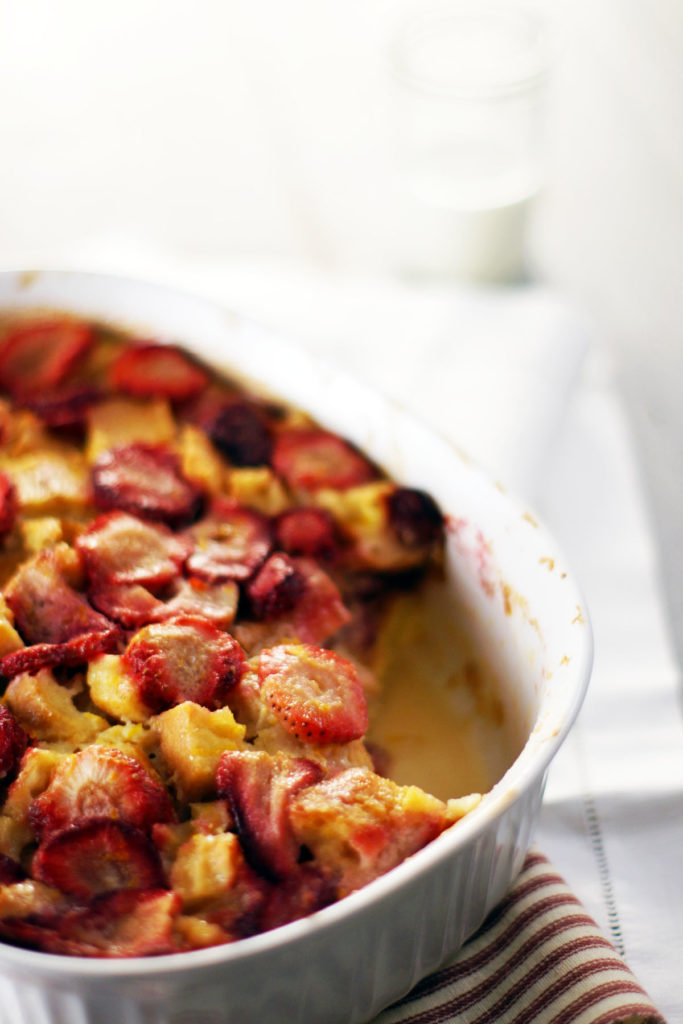 Before you start:
I used a baguette here, but you could use a different bread. The key is to use one that is crusty and not too soft and fluffy on the inside.
You can buy ricotta, but your own cheese will be so much more flavorful.
If you like strawberries, be sure to keep some on hand. Buy them while they are cheap and in season and freeze some.
This would be wonderful served with a bit of ice cream or dusted with powdered sugar.
The ingredients:
3 tablespoons butter
4 tablespoons agave nectar
6 eggs
¾ cup ricotta (fresh or store-bought)
4 tablespoons sugar
1 ½ cups whole milk
Zest of one orange
Juice of one orange (about 1/3 cup)
1 baguette- cut into 1-inch cubes (about 6 cups)
16 oz sliced strawberries- fresh or frozen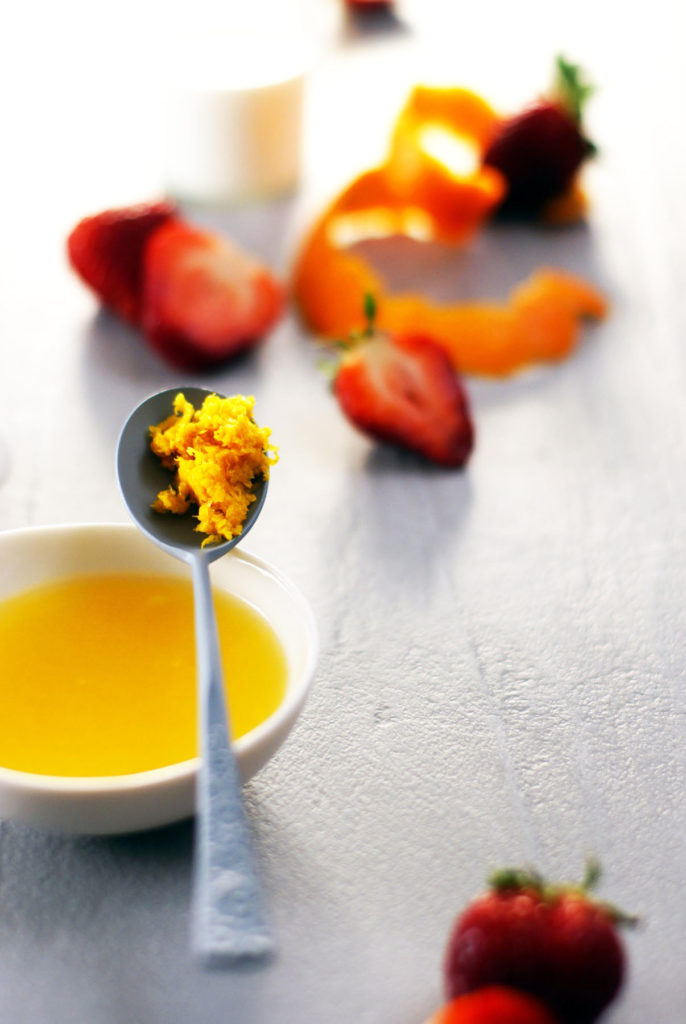 The method:
Melt butter in a small pan over medium heat. Remove from heat and stir in agave nectar.
In a large bowl combine eggs, ricotta, and sugar. Whisk by hand just until combined.
Add the milk, zest, juice, and butter/nectar mixture. Whisk until incorporated.
Lightly butter a baking dish.
Dip the bread cubes in the batter and then make a single layer of them on the bottom of the baking dish.
Add a layer of strawberries.
Repeat with another layer of bread cube and berries.
Cover and place in the refrigerator for at least 3 hours and up to 12 hours.
Preheat oven to 350˚F.
Bake for 35-40 minutes or until golden brown on top and cooked through.
Allow to cool slightly before serving (about 5 minutes).