Last week we brought you our recipe for simple flatbread. We made quite a bit and thought you might have, too. Today we offer up a couple of quick and easy solutions for flatbread use. These are great recipes for mid-week as they are simple and, if well-planned, won't take more than a 1/2 hour to make.
The first is an Italian Sausage and Onion Flatbread. The spicy notes of the sausage go so nicely with the sweetness of the onion. Creamy cheese and fresh thyme punctuate the flavors. This will quickly become a favorite.
The other dish is a Broiled Peach Flatbread. The peaches take on a new dimension when they are lightly browned under the broiler. We added spices in the form of ground gingersnaps. Topped with a little cream, this is a wonderful flatbread dessert.
savour… weekday wonderful
SAUSAGE AND ONION FLATBREAD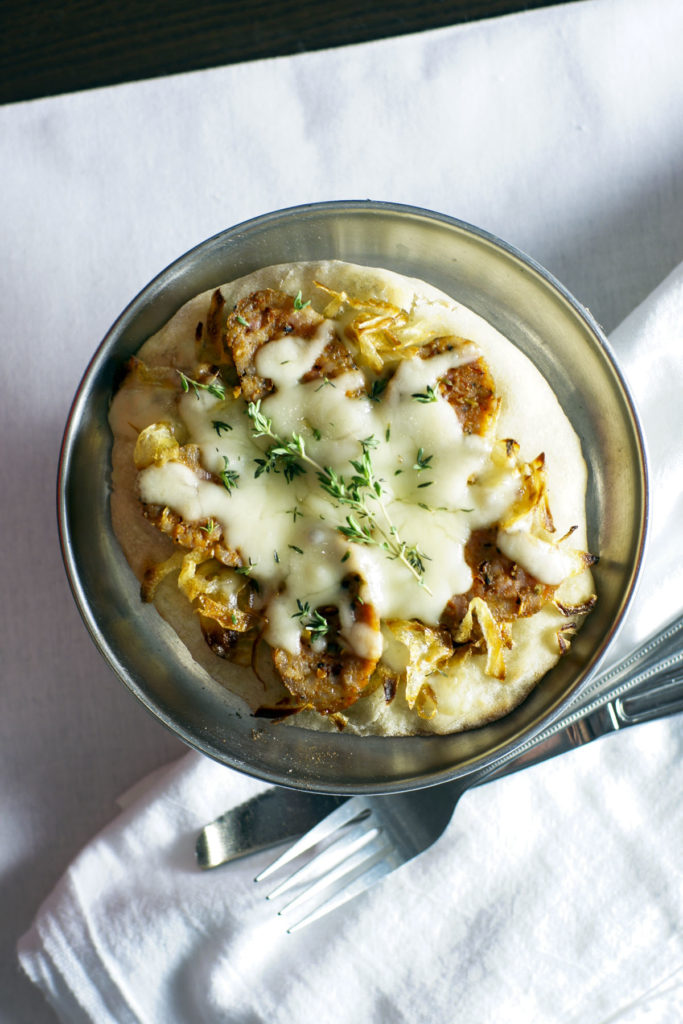 Before you start:
Do not heat the onions to quickly or they will become crispy and not soft and caramelized.
Poke a few tiny holes in the casing of the sausage to allow juices to escape.
Cutting the sausage diagonally will give you maximum surface area.
You could use a different cheese variety, but be sure that it is 'melty' cheese. I like fontina because it is somewhat soft and has a more robust flavor than many other soft cheeses.
The ingredients:
3 tablespoons olive oil
½ of large yellow onion (about ¾ cup) thinly sliced
1 spicy Italian sausage
⅓ cup fontina cheese finely diced
Fresh thyme
The method:
Heat olive oil in a medium skillet over medium heat. Place onion in oil and cook for about 5 minutes to soften. Lower the heat to medium-low.
Cook, stirring occasionally, for another 20-25 minutes until onions are soft and caramelized.
While the onions are cooking, place sausage in small to medium skillet over medium heat. Cover and cook thoroughly on all sides (cooking times will vary, ours took about 15 minutes).
Remove sausage from pan and allow to cool slightly before handling.
Remove casing from sausage and cut diagonal slices about ¼ inch thick.
Place a layer of onion on the flatbread.
Next, place a layer of sausage on the flatbread.
Sprinkle cheese generously over the sausage.
Broil approximately 8 inches from the broiler for 3-5 minutes or until cheese is melted.
Remove from oven and immediately sprinkle with fresh thyme leaves.
Cool slightly before serving.
BROILED PEACH FLATBREAD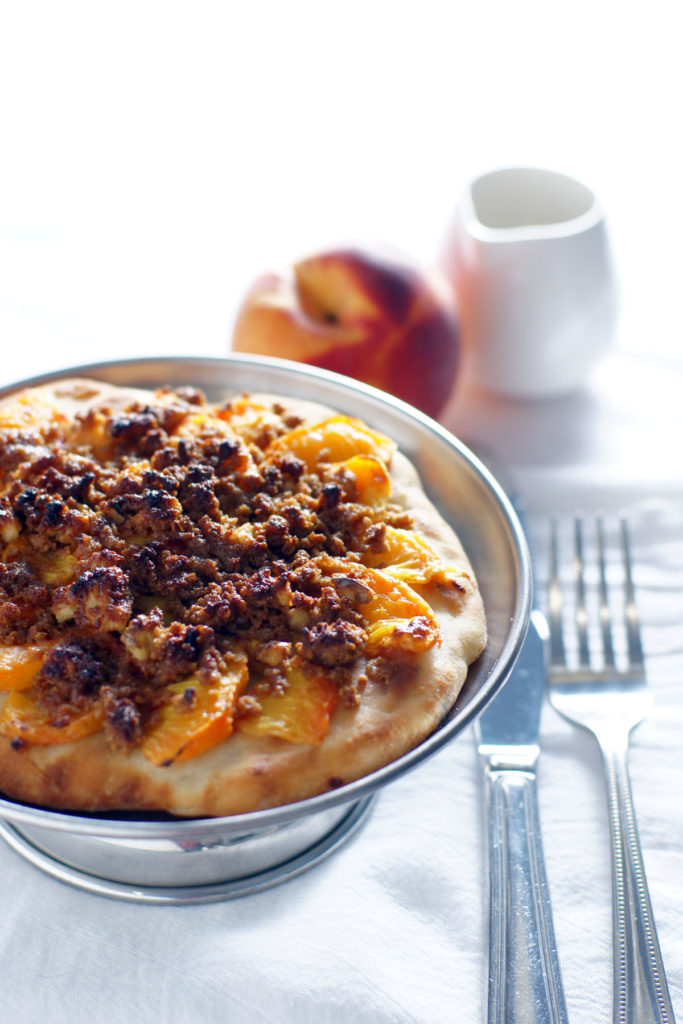 Before you start:
You could use a cookie other than ginger snaps if you prefer. A shortbread cookie would work nicely here.
The ingredients:
2 peaches
1 tablespoon packed light brown sugar
1 tablespoon unsalted butter cut into tiny pieces
¼ cup of crushed ginger snaps
The method:
Peel, pit, and cut the peaches into ¼ inch slices.
Place slices in a single layer on a parchment-lined baking sheet. Broil approximately 6 inches away from broiler for about 6-8 minutes or until the edges brown slightly.
While it is broiling, place sugar, butter, and ginger snaps in a bowl and mix with a fork until you get the consistency of wet coarse sand. Set aside
Remove from the broiler and allow to cool slightly before handling.
Arrange the slices in a circular pattern around the flatbread outside ring first. Place another smaller circle inside the first circle of fruit.
Sprinkle the ginger snap topping over the peach slices and return to the broiler for about 3 minutes or until the cookies brown.
Remove and allow to cool slightly before serving. Serving suggestion: drizzle just a bit of heavy cream over the top just before serving.