Our first tip today is a backyard bouquet. Bringing flowers inside is one of those things that makes your house a home. Purchasing flowers can become costly and sometimes time is an issue. If you are looking for a quick solution, take a trip around your yard and grab some materials you already have.
Our arrangement includes everything from ornamentals to arugula. The colorful zinnias are plentiful right now so we tossed them in for some color. This kind of arrangement can be very loose and 'thrown together' so there is no need for you to be a floral artist to get it right.
Tip #2 is an easy solution for getting your laptop clean. Smudges and smears can take your screen from clear to cloudy. To protect your investment and prolong its life, you need to keep it clean. The good news is that you probably already have everything you need. This easy step by step will have you streak-free and ready to surf in no time.
savour… simple solutions
Tip #1 – Quick Backyard Floral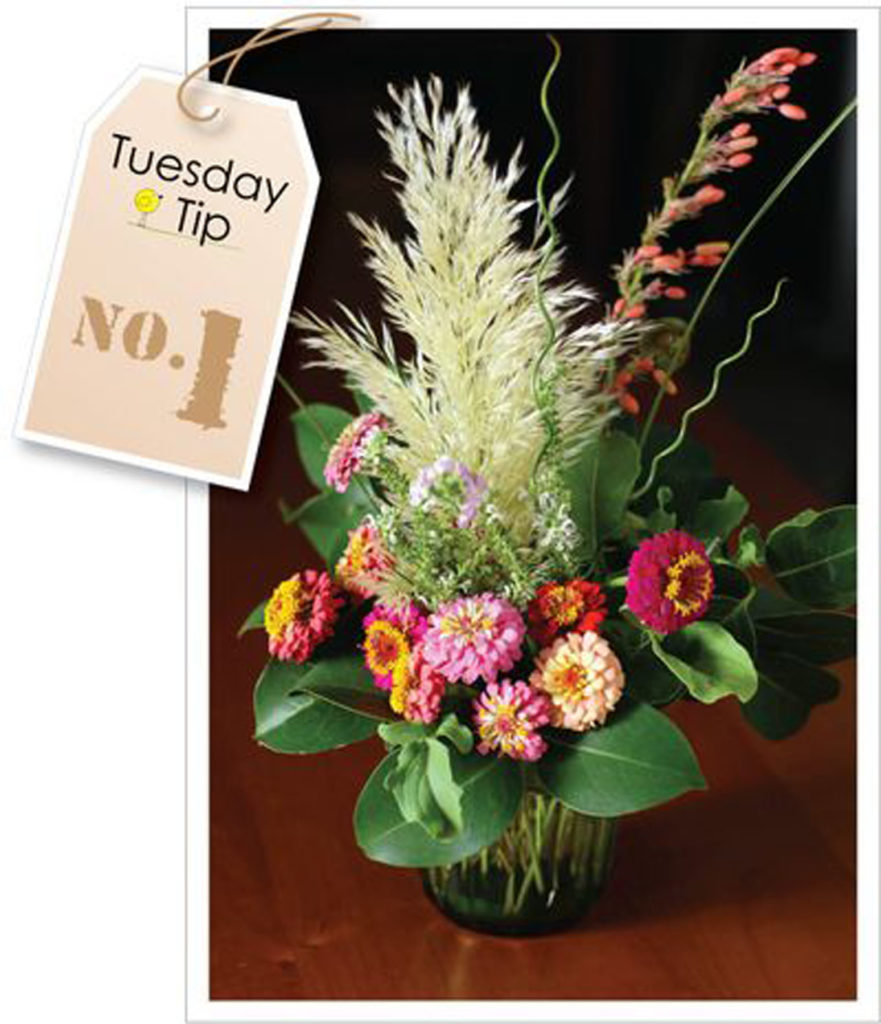 Before you start:
Be selective but think creatively. We have chosen a few landscaping items, cut flowers, and even food from our garden. Think more in terms of shape, color, and texture, and less in terms of traditional use.
Use some leaves or other 'draping' material to cover the rim and establish a bit of a base for your arrangement. In the example, the leafy base actually came right from a tree.
Be sure to crush the ends of woody stems with a blunt object. This will allow the water to be more easily absorbed.
Remove any leaves that will be below the waterline. This will help keep the water fresh for a longer period of time.
Consider using a floral frog. This will add some weight to a top-heavy arrangement.
The materials:
Flowers and plants from the garden/yard
Vessel of some kind
Water
Scissors
Floral frog (optional)
Hammer (optional)
The steps:
Fill your vessel at least half full of water.
Determine the center or focal point of the arrangement and place it.
Add leafy base around the edge.
Fill with flowers in groups and evenly distributed.
Fill in spaces with textural elements.
Adjust as necessary.
Tip #2 – Cleaning Your Laptop
Before you start:
There are many laptop cleaners available commercially. This homemade solution is safe and inexpensive. If you have any concerns be sure to check your owner's manual first.
Use distilled water only.
The cleaning solution can be used for many other things. Mark the bottle and keep it handy.
Be sure laptop is off and unplugged.
Old plain t-shirts are a perfect solution for the soft cotton cloth. If you don't have any, check your local home improvement store for contractor's rags. You will get dozens for just a few dollars.
Do not spray directly on the computer. Spray only into the cloth.
It is important to note that the cloth should be just slightly damp. Drips and electronics do not mix.
Wipe with only enough pressure to clean. Avoid scrubbing.
If you face a stubborn spot, spend a bit more time. Do not press harder. This can cause irreparable damage.
The materials:
Compressed Air
Homemade cleaning solution of 1 part white vinegar to 1 part distilled water.
Spray bottle
Soft cotton cloth
Cotton swabs
The steps:
Use the compressed air to blow out any dust from the keyboard and openings.
Spray just enough solution on the rag to moisten it.
Wipe in a circular motion over the laptop screen.
Use a clean dry rag to wipe the screen dry.
Use the moistened cloth to lightly wipe the keyboard area.
Use the clean dry rag to wipe the keyboard area dry.
If necessary, use a barely moistened end of a cotton swab to clean out hard to reach areas. Follow up with the dry end of the cotton swab to finish.