Trail mix has long been a healthy snack alternative for hikers and outdoor enthusiasts. A handful of the right stuff can provide some important protein and carbohydrates to keep you going. That's perfect for prolonged outdoor activity, but great for other purposes, too. Kids will usually find this more enjoyable than other 'healthy' snacks and it can keep them going for hours between meals.
While there is some debate over the origin, the general idea has remained the same for centuries. In many european countries the mix has a name that loosely translates as student food. So whether you are on the path to a mountain top view or the path to higher learning, this stuff can give you just the boost you need to keep on moving.
savour… happy trails
TRAIL MIX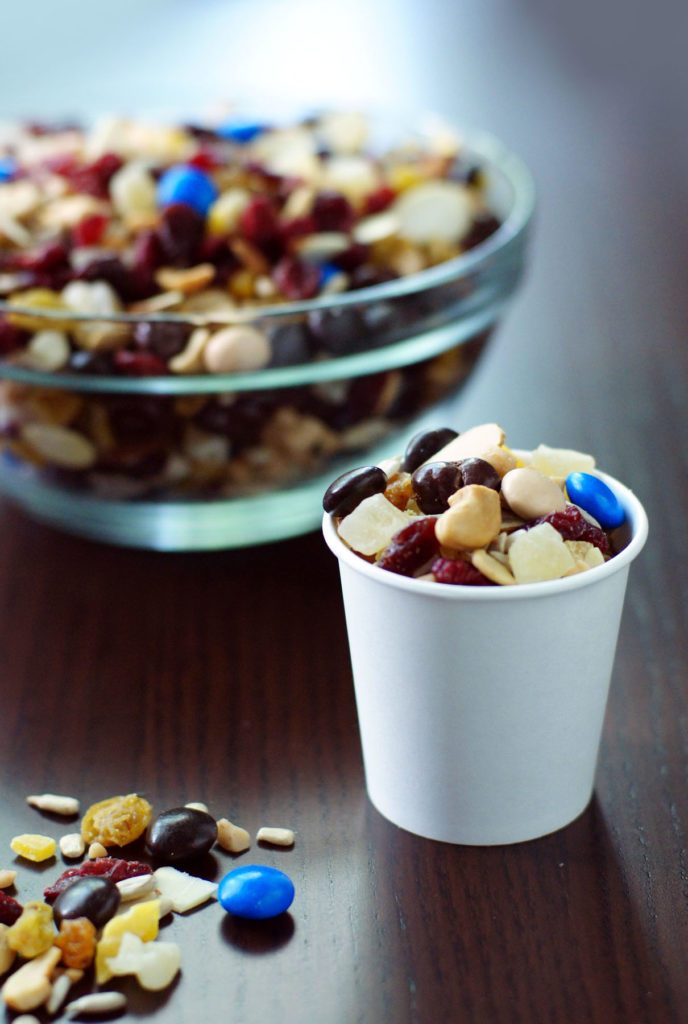 Before you start:
Be careful to include plenty of variety in terms of texture, size, taste, and nutritional value. Small candies are great in moderation, but remember the overall idea is to create a source for some prolonged energy.
Nuts and seeds should make up a good portion of the overall mix, but not all nuts are created equal. Almonds have a very good fat to protein ratio. They are a must for any trail mix we make.
Making this yourself will be far less expensive than any you can purchase pre-made. As an added benefit, you get to see what goes in your finished product.
Consider getting your ingredients from a supermarket that provides bulk sales. In this way, you are sure to get only the amount you need.
The list below is just a starter list. If you have something you love in trail mix that is not listed here, please be sure to leave us a comment so we can share it with the other readers.
Keep small snack size storage bags filled with trail mix on hand for between-meal snacks, road trips, and afterschool snacks.
The method is simple… pour it all in a bowl and mix. As far as proportions go, we used 1/2 cup of nuts, seeds, & dried fruits. We used 1/3 cup of the extras like candies and toffee bits.
The ingredients:
dried pineapple
dried cherries
dried cranberries
dried mango
banana chips
raisins
date sticks
sunflower kernels
almonds
pecans
peanuts
chocolate pieces
marshmallows
coconut
oats
chocolate or yogurt covered raisins