This is a record-breaking summer in Dallas. We have had over a month of over 100̊ days… and there doesn't seem to be any relief on the horizon. Nobody wants to be outdoors past 8:30 am. The children are getting restless. I think they might actually be ready to go back to school. I never thought they would dislike summer.
One of the very best (and few, in my opinion) good things about summer in Texas is the overabundance of peaches. They are everywhere right now and every store has them on sale. We have been making full use of that fortune.
I had rather hoped to steer away from ice cream since we offered several ice cream treats in July, but it's so darned hot that I just couldn't resist one. more. frozen. treat. I did change it up just a bit by bringing you a recipe that will serve you well for any time of the year.
The semifreddo… something like ice cream, but more like heaven. Because of the amount of air whipped into this dessert, it won't freeze up quite as hard as ice cream. The result is mousse-like… or maybe frozen soufflé.
Enjoy this with some crumbled cookies and fresh peaches.
savour… air-conditioning
PEACH SEMIFREDDO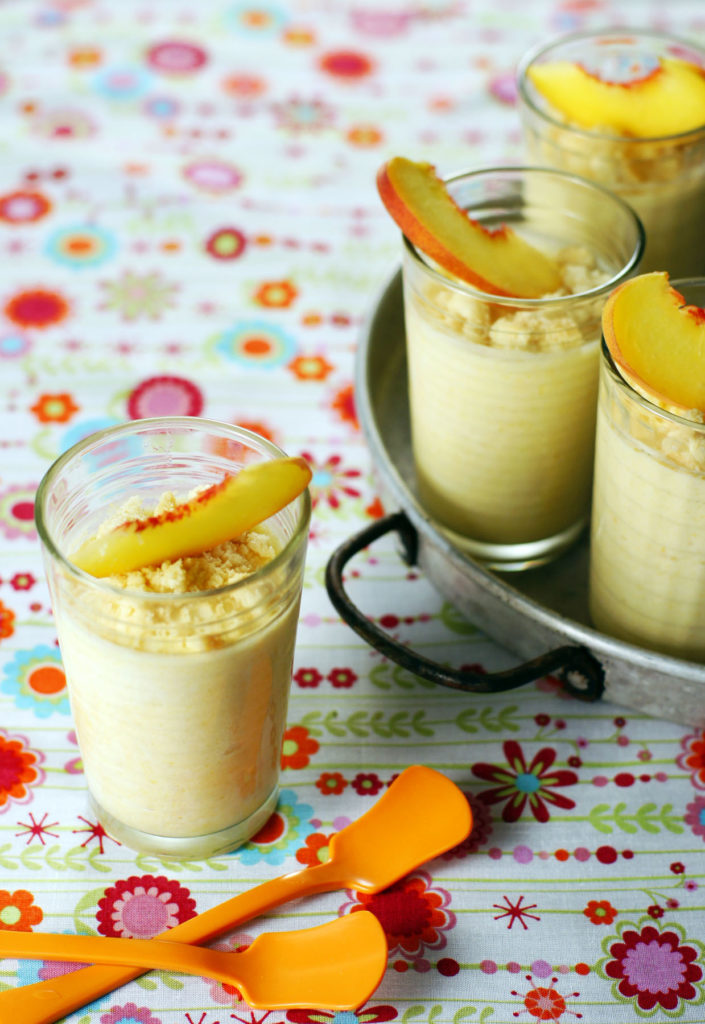 Before you start:
This is obviously not the only semifreddo recipe out there. I have seen several that do not use egg yolks at all. I appreciate the custardy quality of this recipe.
Using ripe peaches is critical to the success of this recipe. Luckily, there are plenty of ripe peaches to be had at this time of year.
Be sure to check your puree for sweetness. Based on the flavor or your peaches, you may need to dial the sugar in the syrup up or down.
The ingredients:
3-4 medium peaches peeled and diced (1/2 inch to 1-inch dice)
juice of one lemon
2 tablespoons sugar
¼ cup water
½ cup sugar
pinch salt
4 eggs
1 ¼ cups heavy whipping cream
1 teaspoon amaretto
shortbread cookies or almond cookies and peach slices for garnish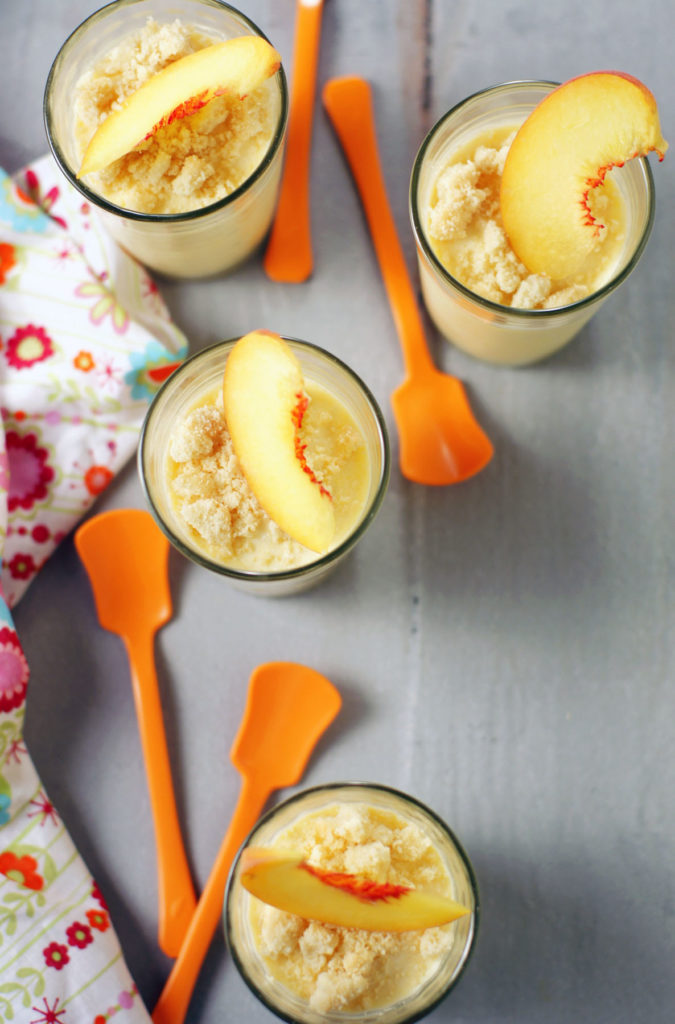 The method:
Add peaches, lemon juice, and 2 tablespoons of sugar to the food processor. Puree until smooth. Set aside.
Put water and ½ cup sugar in a small saucepan over medium heat. Cook, stirring occasionally, until sugar dissolves and syrup is simmering (3-5 min).
While the syrup is heating up place 4 eggs in a stand mixer and beat on medium-high speed until light and fluffy (about 4 min).
When the syrup is ready drizzle it slowly into the beaten eggs while continuing to beat eggs on medium speed.
Bring water to a simmer in a medium saucepan. Place a mixer bowl (if heat safe) over simmering water. Whisk eggs constantly and continue heating to 160̊ (2-4 min).
Place the egg mixture back on mixing stand and whisk on high speed for 10 minutes. It should be cooled to room temperature when done.
Beat whipping cream and amaretto to soft peaks.
Gently fold peach puree into the egg mixture.
Gently fold a scoop of peach mixture into the whipped cream.
Place the whipped cream in the peach mixture and gently fold together.
Pour into serving dishes or a loaf pan lined with plastic wrap.
Freeze for at least 8 hours.
Serve frozen.