As the school year gets into full swing you may find yourself once again seeking quick and easy meal options. The trouble is you want to offer a bit of variety and hopefully a home-cooked meal or two. To avoid pulling dinner from a drive-thru bag we must look for speedy alternatives. Today Lola is cooking up an entree that can easily be made in under 20 min.
This bacon tomato shrimp is simple to pull off if you have the ingredients assembled ahead of time. Each component cooks up incredibly fast and then it is just a matter of putting it all together. Add a simple side of steamed vegetables and you're done. And the best part… you'll look like a kitchen wizard.
savour… weeknight wizardry
BACON TOMATO SHRIMP WITH CHEDDAR POLENTA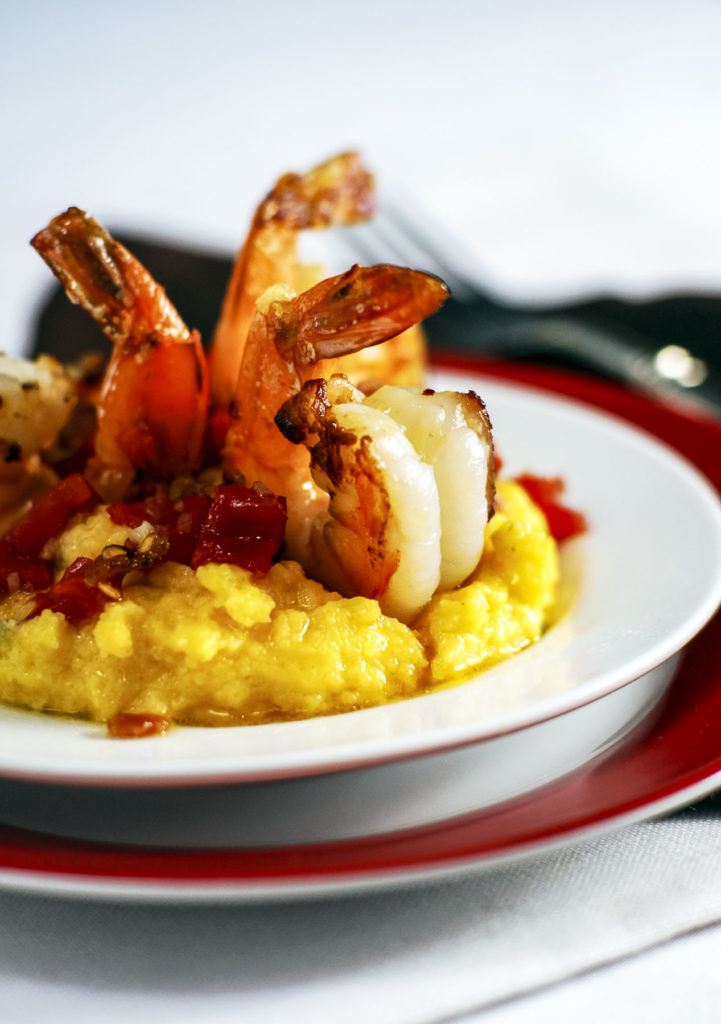 Before you start:
Be sure to buy your shrimp close to the day you intend to make this. Purchase shrimp from a reputable source and smell it before you leave the counter.
You can often find shrimp cleaned and deveined, but I assure you this is easy to do on your own. Simply remove the legs and shell (and tail if you prefer), make a slit down the back of the shrimp and peel out the brown vein. If anything is left behind be sure to give the shrimp a good rinse.
The cheddar polenta is a great base here, but could be used on its own with a different meal.
This is not science like baking… adjust the flavors to your liking.
The ingredients:
For the polenta:
2 1/3 cup water
2/3 cup milk
¾ cup yellow cornmeal
1 cup shredded sharp cheddar cheese
1/3 cup chopped scallions (green parts)
½ teaspoon coarse salt
½ teaspoon hot sauce
For the shrimp:
12 jumbo shrimp, peeled and deveined
3 slices bacon
2 tablespoons olive oil
2 tablespoons cider vinegar
1 tablespoon sugar
2 tablespoons minced scallions (white parts)
1 tsp fresh lime juice
¼ teaspoon red pepper flakes
1/3 cup diced tomato, seeded
salt and pepper to taste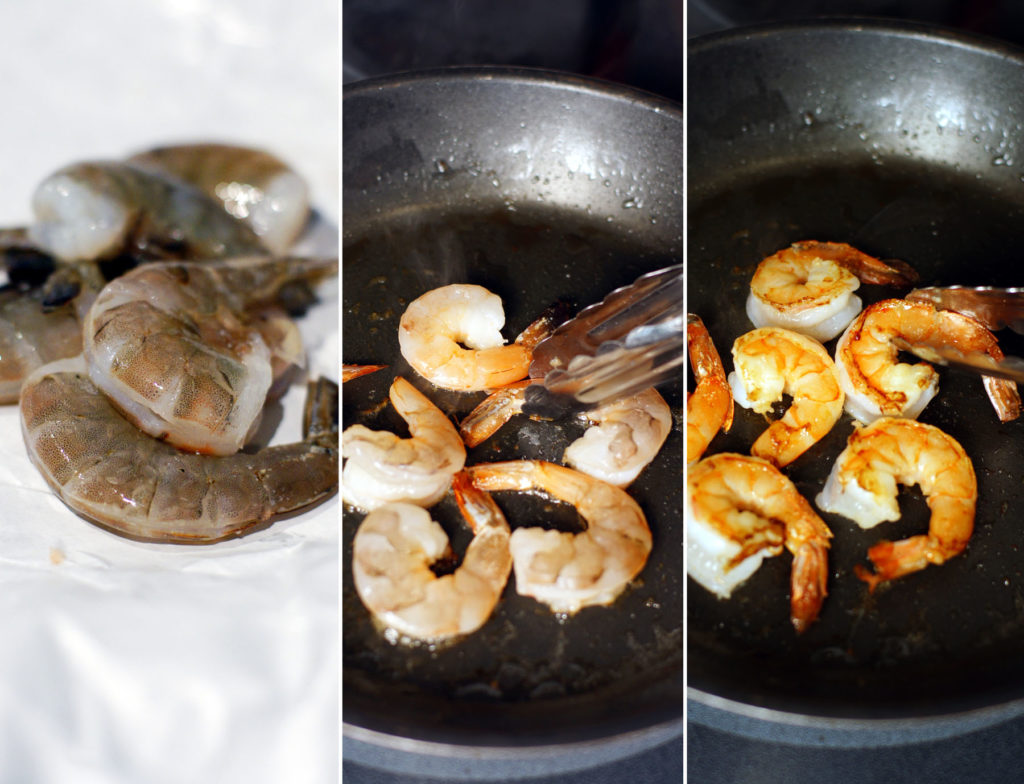 The method:
For the polenta:
Bring water and milk to boil over medium heat in a deep skillet.
Gradually add the cornmeal while whisking.
Continue stirring for 3 to 4 minutes or until thickened.
Remove from heat and add cheese. Stir until melted and combined.
Stir in scallions, salt, and hot sauce.
For the shrimp:
Cook bacon in a skillet over medium heat until crisp. Discard drippings.
Whisk olive oil, vinegar, sugar, scallions, lime juice, and pepper flakes together in a small bowl to make the vinaigrette. Set aside.
Cook shrimp in the same skillet over medium-high heat until browned (about 3-4 min. for each side).
Remove shrimp and set aside.
Heat vinaigrette through and remove from heat. Stir in tomatoes.
Assemble three shrimp on a dollop of cheddar polenta. Top with a drizzle of vinaigrette and tomatoes. Serve immediately.