If you grew up around the same time I did, you will likely remember the TV dinner… or at least the advertisements. TV dinners were a big part of American culture for many years. Despite the fact that many ate it on a TV tray while watching television, it actually got its name because it was laid out something like an old television set.
The aluminum tray is now long gone and has given way to microwavable foods in non-metal packaging. However, nostalgia has not faded. Today we take on the classic TV dinner with one of our own. Ours is served in a stoneware divided dish. We found these years ago and have kept them around for occasional use.
The first and most popular TV dinner has always been turkey with peas, stuffing, and sweet potatoes. We updated our meal to be a spin on the classic. Turkey is represented by a roast turkey sandwich on ciabatta with cranberry pesto. The peas are tossed together with pasta and parmesan and the sweet potatoes show up here in the form of chips. As for the treat… you will have to wait until tomorrow to get the recipe.
savour… commercial breaks
CRANBERRY PESTO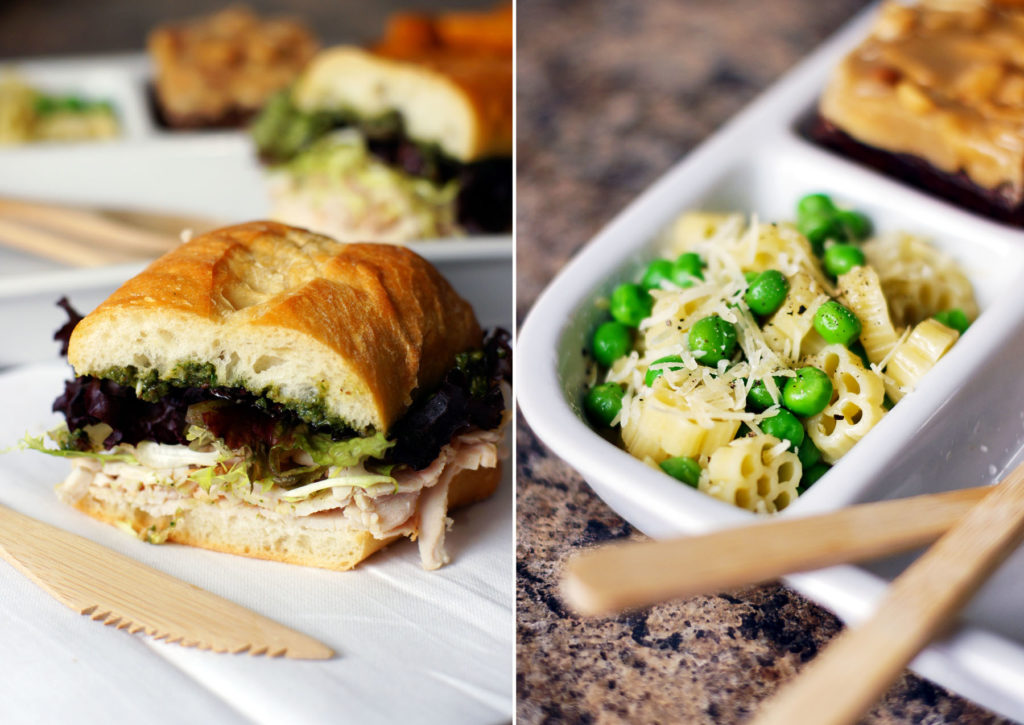 The ingredients:
3 tablespoons pine nuts
3 tablespoons walnuts
2/3 cup dried cranberries
1 cloves garlic
4 cups basil
1/2 teaspoon kosher salt
1/2 teaspoon freshly ground black pepper
1/2 cup good extra virgin olive oil
1/2 cup grated parmesan cheese
The method:
In a food processor, grind nuts, cranberries, and garlic for about 20 seconds.
Add basil, salt, and pepper. Chop again until basil is finely chopped.
While the food processor is still going slowly pour in olive oil until paste begins to form.
Add parmesan cheese. Give just a few more pulses to incorporate.