While this post highlights dried pasta primarily, you might be interested in our post on making fresh pasta at home. We made ours into sheets and used it for our classic lasagna. Looking for a few more pasta recipes? Be sure to check out our All American Macaroni Salad, Pasta e Fagioli, or Salami Antipasto Salad. And for a great classic topping, don't miss our Two Pestos.
savour… using your noodle
TYPES OF PASTA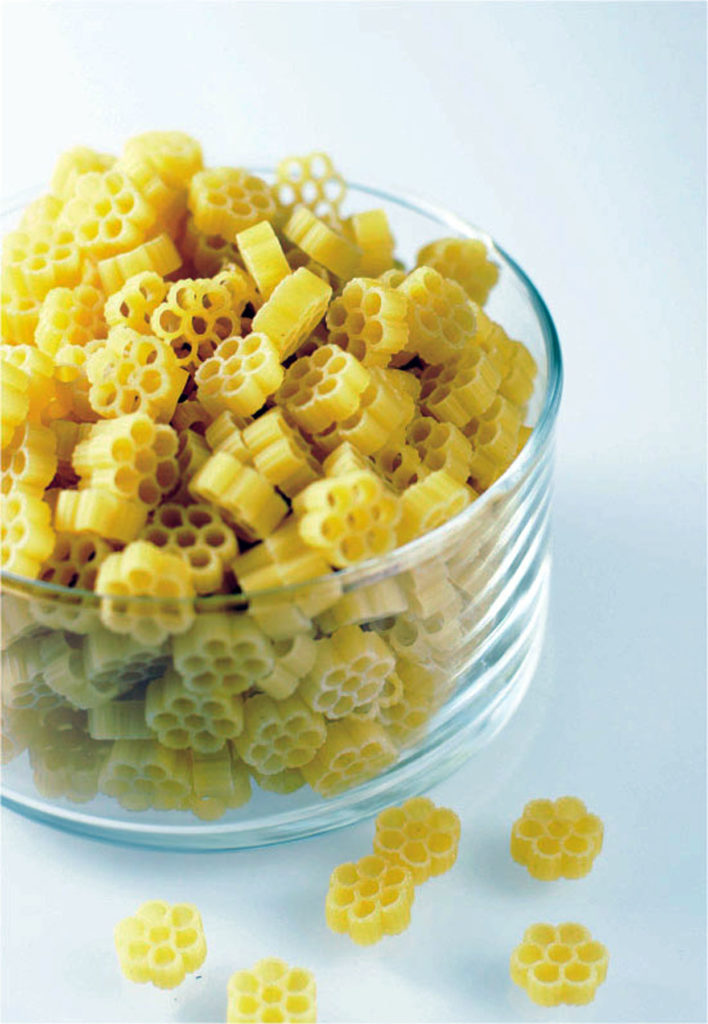 Here is a quick list of commonly used pastas. Some of them are pictured in the collage below.
Acini di pepe
Anelli
Bavette
Bucatini
Calamari
Campanelle
Capellini
Casarecce
Cavetelli
Cavaturi
Conchiglie
Creste di Galli
Ditalini
Farfalle
Fettuccine
Fiori
Fregula
Fusilli
Fusilli col Buco
Gemeli
Gigli
Lasagne
Linguine
Lumaconi
Macaroni
Malloreddus
Manicotti
Orecchiette
Orzo
Paccheri
Pappardelle
Pastina
Penne Lisce
Penne Rigate
Radiatore
Riccioli
Rigatoni
Rotelle
Rotini
Sfoglia
Spaghetti
Spaghettini
Stelline
Strozzapreti
Tagliarini
Tagliatelle
Trinette
Trofie
Tubettini
Ziti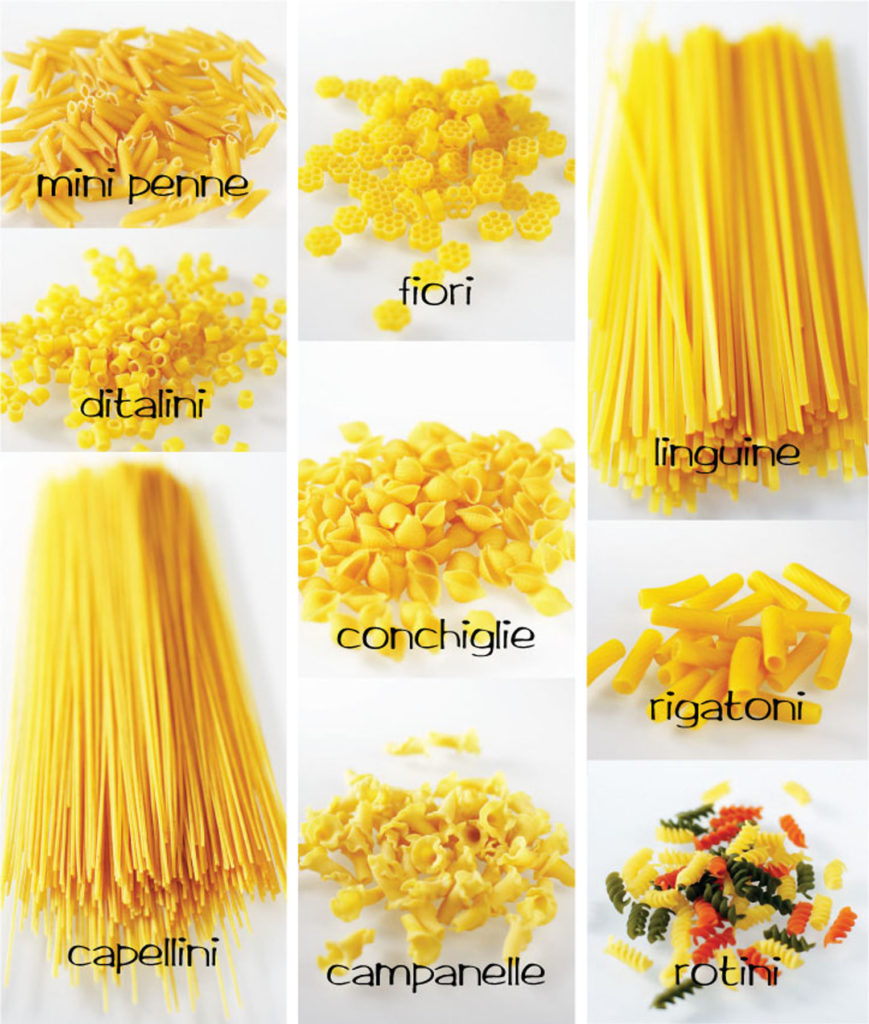 Which pasta to use
Generally speaking choose thick pasta strands for thick, creamy sauces. Examples are tagliatelle, pappardelle, and tagliarini. For lighter sauces, including oil and butter or shellfish sauces, choose thinner strands such as spaghetti, capellini, or vermicelli. Tubular pasta like rigatoni, penne, and ziti are best for chunky rustic sauces. Pasta salads love fun shapes like fusilli, conchiglie, farfalle, and fiori. Common pasta for baked dishes is lasagna, cannelloni, and macaroni. Smaller kinds of pasta such as ditalini, orzo, and stellini are great for soups.
How to store pasta
Uncooked dried pasta should be stored in a cool dry place. Rotate stock to use the oldest pasta first.
Cooked pasta can be kept in the refrigerator for 3-5 days. Add a bit of oil to keep it from sticking. Store pasta separate from sauce to keep flavors apart and prevent further absorption.
Freezing pasta is really only best for those kinds of pasta that are part of a baked recipe such as lasagna.
More to know…
Pasta doesn't make you fat. Eating too much pasta can. To be more specific, eating too much of anything does. Proportionately speaking, pasta does come equipped with more carbohydrates than some other foods. Use good judgment and stick to reasonable portions. A cup of cooked pasta is usually around 210 calories.
To make the perfect pasta start by following the instructions on the package. A common mistake is too little water. Your pasta will need to move around freely. Plenty of water and stirring while cooking will go a long way in making tasty (non-sticky) pasta.
Typically, 2 ounces of dry pasta makes about 1 cup of cooked pasta or 1 serving.
If your pasta will be used in a dish that will get more cooking, reduce the cooking time in the water by about a third.
There is no substitute for tasting the pasta to ensure the correct doneness (al dente).
Only rinse pasta in cases where it will be used cold in a salad or if it will not be sauced until later.
Salt is essential for good pasta, but very little is actually absorbed by the pasta.
While there is some controversy over when/where pasta originated, there is little doubt that the first macaroni machine was brought to America by Thomas Jefferson after a trip to France.