Happy Friday! We are just a couple of days away from the New Year and up to our ears in holiday festivities and fun. This year has been especially fun. The boys seemed to enjoy Christmas more than ever. Our shopping was mostly done early and we were (for once) able to relax and really enjoy our time together.
As you might imagine, we have enjoyed our fair share of treats over the past couple of weeks. I swore off of eating them for a while… right after this week is over. The treat this week is too good to pass up. It will be perfect for New Year's Day. It can be made early in the morning (or days before) and frozen for later. The presentation screams holiday fun!
The zuccotto is an Italian dessert that pulls together arguably three of the best things on the planet… cake, ice cream, and liquor. There are variations on the theme throughout the regions of Italy. Some include whipped cream, some are made with ladyfingers, others are drenched in colored syrup. The one thing that remains constant is the dome shape. It is quite possible that the dome or pumpkin shape is how it got its name. Zuccotto may come from zucca, which means pumpkin in Italian, but it is also widely believed that the name comes from the shape of the dome of the Florence cathedral. Others think the name comes from the zucchetto, which is the dome-shaped skullcap worn by cardinals.
For our zuccotto we have used pound cake, buttercream, and banana ice cream. But wait, there's more. We included some chocolate (naturally) and fresh banana. And we saved the best bit for last… Whiskey Wet Walnuts. Warm these up and pour a scoop over the top of your zuccotto for a wonderful finish to a new beginning.
savour… fresh starts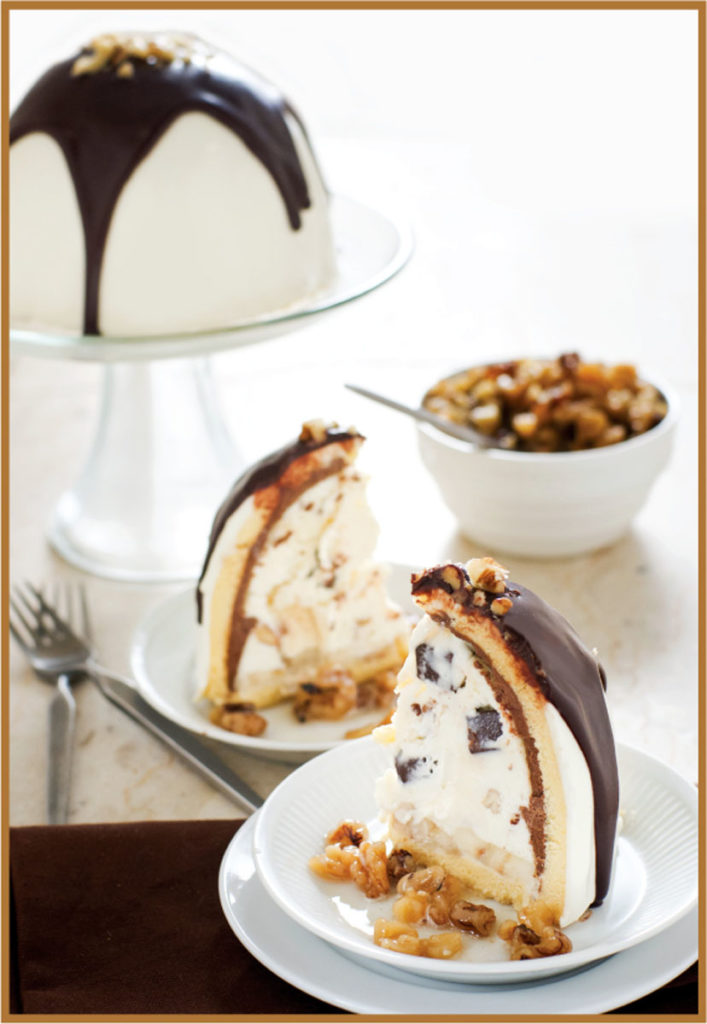 BANANA ZUCCOTTO WITH WHISKEY WET WALNUTS
Before you start:
The wet walnut recipe will make more than you need for this dessert. Keep them in an airtight container for future use. They taste especially delicious on strawberry sundaes.
Although it looks elaborate, many of the ingredients are pre-made to help during this busy holiday time. You could, of course, choose to make the components from scratch. You will find recipes for pound cake and buttercream right here at Today's Nest.
When making the chocolate ganache topping it is important that you not touch it for the five minutes while the chocolate melts. Then just stir it with the whisk. Do not add any unwanted air.
Be careful not to soak the cake. The whiskey syrup is meant only to moisten it.
This dessert is quite rich. Each dome could be cut into 6 pieces for ample servings.
The recipe calls for banana ice cream, but frozen yogurt would work fine. The actual amount may vary based on the size of your bowls. Buy more than you think you need. What's the worst that could happen?
The ingredients:
For the zuccotto:
2 frozen pound cakes
4 cups of banana ice cream
1 cups chocolate chips
1 ripe banana
1 cup chocolate buttercream
½ cup syrup from whiskey wet walnuts
2 cups vanilla buttercream
For the wet walnuts:
1 cup sugar
1 cup light corn syrup
1 cup water
2 cups chopped walnuts
2 ounces whiskey
For the chocolate topping:
¾ cup half and half
1 ½ cups chocolate chips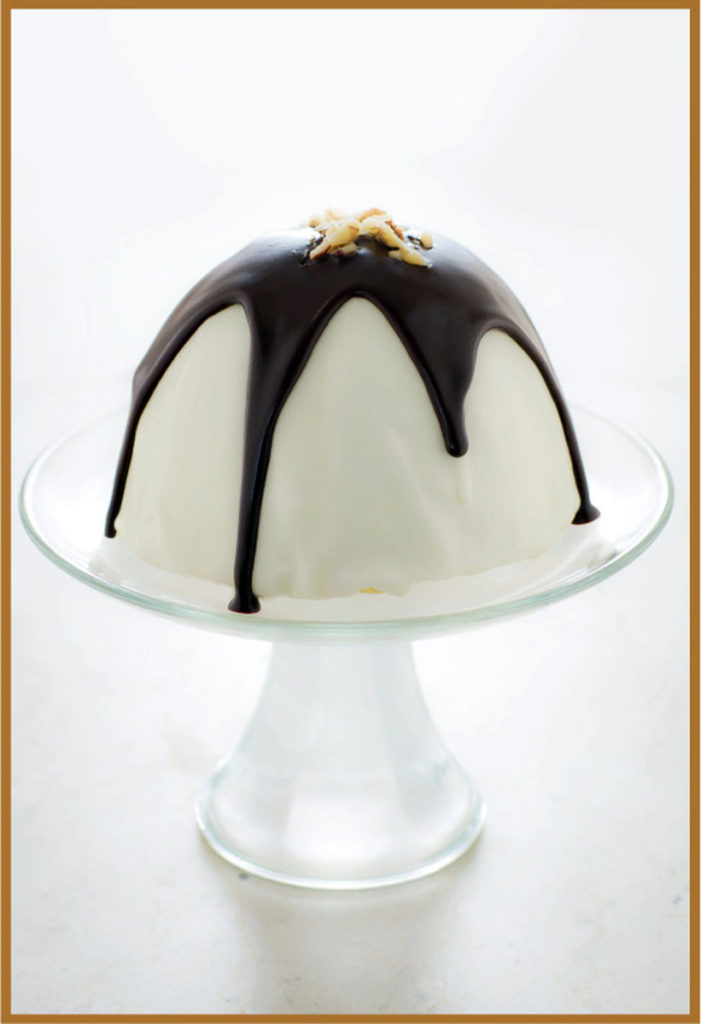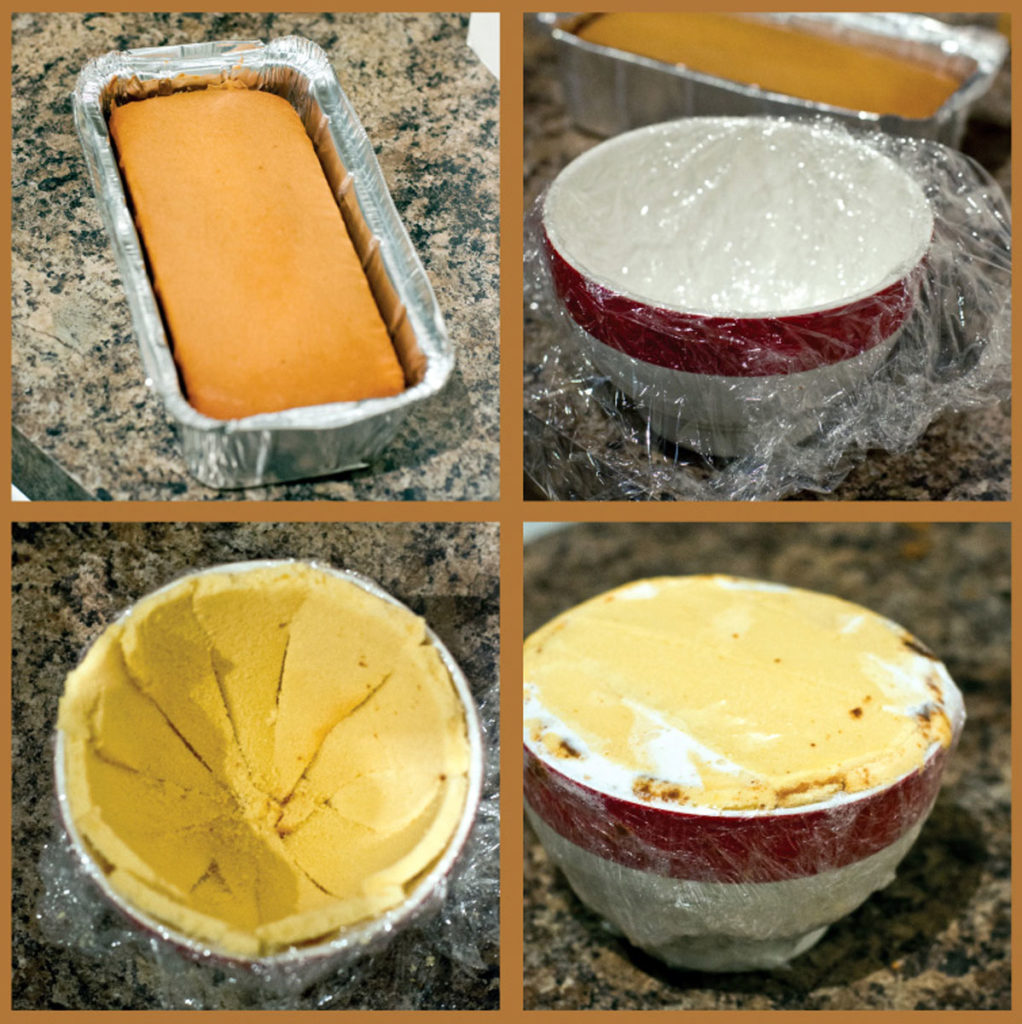 The method:
Thaw frozen pound cake.
Remove ice cream from freezer to soften slightly.
Use plastic wrap to line two large cereal bowls and leave enough to extend a few inches beyond the rim.
Fold 1 cup chocolate chunks into the ice cream.
Cut the banana into ¼ inch slices.
Carefully cut pound cake horizontally into ¼ inch slices.
Cut browned edges from slices.
Cut slices diagonally.
Place half of the triangle pieces of cake into each of the bowls with the points at the bottom. Keep them close together and fill any spaces with a bit of leftover cake.
Spread ½ of the chocolate buttercream over the cake with the back of a spoon.
Fill each of the cake-lined bowls with ice cream to about ½ inch from the rim.
Using a serrated knife, cut off excess cake using the rim as your guide.
Place half of the banana slices on top of the ice cream in each bowl.
Use the remaining pieces of cake to cover the bananas and ice cream. Cut pieces to fill any gaps.
Use a piece of plastic wrap to tightly cover the bowl and place it in the freezer for at least 2 hours or overnight.
Remove from the freezer and remove top plastic wrap. Brush a bit of wet walnut syrup on the cake.
Invert mold onto a plate and remove bowl and plastic wrap.
Brush on more wet walnut syrup without soaking the cake.
Place the cake on a wire rack over a baking sheet.
Heat vanilla buttercream in a small saucepan over medium heat until pourable. Pour over the top of the cake. Scrape excess buttercream from baking sheet back into the pan to warm for other cake.
Return cakes to the freezer for 30 minutes.
Make the chocolate topping by heating milk just to boiling point.
Add chocolate chips and leave for 5 minutes. Whisk until smooth.
Remove zuccotto from the refrigerator and pour chocolate over each of the desserts (just enough to 'drip').
Sprinkle dry chopped walnuts on top for garnish. Return to the freezer until ready to serve.
To serve, cut each dessert into four sections and garnish with wet walnuts.
For the wet walnuts:
Place sugar, syrup, and water in a medium saucepan over medium heat.
Cook, stirring occasionally, until sugar dissolves and syrup is clear.
Allow to boil for 2 minutes without stirring.
Add walnuts and return to boil.
Cook for 2 minutes stirring constantly.
Remove from heat and stir in whiskey.
Allow to cool.
Store in an airtight container.
This is the last treat of the year. We hope you enjoy it.
We would like to thank all of our readers for a fantastic year. We have enjoyed getting to know many of you and look forward to more conversations and comments. We are gearing up for 2012 with lots of new stuff in the works.
Happy New Year!